The past couple of weeks have been rather remarkable for the political ideology that allegedly stands behind "science."
Progressives and their allies in the mainstream media jumped in to protect Biden U.S. Supreme Court nominee Ketanji Brown Jackson from criticism following her response to the question "What is a woman?"
(Her answer: "I'm not a biologist.")
Prior to that the same folks sheltered University of Pennsylvania trans-female swimmer Lia Thomas, who became NCAA champion in the 500-yard event.
In a fascinating "fact check" specifically about Jackson's response, but also mentioning Thomas, USA Today says "Scientists, gender law scholars and philosophers of biology said Jackson's response was commendable, though perhaps misleading."
It goes on to quote one "scientist and gender studies scholar" who "explores the relationships between science and the social hierarchies of gender and sexuality," followed by a (mere) gender studies professor.
Conspicuously missing is an academic from the realm of pure science. Naturally.
The "fact check" notes there are variances among humans which, in some cases, make sex and gender ambiguous … but of course we're not talking about this when it comes to people like Lia Thomas — and everyone knows it. For them it's a choice, or a feeling. Or something.
MORE: Surprise: Identity politics results in feeling the need to 'represent one's race'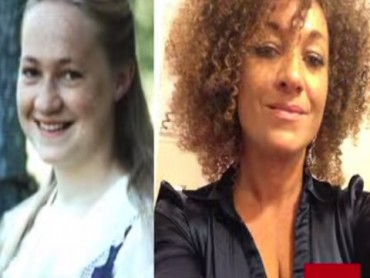 Which brings us to this: Who remembers Rachel Dolezal?
You may recall Dolezal (left) is the white adjunct professor who identifies as black. In her memoir "In Full Color," Dolezal says she is "trans-racial."
A description of her book says "[Dolezal's] story is nuanced and complex, and in the process of telling it, she forces us to consider race in an entirely new light—not as a biological imperative, but as a function of the experiences we have, the culture we embrace, and, ultimately, the identity we choose."
Which is exactly what we hear from LGBTQ+ advocates when it comes to gender/sex.
Dolezal dealt with a massive wave of criticism — from the left — when it was revealed she's actually white. For example, activist Janée Woods Weber asked "Which white actress in blackface will play Rachel Dolezal in the Lifetime movie based on her hack book about her lie of a life?" and the NAACP disinvited her from a Martin Luther King Jr.-themed event in North Carolina. A local councilman had said he failed "to see how somebody who lives a lie adds value to an honest discussion about real racial issues in this country."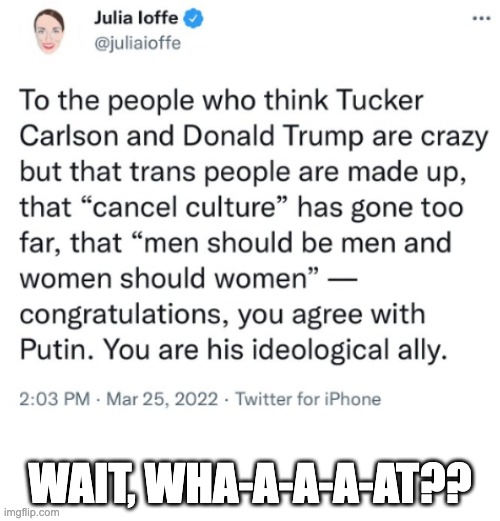 Dolezal didn't get any of the media protection Elizabeth Warren did, despite the latter's spurious claims of Native American ancestry. Another "fact check" outlet allegedly rebutted Donald Trump's criticisms of Warren's background by noting DNA evidence shows the Massachusetts senator "had a Native American ancestor approximately six to 10 generations ago."
Which goes to show you identity politics hasn't the least bit to do with science, and everything to do with the things the left purports to hate most of all: power and privilege. (And, of course, don't ask why folks like Dolezal and Warren felt the need to use the identities they did if these identities are so without the privileges which we hear about so often.)
To recap, it's safe to say the politically correct identity checklist currently is as follows: A white person identifying as black=bad; a white person identifying as Native American=sometimes bad; a man identifying as a woman=good.
But — don't try to keep track of any of this. It is forever malleable, constantly fluid … depending on the direction of the politically correct breeze of the day.
MORE: 'Self-Indigenization' and the (further) contradictions of identity politics
IMAGES: Kotin/Shutterstock.com; YouTube, Twitter screencaps
Like The College Fix on Facebook / Follow us on Twitter