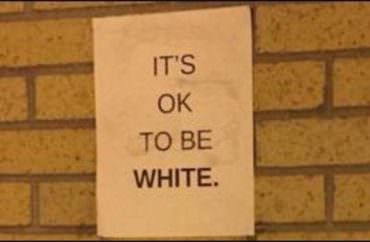 An Oklahoma City University School of Law student was expelled after posting "It's OK to be white" flyers on campus.
The Oklahoman reported that the student was expelled because he was on suspension and violated the terms of his suspension when, on the night of Oct. 31, he came on campus and posted the flyers on the door and exterior of the law school building.
The Dec. 10 article does not state why the student was already on suspension.
OCU Police Director Bill Citty cited federal privacy as the reason why he is not releasing the name of the student, the newspaper reported, adding police "didn't find evidence of a crime," that the student "was found to be non-threatening to campus safety," and that "he isn't facing a charge of trespassing."
This incident stems from the latest smattering of "It's OK to be white" posters hung on campuses recently. Inside Higher Ed reported Nov. 5 that several schools nationwide were hit with the posters around Halloween time, and the same thing occurred in fall 2018, too.
The signs first appeared in the fall of 2017 as a coordinated 4chan campaign, whose users spelled out their "game plan" on the anonymous Internet forum board instructing people to post the signs on campuses to prompt a "completely berserk" response.
It appears the trolling effort may now be an annual tradition.
While the student at Oklahoma City University School of Law was reportedly not expelled for posting the flyers, but rather for breaking the rules of his suspension, the dean of the law school, Jim Roth, wrote in a statement to students and faculty the day the flyers were found: "Despite what the intentions of that message may have been, the message reminds me of one fact that I know our community embraces — it's okay to be EVERYBODY. Exclusion and hate will not be tolerated here. You are accepted at OCU Law no matter how you pray, what you look like, or who you love. And you always will be."
Some have questioned whether "It's OK to be white" falls under free speech, prompting controversy and debate. As The College Fix reported earlier last month, East Tennessee State may be asking for a lawsuit by promising to prosecute its "It's OK to be white" vandals, as posting offensive flyers in and of itself is "clearly established" as constitutional under longstanding case law.
And writing at Minding the Campus, attorney Hans Bader weighed in on the flyers popping up nationwide, noting administrators "cannot discriminate against these flyers based on their viewpoint by expelling or dismissing people for posting them, when it obviously would never expel or dismiss someone for posting flyers with a different viewpoint the university likes better, such as 'It's OK to Be Black.'"
"Even valid school rules, such as against posting flyers in the wrong place, or against littering or harassment, cannot be enforced against someone based on their viewpoint," Bader wrote.
MORE: 'It's Okay to Be White': A case study in campus hysterics
Like The College Fix on Facebook / Follow us on Twitter