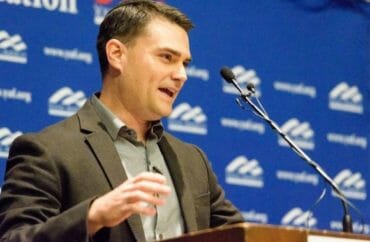 Michigan State incident prompted administrator to allow for a room change
One evening last September, a Michigan State University student awoke from his nap to see his roommate sitting at his computer. There was a video playing, and the student realized his roommate was watching a video of conservative commentator Ben Shapiro.
The newly awoken student then took to his own computer to file a complaint with the administration's bias reporting system against his roommate for watching the Shapiro video.
"Ben Shapiro is known for his inflammatory speech that criticizes and attacks the African American community," the student wrote in his report against his roommate. "I thought hate had no place on MSU's campus yet MSU has roomed me with someone who supports hate speach [sic]."
Shapiro is a popular conservative pundit whose appearances on college campuses are frequently accompanied with protests by liberal students.
In response to the complaint, the university tasked an investigator to look into the matter, who was told to work for a "room change if the claimant would like one."
This report was just one of 35 filed with Michigan State's "Public Incident" website in the fall semester of 2018 obtained by The College Fix through a public records act request. The documents provided by Michigan State have all personal identifying information redacted.
Through the bias reporting system, the administration allows anonymous students and faculty to report incidents, no matter how private, to the university for investigation and adjudication.
The 114 pages of documents provided to The College Fix shows a campus where minor sleights, overheard conversations and editorial cartoons become fodder for students and faculty to report one another.
As was the case with the Shapiro video, it appears students may not even be able to watch a political video in the privacy of their own dorm room without being written up.
Professors are similarly not free from constant surveillance by campus community members. In late November, a lecturer was giving a work presentation when he made a joke about surveys asking "sex" as an identifying question. The professor noted that the concept of "sex" is different to people of different ages, as older people are more likely to see gender as a strictly male/female choice.
"The 'joke' implies that being transgender or intersex is something people age in and out of," a person present complained to the bias reporting system.
"I approached him after the presentation and told him that it is unacceptable to make transphobic jokes and he cannot do that again, but again, he didn't really seem to understand, and didn't respond," the complainant wrote, adding the professor "has a past history of making insensitive remarks about other groups, so anything is possible."
In September, a student overheard a conversation in which another student allegedly misgendered Caitlyn Jenner.
"You guys know that Bruce/Caitlyn Jenner who was married to a Kris Kardashian?" the student allegedly said. "You know that he is dating another woman…what is wrong with him?" the complaining student overheard, saying there were two more witnesses to the infraction. The case was closed four days later, as the person who made the complaint was anonymous – yet the suspect's name remains on file with the university.
In an e-mail to The Fix, Michigan State spokesperson Heather Young noted that the university as a whole has no mandatory bias reporting requirement, although the residence halls do require their employees to mandatorily report bias incidents.
Young forwarded a document that defines "bias" as "verbal or nonverbal conduct that is threatening, harassing, intimidating, discriminatory, or hostile and is based on a category protected under the MSU Anti-Discrimination Policy."
"The physical and emotional health of the victim(s) must be carefully considered after any bias incident," reads the document, titled "Protocol for Addressing Bias Incidents, Acts of Prohibited Discrimination/Harassment, and Hate Crimes."
"It is essential that the victim receive support immediately after the incident and be made aware of the resources available to assist with any emotional, mental, and/or physical impact," the protocol states. "MSU strongly encourages campus community members to take an active role in reporting bias incidents and hate crimes in order to ensure an inclusive and welcoming campus for all."
A number of the cases filed with the bias response system appear to be simple workplace disagreements that became more heated as they went on. After a long argument, one university employee accused his boss of discriminating against him on the basis of race. A complaint was made against another faculty member when she expressed doubt another employee could effectively do her job because of her large size. One employee accused another staff member of breaking a chair due to his "fat ass." And in another example, a university employee was reported for displaying a "Resist Trump" sticker on campus.
At least one report appears to have been debunked on the spot. In October, a white female complained to the front desk at a campus library that three male black students in the library had called her a "gender-based slur." When staff investigated, they found the three male students studying peacefully, each of them denying they had said anything to the female student. She declined to give her name and the university found no evidence they had insulted her.
There was also an example of religion-based bias complaints in the mix. In October, a group of three students belonging to a Christian religious group on campus went door-to-door in the dorms asking residents to take a survey. The students were told to leave, as they were making some students "uncomfortable." The woman conducting the survey was escorted out, which she described as "humiliating."
"Being told my religion makes those around me uncomfortable and only being confronted about an issue with the survey after it was revealed as a faith based religious survey leads me to fully believe I was discriminated on based on my faith and religion," the female student wrote. According to the university's records, the student ceased cooperating with the university and the investigation into the incident was closed with no action.
Other reports are only based on the briefest of interactions:
· Someone said the word "nigga" on an Instagram post; the person was found not to be connected with MSU.

· A discarded game of "hangman" was left on a whiteboard in a residence hall; the word "SOUTH" was the last one played.

· An MSU student posted a Snapchat video in which he says "I hate white people."

· An MSU student found an Instagram photo where some young women were debating whether one of them looks "Indian" in the comments section. The women were not connected to MSU.

· A student complains twice in three days that someone posted a cartoon making fun of liberals in a residence hall and it offended her.

· A student used a residence hall list to e-mail her political beliefs to an entire dorm.

· One staff member overheard another staff member asking someone, "have you ever been to Africa?" and both staffers laughed. When confronted, the two staffers said they were simply quoting the 1997 teen movie "Good Burger." The offended staffer said there was no such line in the movie "Good Burger," and the discussion ended with one of the parties threatening to "kick those mother fuckin asses."
Young was unable to give an estimate of costs to run the bias reporting program, although she noted the campus Office of Institutional Equity has one employee dedicated to following up on reports of bias.
Residence halls "and other units on campus likely have employees who also follow up on bias reports as well," Young said.
This article is one of a series of exclusive College Fix reports about bias reporting systems on campuses across America:
University of Oregon: Bias report filed against professor for defending Brett Kavanaugh
Portland State University: Making jokes at Portland State gets you reported to its bias response team
SUNY-Binghamton: Off-campus road rage incident reported to university's 'Hate or Bias' system
University of Florida: Recent bias complaints filed at U. Florida cite a grumpy professor, a racist Snapchat, and a crass joke
MORE: 'Noose' that turns out to be lost shoelace causes uproar at Michigan State
IMAGE: Young America's Foundation
Like The College Fix on Facebook / Follow us on Twitter