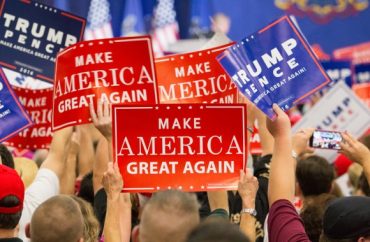 It seems a couple of University of Iowa students either did not get word that the media-driven narrative surrounding the Covington High School boys was bogus, or they've simply chosen to ignore it.
Writing in The Daily Iowan, Maleaha Brings Plenty and Nichole Shaw maintain that the longer, full video of the Covington students' encounter with Native American activist Nathan Phillips "didn't change much of the scenario":
[Covington student Nick] Sandmann and his peers were still blocking Phillips in a disrespectful manner with an ignorant air. Sandmann claims he stood still in an effort to "diffuse the situation," while Phillips said the encounter made him feel "blocked and intimidated." The smirk on Sandmann's face is what drove many to believe the encounter was deliberate and out of malice, rather than out of an attempt to diffuse the situation, as Sandmann claims.
"Overall," the authors continue, the whole encounter is an example of "Make America Great Again" being a phrase which "has become a symbol of white supremacy." But of course.
Plenty and Shaw then demonstrate they're perfectly suited for the same contemporary media they partially criticize:
This is clear when we see images of private-school white boys chanting "Build that wall!" to Native Americans who were here before them. It isn't a coincidence that students supporting a slogan that has its roots in blatant racism would cause such a stir at an Indigenous People's March.
Except that, as reported by Robby Soave — the only journalist who sifted through all the videos of the Covington-Phillips incident — there is no definitive proof of any "Build the Wall" chants. Soave also says that if "you still think Nick Sandmann's smile is proof of racism, you're seeing what you want to see" (the article's actual headline).
Plenty and Shaw also contend that Phillips was slighted as he "was not given the same opportunity" to defend his position in the media as Sandmann. That the media focused on the former's criminal record while granting the latter the "limelight" ("because of the media [initially] skewing the story in Phillips' favor") is somehow a … continuing example of stories being "influenced by a world of white power."
The UI students conclude:
"The white supremacy 'MAGA' represents shows the nature of white fragility, in which any challenge to whites as the center of innocent humanity triggers a range of defensive moves, including the erasure of 'colored' stories and the explanation of white ones."
This certainly fits right in with the "white fragility" inventor's critical studies-esque philosophy.
MORE: Prof: Covington kids symbol of 'white privilege,' yearning for 1950s
MORE: Dartmouth prof approves of 'doxxing' Covington Catholic students
IMAGE: Shutterstock.com
Like The College Fix on Facebook / Follow us on Twitter