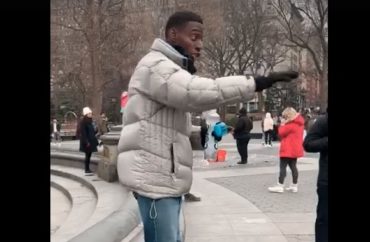 Getting a 'couple annoying texts' is worse than First Amendment violation?
Taylor Swift's decision to seek just $1 from a radio host she claimed groped her may end up changing the power dynamics between universities and their students.
In oral argument Tuesday, Supreme Court justices cited the singer's successful lawsuit against David Mueller in 2017 as evidence of the importance of "nominal damages" in litigation for injuries that are hard to quantify in monetary terms, such as constitutional violations.
Advocacy groups from across the ideological spectrum supported the two students who sued Georgia Gwinnett College for unconstitutionally shutting down and chilling their evangelism on the public campus.
Like Swift, Chike Uzuegbunam (above) and Joseph Bradford were seeking nominal damages because the college revised its speech policies several weeks after they sued.
A trial court tossed the suit as moot in 2018, citing the policy change and Uzuegbunam's graduation, since Bradford had not been explicitly threatened with discipline. The 11th U.S. Circuit Court of Appeals upheld that decision, setting up a split with the other circuits.
Georgia Solicitor General Andrew Pinson faced a barrage of skepticism from the justices, three of whom invoked Swift's case when he argued that nominal damages alone could not justify litigation.
But justices also grilled lawyers for the students and Justice Department, which sided with the students, suggesting their argument could drastically lower the bar for lawsuits against government officials such as Georgia Gwinnett administrators.
If the high court is concerned about "courts being flooded with frivolous claims for relief," the Alliance Defending Freedom's Kristen Waggoner told Justice Amy Coney Barrett, it should remember that "no one … contests the injury in this case."
It's like government attempts to get away with "discriminatory stop-and-frisk" policing and denying prisoners kosher meals, she said. Justices must stop bureaucrats from trying to "roll the dice" on unconstitutional actions and then giving up "when the odds switch" to the plaintiff's favor.
MORE: Left and right unite to demand SCOTUS punish Georgia Gwinnett
Don't incentivize students to 'make up damages' so they can sue
The 11th Circuit's rejection of nominal damages as the basis for litigation "is a radical departure" even from its own jurisprudence, Waggoner said. Centuries ago, English courts allowed such damages as a remedy even "when no future threat existed" to a plaintiff.
It's the most fitting remedy for violations "that transcend price tags," such as unreasonable search and seizure, but public officials think these rights are "worthless," she said.
Chief Justice John Roberts asked if "throw[ing] in a buck" for damages automatically created an injury, the threshold for legal standing. The students seem to be asking for "a declaration that you're right" – a prohibited "advisory opinion" on a constitutional issue that doesn't resolve a "controversy," he said.
The high court has said an injury has to be "real and substantial," Justice Clarence Thomas added. Waggoner reminded them that Congress eliminated the dollar threshold from the relevant civil rights provision, known as Section 1983. Government misconduct against a constitutional right is "injury in and of itself."
"If Bradford is hurt" because he chilled his evangelism in response to the college's two threats against Uzuegbunam for public evangelism, "who wouldn't be?" Justice Stephen Breyer asked. Justice Sonia Sotomayor also questioned the harm to the chilled student.
Justice Samuel Alito seconded Roberts that the sought "vindication" sounds like the students want an advisory opinion. He asked whether Waggoner was rather arguing that they suffered a "real concrete violation that can't be easily monetized."
She told the justices that their own precedent provided the sought relief, rattling off several decisions among "hundreds," including a 2014 decision that struck down an Ohio election law that had chilled the speech of a pro-life group.
Answering Justice Elena Kagan, Waggoner denied she was arguing that nominal damages are a form of compensatory damages, which indisputably provide legal standing.
Nominal damages reflect "damage [that] has been done" but the monetary amount "pales in comparison to the harm," in this case loss of free speech, which is "nearly impossible to measure," the attorney said. It's not about attaining "psychic satisfaction" from a court, Waggoner retorted to Kagan.
Justice Neil Gorsuch noted that Uzuegbunam initially sought compensatory damages, based on the money he spent driving to campus to evangelize. He asked whether the student would have had standing if he had walked instead.
Waggoner asked if the justice was suggesting that plaintiffs "make up damages" they aren't seeking in order to assure standing, which would actually "lead to protracted litigation" and a worse result for targeted colleges.
MORE: College that squelched student speech under court supervision for a year
They'd get attorney's fees, but those would be 'potentially quite minimal'
The college's actions constitute an "unquestionable Article III injury" for federal courts to consider, and the amount of damages sought is "immaterial," Deputy Assistant Attorney General Hashim Mooppan argued: Georgia's argument would "create confusion in the law."
Roberts shot back that the federal government's argument "melds" the disparate issues of standing and "merits" – the so-called vindication from a court on the disputed issue. That's false, the Justice Department lawyer said: Suppression of speech causes injury but a court may yet determine it's "permissible" in a given context.
The issue of standing turns on "credible threat of enforcement," which chilled Bradford's speech, Mooppan told a skeptical Justice Thomas. The college at the time was "robustly, actively enforcing" its policies restricting expression to so-called free speech zones and threatening "disorderly conduct" charges against those whose expression offended people.
It's not that students who "might have" engaged in prohibited speech can qualify for nominal damages, Mooppan told Justice Alito, but only those who "intended to." Justice Sotomayor asked if Bradford should be required to "prove what plans he actually made" to speak. That's available in cross-examination, Mooppan responded.
Justice Breyer wondered how the court was supposed to hear cases by those who are "really hurt" if it's preoccupied with the "border case[s]" on policies that might be unconstitutional but "nobody is really hurt" enough to seek compensatory damages.
A deeper concern of justices was whether nominal damages were simply a vehicle for obtaining attorney's fees from a defendant, which would make litigation more attractive.
Justice Brett Kavanaugh broached the subject with each lawyer. He asked Mooppan if that's why the feds want to preserve nominal damages, when injunctive relief would stop the college's behavior but not allow attorney's fees.
MORE: Student sues college for calling his evangelism 'disorderly conduct'
Justice Thomas asked why defendants should "basically surrender" to paying a dollar to resolve litigation when they could be on the hook for attorney's fees as a result. Those fees would "potentially be quite minimal," just as the damages are minimal, Mooppan responded.
Kavanaugh repeated Mooppan's argument when it was Pinson's turn. The justice told the Georgia solicitor general that there's less "incentive to litigate wastefully" when plaintiffs only seek nominal damages.
Kagan suggested the historical rationale for nominal damages – the difficulty quantifying the harm – may itself be outdated: Courts can now monetize novel claims such as emotional distress and "dignitary harms."
That's not an "accurate characterization of the common law," Mooppan retorted: "Every injury imports damage" by its very nature. But "great lawyers and economists" can find a way to monetize all sorts of harms, Gorsuch interjected. Mooppan insisted that was the role of Congress: to decide damages for deprivations of constitutional rights.
Justice Barrett questioned what case could ever be mooted as long as nominal damages are sought. Mooppan argued that many plaintiffs could not practically continue litigating a case "just over nominal damages."
He tried to turn the tables on Georgia's argument, noting that punitive, statutory and "treble" damages have core similarities with nominal damages. All are available without future harm and with no quantifiable past harm, yet Georgia seems to think all violate Article III federal court jurisdiction.
'Nobody thinks that being sexually assaulted is really only worth a dollar'
Pinson repeatedly returned to his theme: nominal damages aren't even "compensation" under "modern and historical authorities," just a "symbol" of a violation. But he faced perhaps the toughest time before the court.
The Supreme Court's test is whether nominal damages can "redress a continuing, present, adverse effect," Justice Roberts said. But nominal damages are only available when plaintiffs can't prove other damages, the Georgia solicitor general retorted.
He told Justice Thomas there are indeed cases that describe his scenario, where nominal damages were given as a last resort to an otherwise failed plaintiff. Whether or not the challenged law was enforced "does not matter" to the relevance of nominal damages, because they are not a remedy for a "justiciable controversy."
But nominal damages can indeed redress past harm, Justice Breyer said, as when a college tells a student he can't pray in a particular spot: It's a damage that can't be quantified. That's incorrect, Pinson responded: It's better to rely on damages for "intangible injuries" such as emotional distress, and violations of voting rights are also eligible for compensatory damages.
Even if Congress amended Section 1983 to impose statutory damages of one dollar for violations, Justice Alito asked the lawyer, that would be too low an amount to preserve standing under Pinson's argument?
Pinson said it's dubious that "trivial" damages even qualify as compensation. They have historically been used by common law courts for "reflecting the outcome" of the case, and no more.
Justice Sotomayor told Pinson flatly that his argument "doesn't make any sense of our other precedents," such as on punitive damages, which can be used to "punish" the violator.
The high court has upheld a jury award of one dollar as compensatory damages, and Sotomayor herself has presided over cases where the jury award was "infinitesimally small" compared to the injuries, but "you can feel compensated" even by that small amount.
Even if nominal damages are only "symbolic," that doesn't mean the violation was "nothingness," Justice Kagan said, invoking Swift's groping lawsuit for the first time.
The singer didn't want her alleged attacker's money, but did want to prove that he committed "unquestionable physical harm," the justice continued. "Nobody thinks that being sexually assaulted is really only worth a dollar," but Swift was striking a blow for the "world of women" who have suffered the same injury.
MORE: 11th Circuit shows contempt for constitutional rights of students
Pinson insisted that Swift's sought award for being groped "sounds like compensatory damages" regardless of the amount: Courts don't exist simply for "proving a point," yet that's the function of nominal damages.
"It all turns on the label of compensation," Justice Gorsuch said, explaining Pinson's argument back to the lawyer: If Uzuegbunam had a 25-cent bus receipt "tied to his injury," that would be enough for standing.
The problem is that Pinson is disadvantaging groups that have a "reason not to seek more" in damages, the justice continued. This includes religious groups that eschew accepting payment for harm and people "whose claims are not sufficiently great" to draw interest from lawyers and economists who can make creative arguments about other kinds of harm.
Pinson disagreed with the premise, saying it might be "a little bit of extra work" for such plaintiffs to seek compensatory damages. He agreed with Gorsuch's suggestion that even a 25-cent bus receipt would be enough for a plaintiff to seek attorney's fees.
"There are a number of things working against you here," Justice Kavanaugh told the Georgia solicitor general, including that "this seems to be working fine in all the other circuits that allow nominal damages."
But it's true that governments have been hit with large damages awards despite "quick resolutions" with plaintiffs, Pinson retorted. Individual government officials should not have to accept liability of even one dollar, as Kavanaugh suggested, "just to avoid prolonged litigation," the lawyer said.
"You've kind of gone back and forth on the triviality of the money point," Justice Barrett told Pinson, who conceded that "even a very trivial amount" is a compensatory injury.
She then gave a hypothetical: What if Congress lowered the statutory damages in the Telephone Consumer Protection Act, which regulates unsolicited text messages? Would that make the law unconstitutional because the damages were too low?
If they cause a "slight injury," then slight damages are compensatory in nature, Pinson responded. "So you concede the damages for receiving a couple annoying texts but not for having your First Amendment rights violated?" Barrett responded.
MORE: Court lets college off the hook for punishing student for sharing his faith
IMAGE: Chike Uzuegbunam/Facebook
Like The College Fix on Facebook / Follow us on Twitter