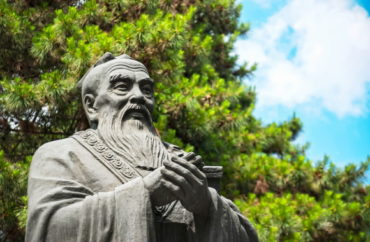 In October, two German universities were all set to host book readings when they each got a surprise. According to one of the schools, the Chinese consul in Düsseldorf, Feng Haiyang, had personally intervened to stop the readings.
The book, Xi Jinping – The most powerful man in the world by Stefan Aust, a former editor-in-chief of Germany's Der Spiegel magazine, and Adrian Geiges, a China correspondent for weekly magazine Stern, has already received hearings at schools in Leipzig and Freiburg, and no problems arose.
But this time, the schools' Confucius Institutes got involved, shutting down discussions of the book.
"We were very surprised it was cancelled a few days before," said Geiges in a radio interview. "Not only us but also the Confucius Institute in Hannover itself said they had not experienced such strong influence and massive pressure before."
Geiges said what others in America and elsewhere have long suspected: Confucius Institutes are China's "long arm," tasked with quashing criticism of Xi and the Chinese Communist Party.
"That's nothing new in China but that it is now extended to Germany, that's new," Geiges said.
It is a warning shot that should be heard across the Atlantic Ocean to the west. Confucius Institutes continue to operate in the United States, although more schools have been disbanding the centers on their campuses. Once numbering more than 100, there are fewer than 25 left in America.
Observers have long noted that such institutions give oppressive regimes power on foreign campuses to dictate students' speech and behavior. And while Confucius Institutes may be dying off (in some cases just changing their names), they are being replaced by other entities favorable to the CCP, such as Chinese Students and Scholars Associations.
At the same time the Chinese government is influencing activity on foreign campuses, reporting of overseas donations to American schools has fallen.
This week, U.S. Congressman Mike Gallagher (R-Wis.) wrote a letter to Secretary of Education Miguel Cardona to express concerns about a significant decrease in foreign gifts reported by U.S. higher education institutions since President Joe Biden took office.
According to Gallagher, U.S. universities reported $1.6 billion in gifts and grants between July 1, 2020 and January 20, 2021. Yet since inauguration day earlier this year, schools have only reported $4.3 million in foreign donations.
Further, the Department of Education hasn't opened any new investigations into schools that have failed to report foreign contributions. Late last year, the Department found $6.5 billion in foreign donations that went unreported; it appears the Biden administration has yet to follow up on the findings of the previous administration.
"The clear implication is that American higher education institutions have largely stopped reporting them to the Department in violation of their obligations [under federal law]," Gallagher wrote.
Clearly, no letter from a congressman or universities choosing to close Confucius Institutes is going to stop China from exercising their "soft power" on American campuses. Some U.S. schools are still creating joint campuses in China to share staff and resources.
Let's just hope it's not too late when the American public realizes it has outsourced its academic freedom to Beijing.
ALERT: Check out our new Campus Cancel Culture Database!
IMAGE: A Photo Story / Shutterstock
Like The College Fix on Facebook / Follow us on Twitter