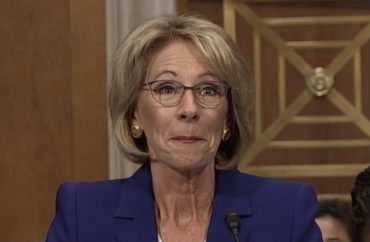 Title IX coordinator spills the beans on 'delay strategy'
Activist groups who opposed the Trump administration's proposed Title IX regulations from the start are now citing the outbreak of COVID-19 as a reason for further delay.
In response, due process advocates are urging the Department of Education to keep its schedule for release of the rules, which would add several due process protections for accused students in campus sexual misconduct proceedings.
While it's true that the novel coronavirus is exhausting colleges' available resources, opponents of due process are using the public health crisis as an excuse to cover up their disapproval of the proposed regulations, according to a due process group.
"It's not because of the coronavirus, it's because they don't like and don't want the due process rule. Period," Stop Abusive and Violent Environments wrote in a statement.
"At a time when the COVID-19 pandemic has created much uncertainty in the education community, the Department can provide clarity with respect to Title IX by issuing the regulations as soon as possible," according to a letter to the Department of Education by Speech First and the Independent Women's Law Center. They called on the feds to not buy into coronavirus as an excuse to delay the due process rights of students.
On-time release of the rules is important for accusers as well, according to Joe Cohn, legislative and policy director for the Foundation for Individual Rights in Education.
"The status quo with respect to campus Title IX proceedings is unacceptable," he said in a FIRE statement. "Institutions too often harm complainants by sweeping allegations under the rug or by handling their complaints with insufficient care, while the railroading of accused students is also well documented. Neither of these injustices should be allowed to persist."
As evidence that due process opponents are trying to delay the regulations as long as they can, SAVE shared a clip from an Instagram video posted April 3 by Tulane University's Title IX office.
Coordinator Meredith Smith explains the "delay strategy" devised by the National Women's Law Center and some other "legal and victims advocate groups."
In order to push off the regulations from taking effect in 2019, they "parachut[ed] in to get more and more meetings" with the White House Office of Management and Budget, which must sign off on agencies' proposed regulations, Smith says. Her office didn't know about the strategy until "January or February."
MORE: Colleges, Democrats use COVID to get out of treating students fairly
Shocking video clip of Tulane TIX coordinator, revealing the Nat'l Women's Law Center orchestrated a strategy to delay release of new TIX regs, as posted in SAVE article. @BetsyDeVosED @usedgov https://t.co/bgDgp3TH2B pic.twitter.com/wRObxc8gn5

— SAVE (@SAVEservicesorg) April 13, 2020
Don't seek to 'implement regulations unrelated to this extraordinary crisis'
Colleges have known the specifics of the Department of Education's proposed Title IX regulation for nearly a year and a half. The broad contours go back a year earlier than that.
It would ban "single investigator" proceedings where one official acts as judge, jury and executioner; require live hearings with some form of cross-examination by students' advocates, including lawyers; and require colleges to use the same evidence standard in disciplinary proceedings for both students and faculty, who often have more protections.
The proposed procedures are in line with several court precedents, particularly those from the 6th U.S. Circuit Court of Appeals, which ordered colleges to allow cross-examination when "credibility is at issue." They would also be legally binding, a reversal of the Obama administration's "guidance" approach.
Three Democratic senators called it "reckless and inappropriate" for the Department of Education to require K-12 schools and higher education to "significantly alter how they handle allegations of sexual harassment and assault" during the pandemic.
MORE: Colleges use coronavirus to restrict how accused students defend themselves
They face "unprecedented uncertainty about the end of this school year and the start of the next school year," wrote New York's Kirsten Gillibrand, Washington's Patty Murry and Elizabeth Warren of Massachusetts. "The federal government should be doing everything possible to help them navigate these uncertain times," including by delaying the Title IX regulation.
The American Council on Education, which represents college presidents, as well as NWLC and 18 Democratic attorneys general have all written letters to the Department of Education asking to delay the rules, given the strain of COVID-19 on colleges.
"At a time when institutional resources already are stretched thin, colleges and universities should not be asked to divert precious resources away from more critical efforts in order to implement regulations unrelated to this extraordinary crisis," ACE wrote.
"Finalizing the proposed rule would also unnecessarily exacerbate confusion and uncertainty for students who are currently in pending Title IX investigations and hearings, which have already been delayed and disrupted by the pandemic," NWLC wrote. The attorneys general echoed these arguments.
Stalling rationale 'also true for a university absent of a coronavirus pandemic'
Due process advocates countered that now is the perfect time to implement new Title IX rules because colleges have had ample time to plan and Title IX officers will not have to worry about an abundance of new cases, given how few students remain on campus during the COVID-19 outbreak.
The rationales offered for delay by NWLC and ACE – that colleges are dealing with reduced resources, increased stress and difficult work arrangements – are "also true for a university absent of a coronavirus pandemic," SAVE countered. It noted that NWLC's letter tipped its hand by calling the Title IX proposal "fundamentally flawed," not just ill-timed.
"Students are given ample notice to complete their assignment and turn it in for a grade," the due process group continued. "Universities have had ample notice and time to prepare for the release of new rules enforcing Title IX on their campus.  No more excuses. Time's up to restore due process on University campuses across the nation."
Writing for SAVE, University of Utah Prof. Nicholas Wolfinger wrote Sunday: "With campuses shuttered and students sent home, opportunities for campus sexual misconduct have plummeted. In short, this is the ideal time for the new regulations to be implemented."
Given the proposed rules were published in November 2018, "preparation for the implementation of these regulations should be well underway at this point," said the Speech First and IWLC joint letter. "Students who are currently caught up in Title IX adjudications should not be forced to wait any longer for clarity on their cases."
Speech First President Nicole Neily said in a separate statement that "all stakeholders in America's institutions of higher education—from students and parents to faculty and administrators —deserve a just system, and they deserve it now."
MORE: Accusers use 'street justice' to harass accused students
IWLC Director Jennifer Braceras added: "Universities must not be allowed to hide behind this pandemic as an excuse for violating the due process rights of the accused."
FIRE's Cohn emphasized that the Department of Education's proposed rules are "not the only potential legal authority mandating changes," pointing to the "growing list of schools … on the losing end of judicial opinions blasting the institutions' procedures":
Does anyone think the pandemic should result in stays in all of those cases? Should we presume that the current world situation should be grounds to stay all judicial orders — even those in other contexts — requiring the government to halt the revision of policies that violate constitutional rights? If not, then why only in this context must this type of institutional actor be allowed to continue unjust practices?
Secretary Betsy DeVos* has been coy on the timing of the rule, which faces no more regulatory hurdles after clearing OMB review.
In a news release by the Department of Education about the stimulus money going to higher education, she vaguely responded to questions regarding the Title IX regulation.
Without giving an exact date for the regulation's rollout, DeVos said the department is taking into consideration both sides' arguments on the matter. "We are sensitive to the situation [with coronavirus-related burdens]. But we also have to acknowledge that Title IX investigations continue to happen."
MORE: First class action filed against university for Title IX due process violations
IMAGE: ABC News/YouTube
Like The College Fix on Facebook / Follow us on Twitter