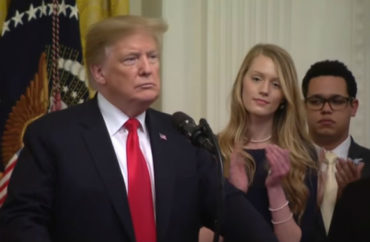 Those with 'lesser standards' must go 'public about their allowances for censorship'
The Department of Education's proposed rule changes to protect freedom of association and religious liberty on college campuses may do too little for students at private colleges, First Amendment advocacy organizations told the agency.
These new rule changes seek to make good on the promise of President Trump's executive order on the subject.
The Foundation for Individual Rights in Education is "cautiously optimistic about this proposal because of its potential to incentivize institutional respect for and attention" to freedom of association and religious liberty, it wrote in a blog post.
But the group also has reservations, including that the new regulations could cause private schools to shy away from protecting these rights.
As written, the current proposal would hold private institutions that "promise freedom of expression and academic freedom" to the same standard as public universities that violate those rights. This could encourage private institutions to simply stay silent on the subject, according to FIRE, which proposes:
Specifically, private institutions that promise freedom of expression and academic freedom should be held to the same standards public institutions are held to under the First Amendment unless their application for federal grants specifically details how the institution's commitments to those principles deviate from the obligations imposed on their public counterparts by the First Amendment.
Speech First President Nicole Neily, whose group litigates on behalf of students whose colleges chill their expression, echoed this notion to The Fix.
"Requiring private universities to comply with their own speech policies as a condition for receiving certain federal grants is the equivalent of 'truth in advertising,'" she wrote in an email.
"Although private schools typically are not bound by the First Amendment, they often hold themselves out as bulwarks for freedom of thought and expression, and should be held to those standards," Neily (left) said. "If they have no intention of providing those benefits to their students, then they shouldn't claim to do so."
"Putting the onus on those institutions that wish to be held to lesser standards to be clear, detailed, and public about their allowances for censorship may serve as a powerful disincentive to those who would water down those commitments to avoid liability," reads FIRE's comment to the Department of Education.
The group also warned that the proposed rule changes could have "unintended consequences on how institutions litigate [First Amendment] cases and how courts decide them."
Joe Cohn, legislative and policy director for FIRE, explained what this meant to The Fix. "This is particularly important on the closer cases where we want to move the needle," he said in a phone call. "We don't know how this rule change will alter the behavior of lawyers representing the schools or judges ruling in these cases. It might impact litigation in unpredictable ways."
Nevertheless, FIRE noted that its concerns on this point were ameliorated because "only a portion of the federal dollars an institution receives are at risk," and the Department of Education has the discretion to allow institutions to fix their problems before the penalty kicks in.
FIRE also suggested that the regulations compel private schools to list their "certifications" online so that potential students and faculty could "choose schools that match their values."
MORE: Department of Ed threatens college funding for religious discrimination
Speech First told the department that it wrote "in strong support" of the proposed rules.
"Although universities should not need an incentive to protect the most fundamental constitutional rights of their students, the proposed rule is an appropriate way to confront universities who refuse to protect or actively stifle student speech on campuses," the comment read.
Despite this, Speech First shared its perspective on potential shortcomings of the proposed regulations based on the litigation it has previously brought against universities.
Neily, the president, told The Fix that the proposed rule is depending on a "final judgment" having been entered against a university by a court. "But universities are often able to avoid final judgments by changing their offending policies after being sued and mooting the cases against them."
Her proposed solution? The rule should be changed to grant the department "discretion to determine that a university is not in compliance when the university strategically repeals its offending policies to avoid a finding of liability," thus getting rid of the loophole, she said.
Alliance Defending Freedom "enthusiastically supports" the government's "efforts to eliminate special burdens on religious educational institutions and to foster compliance by public universities with the First Amendment," the religious liberty litigator wrote in its regulatory comment.
It commended a proposed rule that protects religious student organizations who condition membership or leadership on being members of that religion. "All too often, such organizations are discriminated against by universities who prohibit students from forming around shared ideas," the comment stated.
The alliance thinks the rule should encompass more: "The College Democrats should not be required to elect a MAGA-hat wearing leader, the College Republicans should not be required to elect a NeverTrumper, and [Jewish group] Chabad on Campus should not be required to elect a Boycott-Divestment-Sanction supporter."
FIRE's Cohn (right) emphasized this point as well. "With respect to the religious liberty provisions, FIRE supports them but wants them broadened. They make sense for any ideologically based advocacy group," he told The Fix. The college chess club? Not so much.
FIRE's blog post highlighted this, saying the department should "make clear that this protection applies to all belief-based student organizations. After all, shouldn't the College Democrats and College Republicans also be allowed to restrict leadership and membership to students who share their parties' beliefs?"
"The government isn't being neutral if it treats religious Americans and organizations worse than everyone else," Zack Pruitt, senior counsel for the alliance, stated in a press release. "That's why we appreciate the efforts of the administration and its agencies to do what they can to respect and protect the free exercise of religion and the freedom of speech all Americans have under the Constitution."
MORE: Trump's executive order punishes 'professors and power structures'
IMAGE: Fox News/YouTube, Nicole Neily/LinkedIn, Foundation for Individual Rights in Education
Like The College Fix on Facebook / Follow us on Twitter