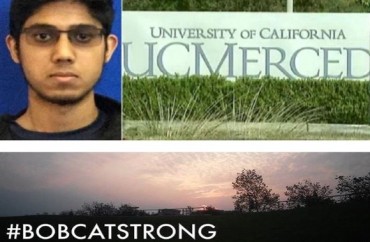 'People were quick to sympathize with the attacker,' student says
Many at the University of California-Merced are mourning the 18-year-old student who went on a vicious stabbing spree before being shot and killed by a campus police officer, with a "R.I.P" tribute to Faisal Mohammad on Facebook gaining massive support among the campus community.
Faculty also held a "teach in" Monday night that was conspicuously devoid of discussions of radical Islam, and instead delved into topics such as how society's notions of masculinity pressure men.
After his rampage, Mohammad was found to have an image of the ISIS flag, a handwritten manifesto with instructions on how to behead someone, and reminders to pray to Allah, but the campus community appears to largely agree with authorities and university officials who insist his motives were grounded in revenge for being kicked out of a study group.
The student stabbed four people on the Northern California campus earlier this month before he was killed by the officer to end the attack. All four victims are expected to make full recoveries, the Merced Sun Star reports.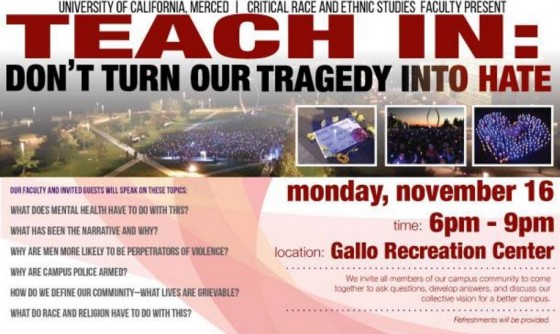 The "Don't Turn Our Tragedy Into Hate" teach in, hosted by the critical race and ethnic studies faculty, focused in on subjects such as: "What does mental health have to do with this?"; "Why are men more likely to be perpetrators of violence?"; "How do we define our community – what lives are grievable?"; and "What do race and religion have to do with this?"
One speaker during the panel discussion delved into what she claimed was the quintessential example of manliness: "Middle class, able bodied, heterosexual, red meat, probably Christian," she said, according to an audio recording of the event obtained by The College Fix.
"Anger, that is really what we think about when we think about emotional men," she continued. "They are subject to social sanctions if they deviate from masculinity. If you are perceived as failing at it, you are subject to being called a fag, a pussy, a wimp, pretty much what women are, right?"
"So when you have this limited ability to sort of express your emotions and possible feelings of emasculation, of low self esteem, how do you really [deal with] that? A lot of times they … engage in violence. They need to compensate for their loss of masculinity in the most manly way they have access to, and unfortunately, a lot of times that's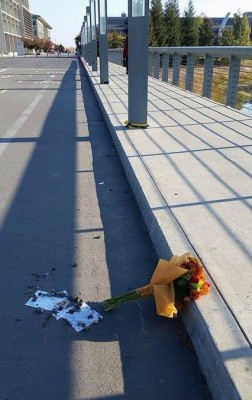 violence."
(Pictured at right, flowers on the campus bridge in the area where Mohammad died.)
A UC Merced student who attended the teach in said he could not believe the school's event blamed the stabbing spree on "masculinity" and completely downplayed radical Islam.
"They just want to say it's not Islamic terror," said the student, a senior at the school who asked The College Fix to remain anonymous for fear of "retribution"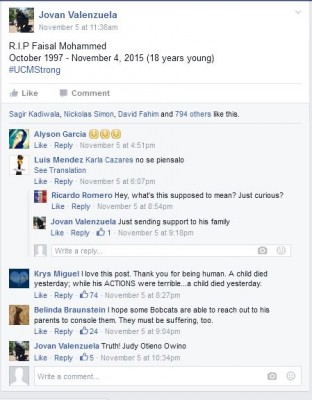 for speaking out.
"They were trying to understand why the kid did it," he added, noting about 200 people attended the teach in. He said "Islamophobia" was cited as the reason people want to call it a terrorist attack.
James Leonard, a spokesman for the university, said in an email to The College Fix that the teach in was a faculty-led event, "and the opinions expressed there were those of the individual faculty members, students and others in the audience."
Teach in organizers could not be reached Tuesday afternoon by The College Fix.
But the UC Merced student told The Fix he and some of his peers are frustrated by the response of campus leaders.
"People were quick to sympathize with the attacker and assume anyone who thought this was related to radical Islam was a xenophobic racist," he noted. "One of the most disturbing things I saw on Facebook was that a student made a RIP Mohammad post that received nearly 800 Likes."
At least two Facebook post tributes to Mohammad were done in "UC Merced Classifieds," a closed Facebook group within the campus community used as a message board.
In a Nov. 9 column in the campus publication The Odyssey Online, PhD student Hassan Harb wrote that "UC Merced Classifieds was overloaded with posts that condemn the media's reaction to the incident. All students insisted on the fact that all the reasons behind the attack were personal, and that neither ISIS nor terrorism had anything to do with it."
"Some also took it further; they were aware that the suspect was passing through hard times, and that although what he did was unacceptable and should be dealt with by a zero tolerance policy, we should also understand that whoever does this thing for sure is passing through traumatic conditions," he added.
Like The College Fix on Facebook / Follow us on Twitter