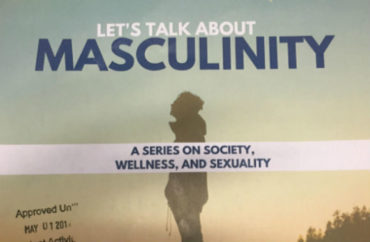 Students get raffle tickets for talking about toxic masculinity
BOSTON – The University of Massachusetts-Boston offered students a double feature on sex, consent and relationships Tuesday.
The public university's monthlong series "Let's Talk About Masculinity" concluded with a lightly attended afternoon discussion, while a "sex-positive comedy theatre troupe" performed skits on "sexual health and awareness" in the evening.
Both events were associated with University Health Services and organized by health promotion specialist Craig Bidiman, who is widely known around campus for his active involvement in orientation presentations.
"Let's Talk About Masculinity," also sponsored by the College of Nursing and Health Sciences, featured Bidiman and Community Director Montez Paschall as facilitators.
The monthlong series was oriented around "having discussions about masculinity with subtopics on things like toxic masculinity, drinking culture and mental health," The Mass Media reported.
University Health Services heavily incentivized the masculinity series, giving students "50 health rewards points" for attending each event. By contrast, students only get 10 points for attending mental health events.
Each 10 points earn one raffle ticket for various prizes. An upcoming event on mental health offers several raffle prizes: iPad, two Fitbit devices, two chances to meet Democratic Rep. Ayanna Pressley, 10 New England Aquarium and 10 movie passes, a pizza party at the university, two $50 supermarket gift cards and two Hydroflasks.
Men rejected by women are 'most likely' to 'respond violently'
The umbrella idea that inspired these weekly talks was "the unhealthy gender roles and toxic upbringings we normalize in society." Each event included PowerPoint presentations by Bidiman and Paschall.
The first weekly discussion gave an overview of masculinity including so-called toxic masculinity, and the second explained how "drinking culture" plays a role in masculinity, according to The Mass Media. The third probed mental health. The College Fix attended Tuesday's finale on sex and relationships.
The discussion centered on the semantics of sexual consent, the negative connotations that come with masculinity and debunking the "Friendzone." Only eight people attended, and the room had little energy.
MORE: Weeklong teach-in at UMB features 26 social-justice events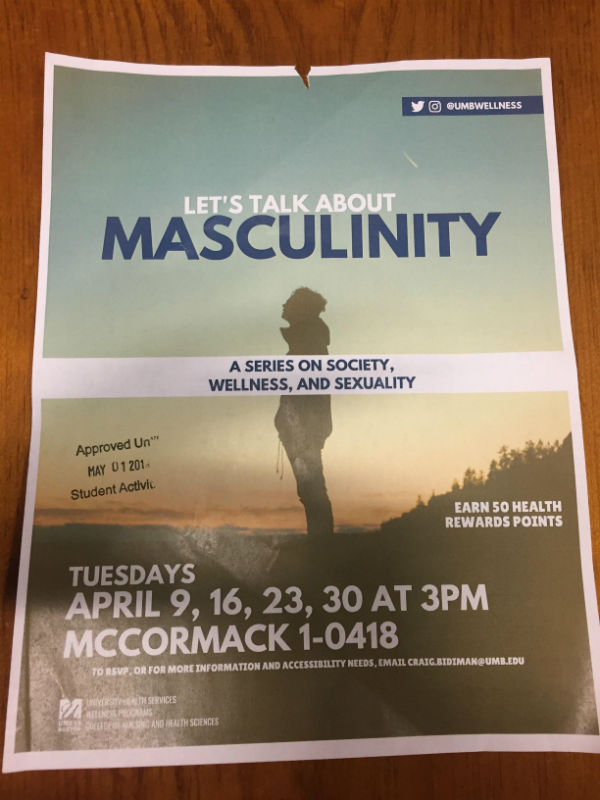 Bidiman and Paschall started by asking student attendees to lay out their own definitions of sex, then distinguished sexual harassment from sexual assault.
"Even having an unwanted conversation that is not about sex is still unwanted, so it is still harassment," Paschall said.
One female attendee claimed that when men are rejected by women, they are "most likely" to "respond violently," due to the male gender's assumption of dominance in society. The facilitators agreed with her description and moved on.
The room quickly came to the consensus that the "Friendzone," which was not defined, simply "doesn't exist."
Snapping, not laughing
The evening performance of "UMBeneath the Sheets" was just the second for the troupe, which is composed of mostly freshmen students. According to The Mass Media, the troupe's debut performance was last week.
Tuesday's skit list (below) included several content warnings, including "excessive swearing," sexual assault, simulated sex, homophobia, alcohol use and "Big dick energy."
Twice as many people – still fewer than 20 – attended UMBeneath the Sheets as attended the final masculinity talk, by the count of The Fix. Rather than laughing at the purported comedy troupe, whose skits were more awkward than entertaining, the audience snapped their fingers in agreement with various statements about consent.
The skits maintained an underlying theme of the importance of "not assuming others identities" in a theatrical format.
Troupe members acted out a tutorial on how to apply a condom and emphasized the negative connotations that come with pre-determined "traditional gender roles popularized in American society."
MORE: UMB class goal is denaturalizing heterosexuality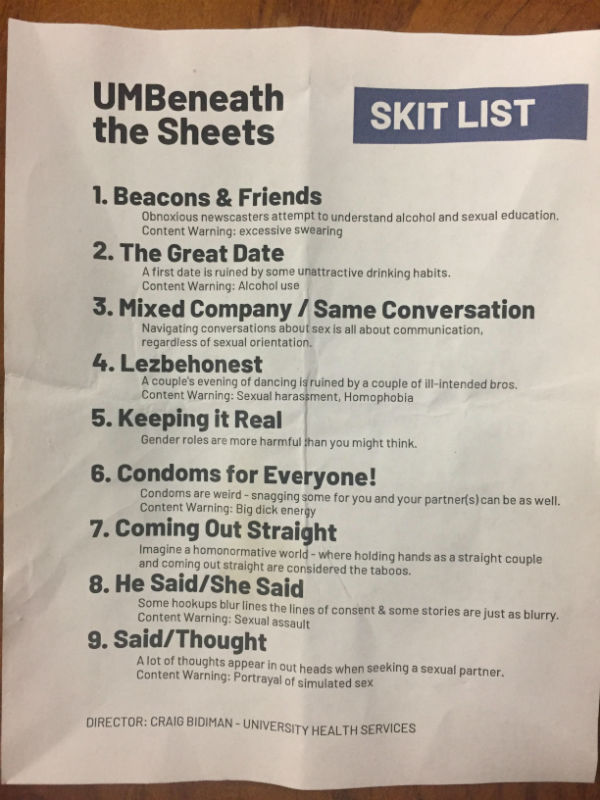 For the "He Said/She Said" skit, male and female actors orated their varying perceptions on sharing a sexual experience. The female saw the act as rape, while the male was in denial about the experience entirely. (The event did not discuss transgender or nonbinary experiences.)
"Coming out Straight" explored an alternative reality where the prevailing sexual orientation was homosexuality. This traditional father-mother dynamic was instead depicted as a family of "two moms" with a son.
As the skit progressed, the son had to "come out" to his parents by revealing that he was actually straight, as if this were a "taboo."
The organizers of the evening performance handed out pamphlets to the audience that provided "information on sexual assault" (below).
The pamphlet cited several statistics on campus sexual assault without citing sources for any of them. "Most people who report being sexually assaulted actually were," it said in bold letters: "They aren't crying rape to get back at someone who they regret having sex with."
It ordered readers to "Believe Survivors." The other side included a list of related resources, including the dean of students, Title IX office, and Rape, Abuse & Incest National Network.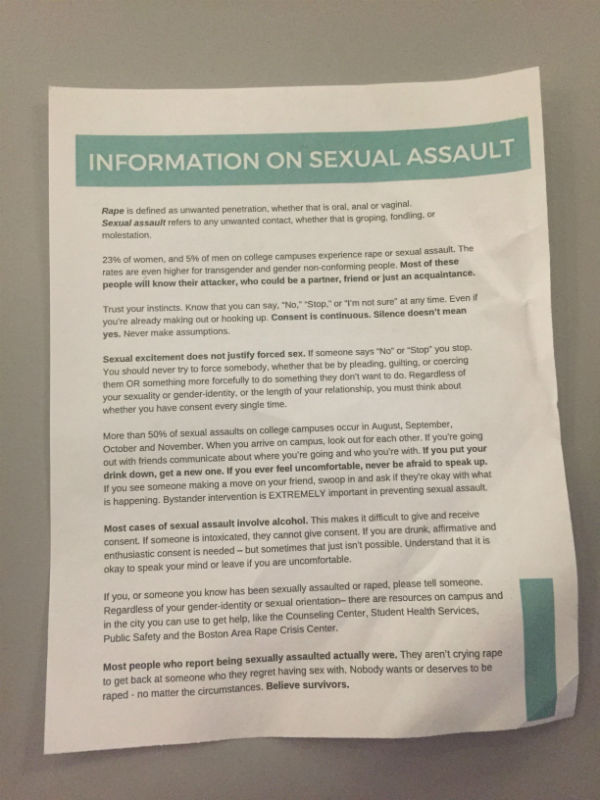 MORE: UMB chancellor, champion of the poor, hikes students' parking fees 150%
IMAGES: Alexander Pease
Like The College Fix on Facebook / Follow us on Twitter