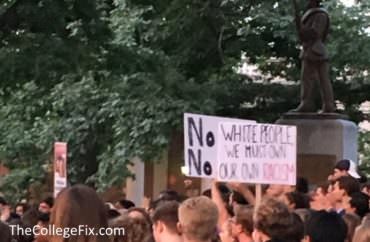 UNC forms Campus Safety Commission
Dozens of students at the University of North Carolina at Chapel Hill recently walked out of class and called for the school's police department to be stripped of its ability to oversee and police their "anti-racist" efforts after a year of racial tension on campus.
The Daily Tar Heel reported their demands include "to cease harassing and arbitrarily arresting anti-racist protesters, stop coordinating with white supremacists, lift the 'no trespass' orders against anti-racist protesters, stop police brutality and excessive force, stop inviting outside police agencies onto campus and allow community-based investigation and accountability regarding collaboration between the police and white supremacists."
When protesters tried to present their demands and found the building locked, one demonstrator begin pounding on a window, eventually breaking it, the Tar Heel reported.
Wednesday's protest came eight months after the "Silent Sam" statue was violently torn down by a group of "anti-racist" protestors. A subsequent demonstration that took place as officials weighed the statute's fate involved the use of pepper spray to disperse the disorderly crowd. During the August event, some protesters chanted "Cops and Klan go hand in hand" and "No cops, no KKK, no fascist USA."
Fast-forward to today, and UNC officials have formed a Campus Safety Commission to deal with the ongoing racial tensions. The commission will examine "the need to build stronger relationships and communication between our campus community and campus police," according to a statement from Interim Chancellor Kevin Guskiewicz. It will include 20 members of the campus community, including three undergrads and three grad students.
At Wednesday's protest, one of the students on the commission "shared her stance that 'The UNC police apparatus should be abolished,'" the Tar Heel reported. The student also called for the administration to advocate for dropping all charges against "anti-racist demonstrators" and for the school's policy on free expression, adopted in 2017, to be repealed.
"Pretty much the entire year, police have been brutal to anti-racists while protecting white supremacists," the graduate student who organized the walkout said.
"We can no longer allow police to define what it means to be safe," another student said. "Not on this campus, not in our communities or elsewhere. Not when security and safety requires violence and false charges against anti-racist students and an allegiance to the very culture that invalidates the histories of racial violence and subjugation that these students are aiming to bring to light."
In February, UNC grad student Maya Little, who had been arrested in 2018 after vandalizing Silent Sam with paint and her own blood, was given a "written warning and 18 hours of community service for damaging university property," the News & Observer reported.
As for criminal charges, "an Orange County judge found her guilty of a misdemeanor but handed down no punishment in the Silent Sam vandalism. In December, she was charged with inciting a riot and assaulting a police officer at a protest."
As for the Silent Sam incident, last week two suspects were found guilty of helping to topple it and "were charged with 24 hours in jail and 18 months on probation. They were also charged with paying $500 in fines and completing 250 hours of community service," the Daily Tar Heel reports.
The News & Observer reports that in previous cases regarding the statue vandals, "11 protesters have had their charges dismissed, and two were found not guilty. Four more will have their charges dismissed if they complete community service and pay fines."
Joel Curran, vice chancellor for university communications at the university, told The College Fix in an emailed statement Friday that campus leaders are addressing students' concerns but are disappointed a window was smashed in the process.
"We have heard the concerns about the ways UNC Police have handled recent campus demonstrations and public safety events, and we are addressing them," he said.
"We value and support free speech and civil discourse as we work to strengthen the relationship between the police and the community," Curran added. "However, breaking windows does not represent these values. It endangers the safety of people and is not acceptable. We are grateful no one was injured."
No one was charged after the incident either, according to Greensboro News & Record.
The commission's formation was originally announced in March after members of a "Confederate heritage group" were seen walking through campus, at least one of whom had a handgun. UNC police officers asked the group to leave, which they did, and no charges were filed, the Raleigh News and Observer reported.
MORE: Silent Sam protest engulfs campus 
MORE: Photos show UNC has totally wiped 'Silent Sam' from campus
Like The College Fix on Facebook / Follow us on Twitter