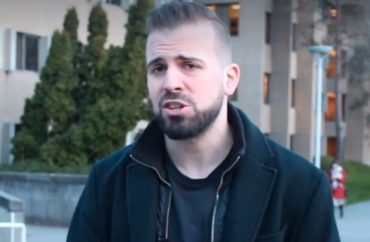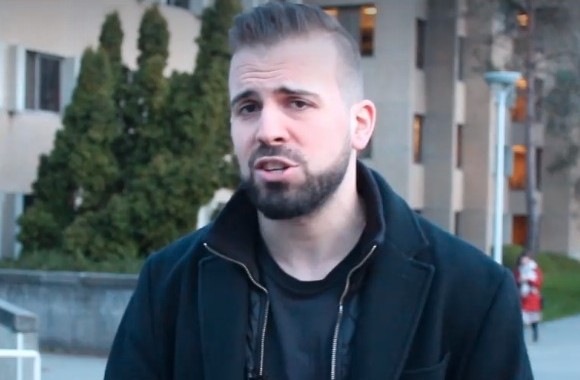 UPDATED
Reportedly demanded student group hire security following left-wing criticism
For the second time in two months, a university in British Columbia is blocking a purportedly controversial speaker from campus in the name of "safety and security."
The University of Victoria halted the Free Speech Club's planned event featuring Aaron Gunn, a self-described "advocate for taxpayers and common sense" in Canada whose videos have racked up more than 25 million views.
In a March 3 email to club leader Levi Bekesza that he shared with The College Fix, Student Support Services said the university had received the club's "information table request to promote the speaking event" March 12.
But the online promotion for the event "differs from the information provided in your original booking request form," and social media responses raise "considerable concerns around safety and security," the unsigned email said.
"We have placed this booking on hold until we can meet with you in person to review the speaking event details to ensure that the intended event is consistent with university policies and to discuss safety and security requirements," said the email, which was copied to Student Support Services Manager Ashley de Moscoso.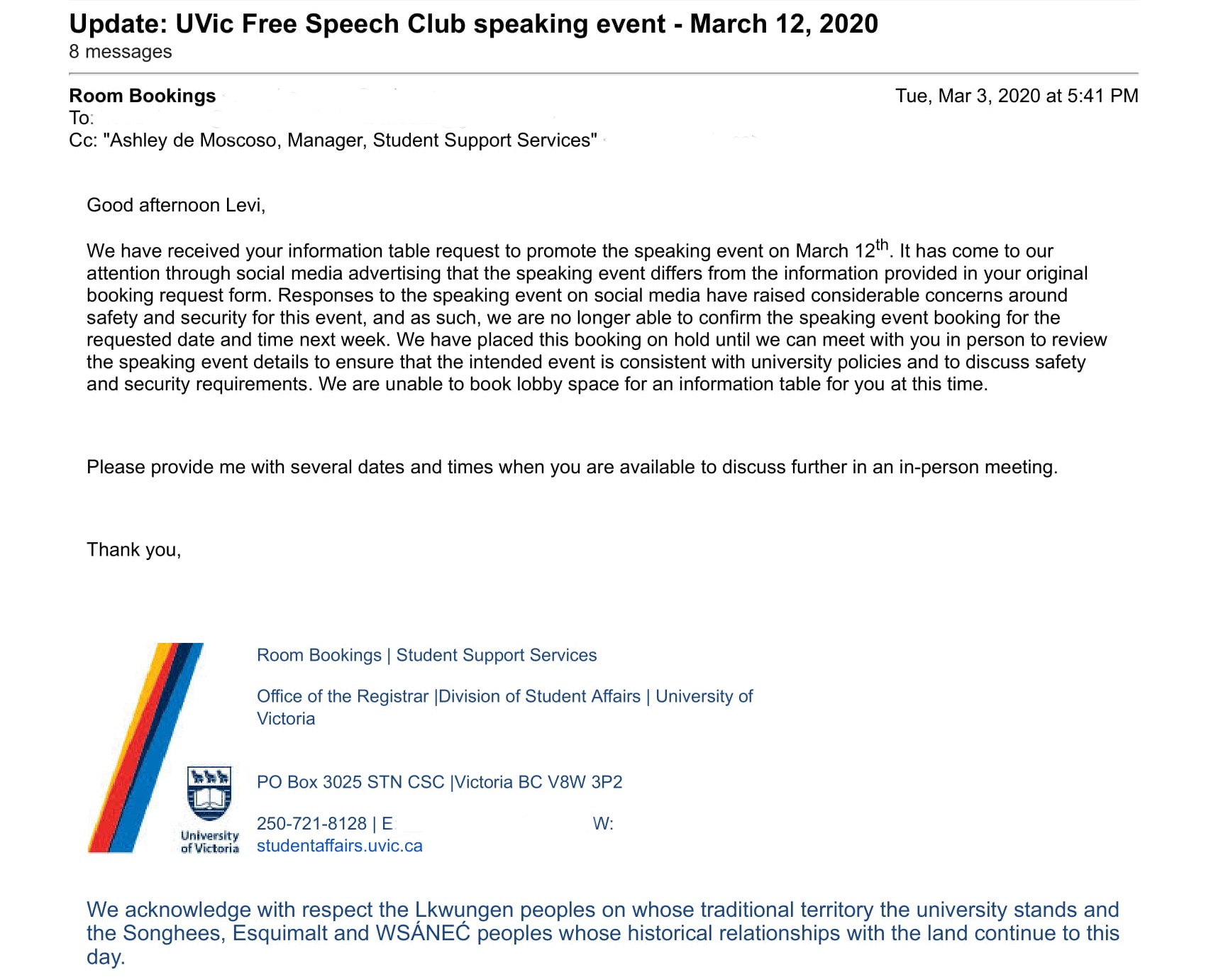 The university reportedly gave the club another option: pay for its own security. A spokesperson said it feared that "large numbers" of protesters would show up and refused to offer campus security, The Post Millennial reported.
This effectively enforces the heckler's veto, Gunn (above) told The Fix in a Facebook message: It would cost thousands of dollars for a club composed of "a couple guys with no budget."
Gunn posted a video from campus Wednesday night that said "radical left-wing groups" threatened "some sort of violent confrontation" if the event went forward. The university demanded the club "hire a private security firm" before it would reconsider allowing the event – a condition it would never require for a "left-wing cause," he said.
The administration told The Fix late afternoon Friday the event "was not cancelled by the university" but that the Free Speech Club canceled it after reviewing UVic's Booking of University Space policy.
While it protects freedom in theory, the policy requires student groups hosting events "to plan for the protection, safety and security of people and spaces on campus," subject to university approval, Paul Marck, associate manager of public affairs, wrote in an email.
Marck did not answer two explicit requests from The Fix asking for evidence of specific threats against the Gunn event and what level of security UVic is requiring for the event to go forward.
After he reviewed the university's response to The Fix, Gunn called the university "an embarrassment." He wrote in a Facebook message that UVic was "just trying to insulate themselves from legal action at this point and making stuff up."
MORE: University bans Antifa critic because Antifa used violence against him
'Unfreakingbelievable'
Gunn leaves on a "work trip" March 15 and exams are approaching, so it's unlikely he could speak on campus this school year, he told The Fix. Even if he tried to speak in the fall, "the university made clear they reserve the right to cancel any event."
Even if a date became available to re-host Gunn, the club "would have to determine how to proceed with UVic," given the security conditions the administration has already laid out, club leader Bekesza told The Fix in a Facebook message. It may have to host any future Gunn event off campus.
Bekesza shared a March 10 email from de Moscoso, the Student Support Services manager, that recounted their meeting from the day before. The administrator said "the risk profile of this event is higher than we had originally anticipated," drawing "potentially" large numbers of protesters, in contrast to the 20-50 "participants" the club estimated.
"Campus Security is unable to provide the full extent of security services required for an event of this nature and as such your club will be financially responsible for the costs of hiring an external security service," do Moscoso wrote.
The club must provide "Proof of funds" for security and its plan if "Campus Security deems the event unsafe and therefore chooses to shut the event down" – making plain that paying for security may not save any event with Gunn. Do Moscoso also demanded the club's "communication plan," including how it will promote the event and whether media are expected to come, regardless of whether the club invites the media.
Spokesperson Marck's email to The Fix ran over similar territory, but added that the club was required to consider "additional insurance" and "significant additional resources" before it could host Gunn.
The University of British Columbia banned an event on similar grounds in January, citing unspecified "risk" to the "safety and security" of campus if Antifa critic Andy Ngo addressed its own Free Speech Club.
Academic critics of deplatforming criticized the university for its move.
"The only verifiable systemic discrimination in Canada is against conservatives on campuses," tweeted David Haskell, journalism professor at Wilfrid Laurier University and candidate for Parliament. He quit a free speech task force at the university in protest of a steep security fee applied to a viewpoint diversity group's event.
"Leftist terrorists, supported by university employees, make dire threats," Haskell continued. "Leftist university admin use the threats as an excuse to crush the free expression of conservatives. It's a con."
Haskell's colleague at WLU, William McNally, called the university's move "Unfreakingbelievable" and compared it to the Ngo cancellation at UBC.
MORE: UBC cites unspecified 'risk' to ban Ngo event
The only verifiable systemic discrimination in Canada is against conservatives on campuses.
Leftist terrorists, supported by university employees, make dire threats. Leftist university admin use the threats as an excuse to crush the free expression of conservatives.
It's a con. https://t.co/dRkC6F1vff

— David Millard Haskell (@DMillardHaskell) March 10, 2020
'The enviro mob … is especially aggressive' at University of Victoria
Gunn was going to talk about the #ShutDownCanada protests, sparked by protesters from the Wet'suwet'en tribe, against a large natural-gas pipeline being built across northern British Columbia, Bekesza told The Fix.
His view is that "Canadians should listen to the elected bands that approved the project rather than hereditary chiefs," Bekesza said. "That isn't a very popular opinion at UVic."
Gunn interviewed some of the activists in a Feb. 19 video pinned to his Facebook page. "Many said they were [blockading government buildings] in support of 'Indigenous rights', which I found odd, given that all 20-elected band councils along the pipeline route support the project," he wrote.
The protests, which started last month, resemble efforts in the United States three years ago to stop the Dakota Access Pipeline project. They have resulted in blockades of government buildings and other infrastructure.
While the British Columbia Supreme Court granted an injunction in December against the tribe for "obstructing access to construction" on the Coastal GasLink project, Royal Canadian Mounted Police didn't start enforcing it until Feb. 6, according to The Post Millennial.
It's an odd situation for Gunn, who told The Fix he has spoken at other universities "dozens of time[s], without incident." At the University of Victoria, however, "the enviro mob … is especially aggressive, and because I am from Victoria I am especially well-known in these woods."
He said "the left wing mob caught wind of the event and started spam posting it with defamatory statements and then emailed the university complaining."
MORE: University selectively requires opposing views at campus events
Protesting Gunn 'would open them up to potential harm from his followers'
Bekesza, the club leader, shared several posts that people made on the club's Facebook page, "telling us how displeased they were that we were allowing Aaron Gunn to speak on campus."
He also shared a Facebook exchange with a PhD political science student at the university whom he has personally met but declined to name. She was "initially very receptive to doing a speaking event with us."
Bekesza offered to promote any anti-Gunn event the student wanted to host, and she responded:
I'm sure you are aware that Aaron Gunn promotes some very hateful perspectives. I wouldn't recommend that anyone host a[n] "opposition" event to Aaron Gunn as that would open them up to potential harm from his followers.
The student warned that "I will be following this up with UVic," suggesting she would try to get the administration to cancel the event.
The Fix asked UVic to specify what it fears could happen based on the social media responses it reviewed, and for specific evidence that a violent response was likely at the event. Spokesperson Marck responded that the March 3 email was referring to fears, not threats, expressed online:
Social media responses to the way the event was being advertised suggested that safety and security of those attending or drawn to the event were legitimate concerns. There has been no suggestion from the university that "suggests a violent response."
He has yet to respond to a followup asking for specific evidence that backs those "legitimate concerns," or to two requests to explain how the university's action does not enable the heckler's veto against unpopular viewpoints.
Many others wrote hostile comments on Facebook.
"[I]t's good to know UVic has no issue with hosting racist events. Shame on whoever thought this was a good idea," one person wrote. "Shame on you for bringing white supremacists in and giving them a platform," another said. "Indigenous people, women and youth, are being threatened with violence and murder."
MORE: Professor runs for Parliament to save universities from themselves
Another predicted the event would get shut down on the basis of "security concerns" in scare quotes:
[A]ll you dickless white ethno state dudes can whine about how you can't advocate for genocide anymore. No one wants you at the university. Just go get wasted at the pub and then beat the sh*t out eachother [sic] like real boyz.
Another asked why the University of Victoria "feels the need to double down and offer a platform to this oil company schill [sic]."
Bekesza said he was with Gunn on campus making the video on Wednesday when a biker rode past the two and yelled, "Fuck you white supremacists."
In that video, Gunn explains that the club asked him to share "the other side" of the pipeline debate. "It wasn't that long ago that I was a student here on campus, and I'm very familiar with the lack of ideological diversity, and how frustrating that can be for freethinking individuals."
Gunn turned the tables on UVic, his alma mater, in a Facebook post Tuesday. "Every student should be entitled to safety, security and freedom from intimidation, in addition to the right to freely discuss ideas," he wrote.
UPDATE: The university responded to The Fix late Friday afternoon giving its side of the dispute. Its response, and Gunn's response to its response, have been added. The club also provided a more recent email from the administration detailing a meeting the parties had about the Gunn event, which has been incorporated.
MORE: Forced to move off campus, group cancels event with $28,500 security fee
IMAGE: Aaron Gunn/Facebook
Like The College Fix on Facebook / Follow us on Twitter