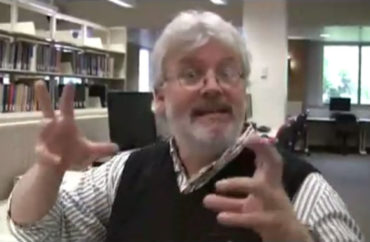 UPDATED
But he still gets to teach
Last summer, the Wisconsin Supreme Court told Marquette University that it couldn't contractually promise academic freedom to professors and then punish them for using it.
Next door in Minnesota, Augsburg University seemed to recognize that it could face legal peril if it tried to fire a professor on similar grounds.
The private school will allow Phillip Adamo to return to teaching after suspending him for quoting the black author James Baldwin in class. But it appears to be permanently stripping him of his position as director of the honors program.
Academic freedom itself may look different after the administration reviews the faculty handbook. The student bias reporting policy is also undergoing revision, and proposed revisions to general education requirements will emphasize "inclusivity."
What the public knows about these moves largely comes from the Augsburg Echo, the student newspaper. The administration does not appear to have publicly posted any of the materials referenced in this month's reports by the Echo, which also didn't publish them.
Adamo's public letter to the community, after his punishment was finalized, suggests that he threatened to sue if Augsburg tried to fire him.
None of the players in the controversy, or potentially related to it, are talking about the latest developments publicly.
Adamo and Augsburg media relations did not immediately respond to College Fix queries Monday. Prof. John McAdams, who beat Marquette in court after it tried to fire him for criticizing a colleague, did not respond either.
The Foundation for Individual Rights in Education, which previously called on Augsburg to end its inquiry into Adamo, said it was a "mistake" to remove him from the honors program in an update last week.
"The McAdams case at Marquette is a case that a Minnesota court might look at as persuasive authority, as it originates from the highest court of a neighboring state," Adam Steinbaugh, director of FIRE's Individual Rights Defense Program, told The Fix Tuesday. "And we would hope that courts across the country would follow the Wisconsin Supreme Court's analysis."
MORE: At Augsburg, diversity and authoritarianism go together
'Academic freedom is not an excuse for behavior that inflicts harm'
The history professor, who left the circus for academia, was named Minnesota Professor of the Year for 2015 by the Carnegie Foundation for the Advancement of Teaching and the Council for Advancement and Support of Education.
A 2016 Star Tribune profile noted that Adamo required students in his signature class, Medieval Connections, to share a single textbook that was chained in the library, so they would experience how medieval scholars read books.
He was once the darling of Provost Karen Kaivola, who told the newspaper the professor was "able to take risks in the classroom and risk failing."
Nearly three years later, she would sanction him for classroom behavior that wouldn't seem risky on its face: an impromptu facilitated classroom discussion on euphemisms last fall.
The class was reading James Baldwin's The Fire Next Time. A student read a passage that included the word "nigger," and spoke it out loud. When other students objected, Adamo asked them whether it was better to use "the euphemistic phrase 'the N-word'" or use the word the black author had used.
Student complaints led to Adamo's removal as head of the honors program and then suspension from teaching.
Augsburg University suspends professor for saying the N-word in class https://t.co/ZeJPnaITfu pic.twitter.com/sbDPhGekXF

— City Pages (@citypages) February 5, 2019
In late January, the administration alluded to Adamo's status in a vaguely worded statement on an "ongoing inclusivity review." It said the initial review had turned up "student experiences beyond" the "particular classroom incident" that was reported in detail in the media.
In a March 5 update to the statement, the university said the review had concluded. It resulted in "changes to the instructor's leadership and teaching assignments in the specific program area, while affirming that future course assignments and instructional load would remain in alignment with the contractual obligations between the instructor and the university."
The Echo reported March 9 on campuswide emails from Provost Kaivola and President Paul Pribbenow (below) earlier in the week that appear to have disclosed additional information about Adamo's status.
They indicated that Adamo won't be allowed to teach honors courses at all while the review of the honors program continues, possibly through the fall. "Professor Phillip Adamo will return to teaching duties in the history department but will not return as Honors director in the fall of 2019," the Echo reported, making it unclear whether his "teaching duties" resume this semester or in the fall.
MORE: Adamo suspended for using n-word in context
Honored to spend time today with @ilhanomar, our Representative in the US House. She is a great friend of higher education and her neighborhood university @AugsburgU! I'm with colleagues from Hamline U, the U of St Thomas and the Minnesota Private College Council. pic.twitter.com/5auibreIZk

— Paul Pribbenow (@paulpribbenow) February 5, 2019
Another March 9 article disclosed further changes. The chief diversity officer has become a full-time position, and the position has been added to President Pribbenow's leadership team.
Brandon Williams, student government president, praised the administration for its "promised review of a number of Faculty Handbook points, such as those involving changes to the definition of academic freedom," according to the Echo. Also regarding academic freedom, Pribbenow "praised a faculty-led change to the student bias reporting policy."
The president said: "Academic freedom is not an excuse for behavior that inflicts harm, undermines student learning or denies a student's humanity." He also asked departments to crack down on "recording devices in our classrooms and conversations without consent."
That appears to allude to "nonenrolled" students crashing Adamo's class after the Baldwin incident and recording his discussion with students, as reported by Inside Higher Ed. The recording was uploaded to YouTube under the title "Phil Adamo Justifying Use of N-Word, Scholar Citizen."
MORE: Court blasts Marquette for putting PR over academic freedom promise
As for general education changes, which still must be approved by the Faculty Senate, the Echo reported that students will be required to take coursework that "emphasizes inclusivity."
Director of General Education Jacqueline deVries told the newspaper the proposed requirements were aimed at "the best practices surrounding classroom inclusivity … helping both faculty [and] students to understand themselves, the social positions that they occupy and how those social positions might be different from other students that they're encountering."
The Lutheran university also plans to ditch one of two required religion courses. The new "Living Ethically" course requirement will review "worldviews that shape ethical judgments."
Cannot perform 'subjective, post-hoc analysis' of academic freedom
Adamo himself addressed the community in a short op-ed March 9. He called the controversy over his pedagogy "a nightmare" and noted that the black Harvard Law School professor Randall Kennedy had denounced the university for its "farce" against Adamo.
"Most of the public discourse favored academic freedom," he wrote. "Yet whether or not students feel included and able to participate fully in classroom discussions is also important. Not more important than academic freedom, I think, but this need not be an either/or choice."
He told students they should "[f]eel free to oppose this idea" but they are "not allowed … to shut down debate."
Adamo confirmed that Kaivola "will not pursue my formal dismissal" but has determined "I should no longer serve as Honors Director." He promised "not to appeal her decision or to seek legal remedy against the school I love."
The professor might have found a sympathetic ear in state courts and a sustained megaphone against Augsburg's potentially chilling effects on faculty.
Marquette University endured more than three years of bad publicity after it tried to fire McAdams, a political science professor, for purportedly endangering a colleague by criticizing her hostile treatment of a conservative student on his blog.
Its treatment of McAdams united conservative and liberal academic groups against the university, including the American Association of University Professors, which accused the Catholic university of botching AAUP's statement on academic freedom.
The Wisconsin Supreme Court ordered the private school to reinstate McAdams – who went unpaid for more than two years – "with unimpaired rank, tenure, compensation, and benefits," as well as back pay. The state high court cited Marquette's own faculty statutes and said it was not free to ignore contractual obligations under the guise of its own institutional academic freedom.
It said the university muddled the reach of academic freedom by telling faculty it was balanced against other "core" values, and punished McAdams after a "subjective, post-hoc analysis" of the public reaction to his comments.
Augsburg President Pribbenow's comment about "behavior that inflicts harm, undermines student learning or denies a student's humanity" would seem to meet the standard that the Wisconsin Supreme Court prohibited in Marquette's case.
The only question is whether Minnesota courts would be persuaded by their neighbor's reasoning if Adamo chose to sue.
FIRE's Steinbaugh told The Fix it was "uncertain" whether the Wisconsin ruling would apply to Adamo's situation, since he's keeping his teaching job but losing an administrative position. "The line between administrative functions and academic functions is not always clear," he said.
UPDATE: The Foundation for Individual Rights in Education responded to a query after this article was published. Its comments have been added.
MORE: Black law professor denounces Augsburg for 'farce' against Adamo
IMAGE: AugsburgUniversity/YouTube
Like The College Fix on Facebook / Follow us on Twitter