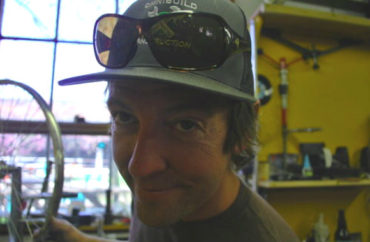 UPDATED
Faculty senate declines to defend his freedom of expression
A public university has apparently blacklisted a professor after a photo of him in blackface went viral last week.
James Madison University said the adjunct professor of cycling, Tim Richardson, was not currently employed by the Virginia school and would not be invited back.
He's also been dumped as an affiliate in a contract between JMU and the bicycle business he co-owns, which operates a shop in the campus recreation center, according to The Breeze student newspaper. The broader contract is set to expire in April.
The cause of Richardson's troubles, as with others in academia, was a Halloween costume worn at a private party. A University of Oregon law professor who did the same thing in 2016 was put on administrative leave for "discriminatory harassment."
Though she tweeted the photo of him in blackface, Abigail Thibeault later tweeted that she was satisfied by his subsequent apology. Many others on social media were less forgiving.
While the administration is refusing to confirm whether Richardson's costume led to his apparent ban, a JMU student called on others to "report the racist behavior" to JMU's Office of Equal Opportunity.
The JMU faculty senate is staying out of the incident, at least publicly. It declined to comment in an email to The College Fix on whether a professor causing offense is legitimate grounds for non-renewal of a teaching contract.
Response to my earlier post about blackface: This is important and great. Everyone deserves a chance to learn from mistakes. I appreciate your apology, Tim. https://t.co/tlYb6S4GGY

— Abigail Thibeault (@amthibeault) November 9, 2018
'Never intended to be malicious'
Richardson attended a Halloween party as "Urethra Franklin," a bawdy homage to the recently deceased soul singer, according to the Nov. 6 tweet by Thibeault, an assistant public defender in southern Maryland.
While she didn't name Richardson, Thibeault identified him as an adjunct professor at JMU and co-owner of Shenandoah Bicycles. His costume "is not okay and the community should know what happened," she wrote. (In another tweet she clarified that she wasn't the unidentified woman in the photo, nor did she take it.)
Thibeault also clarified that she wasn't calling for a boycott of the bicycle shop, but suggested the business should make amends for Richardson's costume. She said she had contacted the Black Student Alliance at JMU "to see if they're interested in helping lead something positive."
Last week I went to a party and a man I'd never met was in black face as "urethra Franklin." I was wrong because I did not confront him. He is an owner of @ShenandoahBikes and an adjunct professor @JMU. This is not okay and the community should know this happened. pic.twitter.com/7DIqrN7Jsa

— Abigail Thibeault (@amthibeault) November 7, 2018
MORE: Law prof punished for Halloween costume returns to UO
Asked about the professional ethics of Thibeault's tweet of the photo, given that she's a lawyer and state employee, the Maryland Public Defender's Office gave The Fix a statement defending her freedom of expression.
An employee's Twitter behavior outside of work that doesn't involve the practice of law "does not violate any ethical standards or OPD policy," read the statement, signed by Public Defender Paul DeWolfe.
Thibeault contacted The Fix after receiving word that her office had been asked about her tweet.
She said she didn't actually meet Richardson at the party or anywhere before that, and hasn't seen him since, since she doesn't live in Virginia. She was only at the Halloween party "briefly."
"I was forwarded a screenshot of the photo, which was posted on Instagram," she wrote in an email. "Tim and I have since exchanged emails.  I also called him at his request, but we haven't spoken."
Echoing another tweet, Thibeault told The Fix she didn't want to be a "spokesperson" on the subject because she's white.
Richardson himself responded in Thibeault's tweet thread, calling his costume a "huge mistake" that was "never intended to be malicious":
I am now aware of the magnitude of the situation, thanks for pointing it out.  I am really sorry I offended you and others.
Thibeault responded to Richardson's apology by retweeting it with a comment: "Everyone deserves a chance to learn from mistakes. I appreciate your apology, Tim."
Richardson went further in a post on Shenandoah Bicycle Company's Facebook page, asking the community to "direct your anger at me" and not the shop.
MORE: UO prez says punishing Halloween costumes not 'slippery slope'
His costume was "incredibly insensitive," Richardson said: "I realize I need to reach a higher cultural understanding and I seek a community dialog so I can become a better person from this."
While Richardson did not respond to email requests from The Fix, he told The Breeze that his bicycle shop's relations with the university are "fine at this point." The newspaper reported that he created Twitter and Facebook accounts solely to respond to the controversy, and that he has posted "multiple apologies on Facebook."
Administration 'does not comment on hypotheticals'
The JMU administration was quick to denounce Richardson's behavior, but it has not answered whether it was actually banning him from teaching because of the costume, which may raise contractual issues.
In an email posted by a student on Facebook, Vice President of Student Affairs Tim Miller did not name Richardson but identified him as an adjunct cycling instructor "in the past."
JMU does "not have any plans to employ him in the future," and Richardson's "affiliate" status has been "revoked," Miller wrote:
His conduct is in no way condoned by the university nor did it occur at a university sanctioned event. …

The individual's choice of costume or conduct in no way reflects the university's values. JMU strives to be an inclusive community that values the richness of all individuals and perspectives.
The Fix asked Associate Director of Communications Caitlyn Read whether Richardson has been blacklisted from teaching because of his costume, if the class he taught still exists, whether adjuncts are presumed to be offered the same classes to teach, how its treatment of Richardson comports with its promises to faculty, and whether it has received any bias reports against him.
She was also asked to describe his performance reviews and evaluations. Read responded by sending the statement Miller had given the community.
Asked again to respond to specific Fix questions, Read declined to describe Richardson's performance reviews and evaluations, because those are considered "personnel information."  Regarding the rest, she said JMU "does not comment on hypotheticals."
The university lets students file anonymous bias complaints in response to "discrimination, harassment, hate or bias related incident[s]," as well as formal discrimination complaints.
JMU lost its "green light" rating from the Foundation for Individual Rights in Education in 2014 after it ignored "several warnings from FIRE about new speech codes," the education civil-liberties group wrote at the time.
The university had earned the rating three years earlier because its written policies didn't threaten speech. But JMU dropped to a "yellow light" school due to new speech codes that ban "bullying," which wasn't defined, and require students to register speeches and demonstrations two days in advance, among others.
CORRECTION: Due to an editing error, the article incorrectly described JMU's status. It is a public university. The error has been fixed.
MORE: It's 'discriminatory harassment' to invite students to costume party
IMAGE: Shenandoah Bicycle Company
Like The College Fix on Facebook / Follow us on Twitter