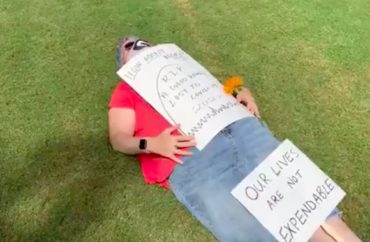 Students and staff at the University of Georgia held a "die-in" on Thursday to protest the school's COVID-19-related plans for reopening.
According to The Telegraph, the coronavirus threat "looms larger" now than it did when businesses and schools began to shut down back in March. Hence, die-in attendees had signs on their "dying" bodies reading "I can't teach when I'm dead," "How many will UGA let die?" and "When I said I was dying to get back to my classroom, I didn't mean it literally."
History Department graduate student Bryant Barnes said the protest was about UGA's "death calculus" — how various student fees are "being weighted against a potential loss of lives."
The United Campus Workers of Georgia, organizers of the die-in, said UGA's rules for the scheduled reopening on August 20 are insufficient. Those opposing the measures sent a letter to UGA administrators asking for additional protective actions, including the option to teach virtually (sans repercussions), and additional time and money for graduate student research.
The letter had over 1,000 signatures as of Thursday.
UGA President Jere Morehead didn't exactly see eye-to-eye with the UCW:
Under the circumstances and given our mission to educate students, it is not practical or prudent to allow individual employees to decide whether to work from home or campus. In order to plan for and deliver the high-quality educational experience our students expect and deserve, and to be fair to all employees, the University must apply consistent standards for work schedules.
Similar "die-in" demonstrations have taken place at other campuses. At Penn State in late July, graduate employees "died" for 13 minutes, a reference to the 130,000 US coronavirus deaths, while UNC-Chapel Hill recently played host to one at which participants demanded at least a five-week delay in in-person instruction.
MORE: UGA system mandates everyone on all 26 campuses wear masks
MORE: Georgia state reps push for COVID-related pass-fail grading system
IMAGE: Facebook screencap / Online Athens.com
Like The College Fix on Facebook / Follow us on Twitter