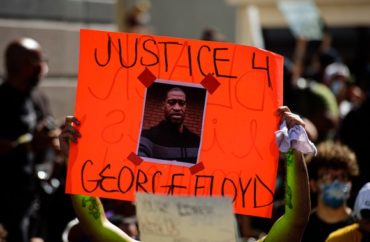 Pledges to examine every department for curricula on race and ethnicity
The University of Michigan recently announced a series of new programs aimed at fighting racism on campus. It comes in addition to a pledge to spend $260,000 on anti-racism research.
One of the new programs is an endowed scholarship fund in honor of George Floyd. Minneapolis police officers killed Floyd in May and his death has become a rallying point for activists who see him as an example of police brutality.
"U-M alumnus Marchell Willian presented to President Mark Schlissel the idea to establish a George Floyd Memorial Scholarship Fund at U-M," a university news release said. "Willian, an attorney in Illinois, gave the lead endowment to establish the scholarship fund designed to inspire others to increase support."
Kim Broekhuizen, a spokesperson for the school, initially referred The College Fix via email to the news release in response to questions about some of the initiatives. Broekhuizen did not respond to several follow-up emails on Friday and on Monday morning.
The Fix asked for information on the amount Willian donated and how much money had been raised in addition to Willian's donation for the scholarship fund. It also did not respond to a request to connect The Fix to Willian for questions.
The Fix reached out via email to Rick Fitzgerald, the assistant vice president for public affairs, to confirm the scholarship money goes to incoming students for tuition. The Fix also asked Fitzgerald on Monday for information on the amount of money raised so far for the scholarship fund.
Fitzgerald told The Fix that he had "someone checking into this" but did not provide a further response or answers to the questions.
A GoFundMe page in support of the scholarship raised $2,325 but now directs supporters to a university fundraising page.
The scholarship, according to the school's website, is intended for students who have performed service to their community in support of social justice. Students who have completed the Wolverine Pathways Program, however, will be given priority in receiving the scholarship.
The university initiative works to prepare local junior high and high school students for college.
MORE: Penn State announces $1 million in antiracism research grants
Other programs include recruiting and hiring 20 professors with "scholarly expertise in racial inequality and structural racism" and an expansion of "resources and infrastructure to support new and current U-M scholars working in the area of anti-racism," university officials said in the news release.
The public university will also examine "race and ethnicity curriculum requirements across the university's 19 schools and colleges" and strengthen "faculty and staff professional development opportunities related to anti-racism."
"At the University of Michigan, we have a long history of offering programs and activities designed to advance our core values of diversity, equity and inclusion," Susan Collins, the university's provost, said in the news release. "The initiatives we are adding will build on the extensive and ongoing work all across our campus."
"This scholarship is one way we can enhance our university's commitment to investing in student leaders," university President Mark Schlissel said.
He added:
It also will serve as a reminder of the work to be done to create a more welcoming and inclusive environment here at U-M, while honoring the legacy of all of those, past and present, who have continually called for us to strive for a better, more diverse and more inclusive university.
Schlissel is under fire for his handling of allegations of sexual misconduct by former provost Martin Philbert. In September, professors criticized Schlissel and Collins for a perceived lack of progress on addressing "systemic racism."
"We were slow," Collins said on the virtual townhall meeting, according to the Detroit Free Press.
MORE: Penn resists demands to mandate antiracism course
IMAGE: Expensive/Shutterstock
Like The College Fix on Facebook / Follow us on Twitter