Administration pledges 'review of the situation' with no deadline
High school student Nick Sandmann famously went head to head with an American Indian activist at the Lincoln Memorial last year, drawing national scorn for wearing a MAGA hat.
Now off to college at Kentucky's Transylvania University, colloquially known as Transy, the 18-year-old Covington Catholic graduate can expect to have private eyes closely watching his speech during his time on campus.
A local ACLU staffer publicly trashed his alma mater for accepting Sandmann, leading a Transy professor, Avery Tompkins (above), to promise to look for ways to get the freshman in trouble.
They may be asking for trouble from Sandmann himself: Both The Washington Post and CNN settled his defamation lawsuits that sought $525 million for falsely portraying him as the aggressor in Sandmann's passive encounter with Nathan Phillips, the American Indian activist.
A spokesperson for the university dodged College Fix questions about whether Tompkins' behavior – seeking a disciplinary investigation against a student for his viewpoint – violated faculty codes or other university policies.
"A review of the situation will be conducted expeditiously by the appropriate university officials," Vice President for Marketing and Communications Megan Moloney wrote in a Sept. 10 email. Asked for the progress of that review Thursday, Moloney said she did not have "anything new" beyond her statements from the previous week.
Even higher profile eyes will be on Transy as Sandmann moves through his studies.
George Washington University's Jonathan Turley, who has testified against the impeachment of two presidents, denounced Tompkins for "promising to monitor [Sandmann's] conduct" while "speaking as an academic." The law professor called that "deeply problematic" in a blog post.
Sandmann wrote in a Fox News op-ed Sept. 10 that the litigation was "behind" him and he is "looking forward" to studying at Transy despite the renewed attacks.
He'll be busy this fall apart from his studies: Senate Majority Leader Mitch McConnell hired the student as a grassroots director for his re-election campaign.
MORE: Transy gets legal warning for selectively enforcing speech rules
Will report him for 'unethical behavior of any kind'
Sandmann is entering Transy with an unknown sum from his litigation because both settlement amounts are confidential.
CNN's January payoff was almost public, however, because Sandmann was still a minor at the time, meaning his family had to claim the sum in Kentucky probate court.
Local courts cited the COVID-19 pandemic in order to delay in-person proceedings, though, so the probate case dragged until May. That's when both parties asked for a further delay until Sandmann's July birthday to "consummate the settlement" and keep it private, as both wanted, The Cincinnati Enquirer reported last month. He announced the Post settlement on his birthday.
With the financial toll of taking on Sandmann unknown, Samuel Crankshaw of the ACLU of Kentucky took to Facebook to blast his alma mater for accepting Sandmann.
Transy's move is a "stain" on the school, the communications associate (left) wrote in a Sept. 5 post. The university should only accept students "willing to have an open mind and engage in debate," Crankshaw said, even as he faulted Transy for acting as if there are "equal sides to an issue."
Sandmann is a right-wing "provocateur in training with no intention of learning," Crankshaw said, faulting him for attending "private schools." He called Sandmann "more dangerous" than Milo Yiannopoulos, the anti-feminist firebrand whose campus appearances have sparked riots and even gunfire.
Crankshaw denounced the freshman for defending Kyle Rittenhouse, the teenger whose lawyer says he was being hunted "as prey" by a violent mob when he shot and killed two people in Kenosha, Wisconsin.
(Following criticism that an ACLU employee was targeting a student for his viewpoint, counter to the organization's historical mission, Crankshaw updated his post to clarify that he was expressing "my personal views" on "my personal time" and would not stop doing so.)
Tompkins, a "diversity scholar" whose writing is heavily focused on transgender issues, vowed to spy on Sandmann's speech in response to Crankshaw's concerns.
The professor prefaced the comment by telling Crankshaw, a recent graduate, that Transy "can't not admit academically qualified students due to their political and personal views."
But Tompkins went on to belittle Sandmann (right, with Donald Trump Jr.), calling his "public behavior and rhetoric atrocious and uninformed." The student "might learn something that is actually based on research and evidence" in Tompkins' class, as opposed to the "anti-intellectualist views" of his affiliated organizations.
The professor expressed confusion at why Sandmann chose Transy, "whose mission is the antithesis of what he believes and promotes, and suggested Sandmann should watch what he says while enrolled, even if it doesn't violate any campus policy.
"If he were to cause problems by being disruptive, trolling, or engaging in unethical behavior of any kind, I would immediately document it (just like I would for any student doing the same thing), and he would just be putting himself in a position for me to file a conduct report," the professor wrote.
Crankshaw appreciated every bit. "[A]gree with all of that. And people like you are why it's such a great place to learn," he replied.
MORE: Dartmouth prof approves of 'doxxing' pro-life students
Tompkins has since deleted the comment from Crankshaw's post, and the spokesperson Moloney provided The Fix a statement purportedly from Tompkins.
"I want to apologize for my mistake in singling out a student and any misunderstandings that arose from that," the professor said, claiming the community has "diverse perspectives" and community members "engage in civil discourse with those whose views may be different from their own."
Tompkins "value[s] and support[s] these conversations with students, and I know that students value these conversations with their peers as well," according to the statement.
The Fix reached out to Tompkins several times via email, to no avail. Moloney said she would pass the interview request to Tompkins, but stopped responding after followups on the status of the request.
The spokesperson refused to comment in more depth, dodging specifics about whether Tompkins' behavior violated any university policy or could create a hostile environment for a student.
She told The Fix that Transy is neither "able to discuss … personnel matters" nor its students "without their permission," specifically with regard to "posts on social media and other websites over the Labor Day weekend." The Fix did not ask any questions that required private information about Sandmann, however.
Instead, Moloney emphasized that Transy "is composed of those holding the full range of viewpoints," whose differences "often form the backbone of a vibrant and challenging educational experience."
Endorsed call for 'wrongly accused' teen to be 'harassed or targeted' for his views
Turley, the law professor, wrote on his blog that Crankshaw's complaint about recognizing "both sides" was counter to the ACLU's historical position. It reflects "the growing concern over the new direction of the ACLU and the shift away from neutrality in the support of free speech rights."
He asked why Tompkins seemed to validate Crankshaw's call for "a wrongly accused conservative teenager" to be "harassed or targeted for daring to take his views to a college."
Both the Transy alum and the professor "single out" a conservative student for "added scrutiny," even though "all college students should feel greater freedom in expressing their views at colleges," Turley (below) wrote:
That fact that figures in the ACLU and academia would publicly espouse such views of intolerance is a chilling example of how our faith in free speech has eroded in the recent years.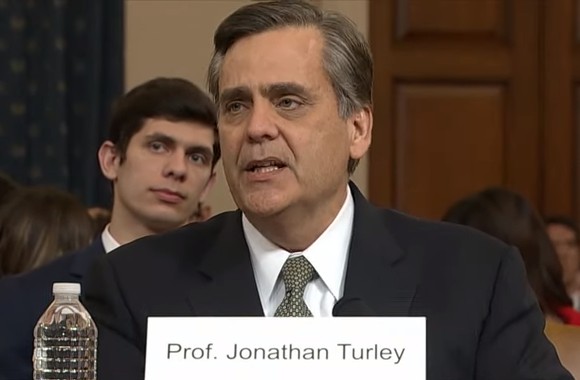 Sandmann addressed the ACLU staffer's Facebook post in his Fox News op-ed, though curiously he didn't mention Tompkins, even though the professor is a greater threat to his continued education.
He denounced the "unwarranted attack" from Crankshaw, a total stranger who "seems outraged that my conservative values don't align with his left-wing ideology." Sandmann asked rhetorically if colleges should impose an "ideological purity test" that "bars conservatives and Republicans" from enrolling.
It's a "new low" that an alum would assume "I'll act in a certain way before even meeting me," he continued:
I don't advocate barring liberals or even socialists from going to college. It is wrong for any of us to demean people who hold different beliefs. Now more than ever, we need more speech, not less. We need to hear new ideas and to learn from others.
MORE: Student gov demands Georgetown investigate student for conservative views
IMAGES: Professor Avery/Twitter, ACLU of Kentucky, Nicholas Sandmann/Twitter, Samuel Crankshaw/Facebook, ABC News/YouTube
Like The College Fix on Facebook / Follow us on Twitter