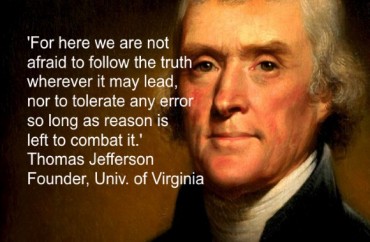 Two history professors say Jefferson deserves to be remembered 
A University of Virginia spokesperson told The College Fix that the historic institution will continue to mark its Founder's Day programming despite the Charlottesville City Council's decision to nix its annual celebration of Thomas Jefferson's birthday.
The university has in the past dealt with controversy over the legacy of Jefferson, the third president of the United States who founded the Charlottesville-based university in 1819. His statue on campus had been defaced and some in the campus community have called for a halt to using Jefferson quotes.
But when asked if the City Council's decision against Jefferson would have an impact on the university's Founder's Day, UVA spokesman Wesley Hester told The College Fix via email "Founder's Day events at UVA are scheduled to occur this year as they do every year."
"On Founder's Day, UVA and the Thomas Jefferson Foundation at Monticello join together to present the Thomas Jefferson Foundation Medals to recognize achievements of those who embrace endeavors in which Jefferson, author of the Declaration of Independence and third U.S. president, excelled and held in high regard," the university's website states.
The news comes in the wake of the violent clashes at the 2017 "Unite the Right" rally in Charlottesville. Its City Council last month decided to eliminate the official holiday celebration of Jefferson's birthday.
Instead, Charlottesville will host an annual Liberation and Freedom Day, explaining in a statement "while there are many things we appreciate about Jefferson's contributions to the United States and our community, today the city is being much more intentional about telling a more complete history of our community."
The College Fix also reached out to 15 University of Virginia history professors for comment on the controversy. One declined comment. Twelve did not respond to the request for comment. Two weighed in saying that Jefferson deserves to be remembered.
One is history Professor George Gilliam, who declined to remark on the council's move, citing his own previous service on the council. But he did express disappointment at the apparent efforts to obscure Jefferson's legacy.
"As an historian I don't think it's productive to try to erase or obscure the past; much better to deal with things we can control," he told The Fix via email. "Most everybody regrets the early reliance on enslaved laborers, as well as the legacy of that horrible practice. But we can't pretend like it never existed."
"It did," he added, "and its legacy of virulent racism shapes many of the divisions in our society today. The best antidote is to put a bright light on the past, admit that we can't change it, and then work to control how we deal with the racist attitudes and actions that are a legacy of slavery, and divide us today."
And Alan Shaw Taylor, another professor of history and Chairman of the Thomas Jefferson Foundation, echoed similar sentiments.
"Although I am often critical of Jefferson and do understand the sentiment for dishonoring him, I do think that this is the wrong way to go about dealing with the contradictions and complexity in this behavior and thinking," he said via email. "We are now repeating in an inverse fashion the old mistake of putting him up on a pedestal as above criticism by instead casting him down as a fallen idol."
"I wish we could recognize that his entire generation of leaders was complicit in an evil system that they failed fully to understand and to change. We make a mistake if we single out Jefferson as singularly responsible for that evil and its persistence."
One student also defended Founder's Day and called for it to be preserved.
"The onus is on the University and the student body to remember that we attend Mr. Jefferson's University and benefit from his work for America and the University every day," wrote Bilge Batsukh, a member of the College Republicans, in an op-ed in the Cavalier Daily.
"For the sake of future generations and classes that might increasingly see Jefferson in terms of black and white, good and evil, I hope we remember to learn from his virtues and vices and remember him as one deeply imperfect architect of our ever more perfect Union."
Still, Jefferson is a controversial figure on campus.
In 2016, hundreds of University of Virginia students and professors signed a letter to then-President Teresa Sullivan, demanding she stop quoting Jefferson in official communications to the university. "For many of us, the inclusion of Jefferson quotations in these e-mails undermines the message of unity, equality and civility that you are attempting to convey," the letter stated in part.
In 2017, students defaced the statue of Jefferson with red paint shortly after the "Unite the Right" rally. Students also posted a list of demands to the university, including the addition of a plaque to the campus's Jefferson statue that highlighted his "link to white supremacy, colonization and slavery."
MORE: UVa students protest Thomas Jefferson statue, call him 'racist rapist'
Like The College Fix on Facebook / Follow us on Twitter