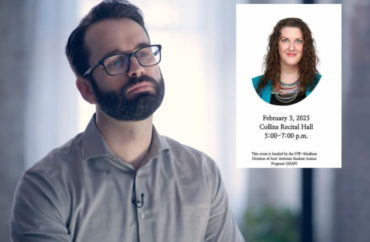 UPDATED
'This workshop-based event directly responds to the growing need for visibility for trans, queer, and non-binary individuals, especially in the performing arts,' campus official stated
As a partial response to a controversial campus address by political commentator Matt Walsh in October 2022, the University of Wisconsin-Madison will host a workshop dedicated to teaching voice instruction for transgender and non-binary students.
The event, to be hosted by the school's Mead Witter School of Music and co-funded by UW's Division of Arts' Artivism Student Action Program, was recently announced via Instagram.
Scheduled for Feb. 3, the workshop will be led by Liz Jackson Hearns, who goes by both she/her and they/them pronouns, co-founder and owner of Chicago vocal lesson clinic The Voice Lab, according to the announcement.
While not mentioned in the event's promotional materials, the impetus for hosting the event includes to serve as a response to Walsh's visit to campus last semester, during which there was a large, rowdy protest.
James Carl Osorio, vice president of the UW-Madison Chapter of Music Teachers National Association, sought support from the UW Division of Arts in the wake of the campus controversy.
"[R]ecently, right-wing political commentator Matt Walsh's visit to the University of Wisconsin-Madison campus, partially funded by the Associated Students of Madison, not only elicited protests but in a deeper sense, induced hurt, pain, and exhaustion amongst the LGBTQ community and especially, the trans community of the university," states the funding request for the voice training, a copy of which was provided to The College Fix.
"…This workshop-based event directly responds to the growing need for visibility for trans, queer, and non-binary individuals, especially in the performing arts. Furthermore, it aims to equip participants with a preliminary knowledge of socially relevant and culturally important voice pedagogy."
Walsh's visit, centered around his "What is a Woman?" documentary, prompted vulgar graffiti and vandalism across a prominent campus veteran's memorial by transgender rights activists. It also sparked an ugly scene when protesting activists clashed with Christian speakers later that day, leading to police intervention.
MORE: UW-Madison veteran's memorial, statues, other campus fixtures defaced ahead of 'What is a Woman' Walsh talk
Funding for the upcoming voice lessons will be provided by the Artivism Student Action Program, or ASAP, which provides funding to student-led initiatives that seek to use the arts as a form of activism.
"The Division of the Arts believes the arts are a vital resource. They are a means to express outrage against social and political injustices; to imagine and build more inclusive futures through community practice. The arts promote understanding, joy, and appreciation for the plural identities present in our communities. They are functional tools for artists and audiences to address issues of inequity and articulate the need for social change," reads ASAP's website home page.
The voice lessons were awarded $1,200, according to Kate Lochner, a representative of the UW Division of Arts, she said in an email to The College Fix. The entire cost of the one-time workshop is unclear.
The application for funding received "top marks" by a team of reviewers from ASAP, who evaluate funding requests based on a list of criteria including "quality and creativity of the proposal; urgency; level of impact and potential for public benefit; ability of the applicant to successfully complete the project; and impact and influence of ASAP to the overall success of the project," Lochner told The Fix via email.
Hearns, in an emailed statement to The College Fix, said there are no "trans voices and cis voices; we're all just humans doing the best we can to express ourselves meaningfully and authentically."
"One of the bits of terminology that we are trying to move toward is to describe the person who is having a gendered voice experience (which we all do), rather than the voice, because voices do not inherently have gender," Hearns stated. "Gender is a social construct that we place onto ourselves and others based on our own relationship to, and perception of, gender norms within our own societal environments. In the voice world, cisnormative, heteronormative, and white-centric narratives permeate through most of the pedagogy, repertoire, and performance standards."
"A singing student who challenges those narratives simply by existing often has the extra burden of supporting their teachers through their own education and internal examination around gender and sexuality, while the student is also creating and defining their craft in a way that feels genuine," Hearns added. "Trans students often push the boundaries of established constructs such as voice type, character roles, and character relationships. Supporting trans singing students looks different than supporting cis singing students in that it requires us, as teachers, to examine and deconstruct our own relationships to gender and voice."
Editor's note: After publication, The College Fix received a statement from Hearns; the article has been updated accordingly.
MORE: VIDEO — Student protest turns ugly as trans activists, Christians clash over 'What is a Woman'
MORE: Stanford student senate allocates thousands of dollars to fund Matt Walsh protesters
Like The College Fix on Facebook / Follow us on Twitter