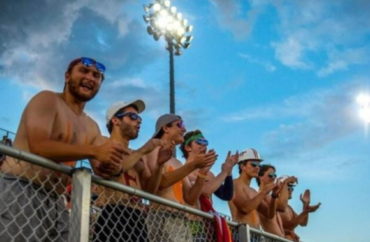 Now a recent grad, alumnus asks university to reconsider policy
As a student at Virginia Tech, Sean Lohr was recently punished for being rowdy at a women's soccer game and disrespecting an administrator.
As a recent December graduate, Lohr is now asking Virginia Tech to reconsider the procedures that led to his discipline. He is represented by the Foundation for Individual Rights in Education.
"I think it's a terrible situation when students aren't allowed to speak up or even counter, do I dare say, authoritative figures," Lohr told The College Fix in an interview.
At issue is a Sept. 26 women's soccer match at which Lohr, as a member of the "Shirtless Boys" fan club, booed and shouted. Senior Associate Athletics Director Reyna Gilbert-Lowry asked the fan club to tone it down.
"In response to a foul call at a match on Sept. 26, many fans booed and shouted at the referee. Lohr joined in by yelling 'What?!' several times at the official. In response, Gilbert-Lowry approached the Shirtless Boys and asked them to quiet down," according to FIRE.
"Lohr asked her what she meant, and she then directed campus security to remove the students from the event. Before security arrived, Lohr called her 'a glorified PE teacher,' and encouraged the crowd to steer its derision toward her. The crowd jeered Gilbert-Lowry as security removed the boys from the match."
Lohr was subsequently found guilty by administrators of "disorderly or disruptive conduct."
"The university directed him to have no contact with Gilbert-Lowry and required him to write a 'Letter of Acknowledgement and Community Impact,'" stated a Dec. 7 letter from FIRE to the university.
"If Lohr flouts any of these directives, or violates any other university policies, he will be suspended and banned from attending university athletic events through Lohr's impending graduation later this month," the foundation added.
"…As a public school, Virginia Tech is required to uphold students' First Amendment rights. Virginia Tech's deferred suspension of Lohr contradicts this obligation, as cheering for a sports team is protected expression. While a university can address disorderly conduct, expression can only be punished as 'disorderly' when there is a showing of material and substantial disruption. This determination requires more than merely offending an administrator or a referee."
On September 27, quoting in an email that she had the "authority to determine who is permitted into Thompson Field," Gilbert-Lowry said Lohr's behavior was not consistent with the athletics department's values and that Lohr was barred from the women's soccer games for the rest of the season. Virginia Tech said its loss of privileges decision is final, and Lohr does not have an opportunity to appeal.
Virginia Tech Associate Vice President for University Relations Mark Owczarski told The College Fix that the university couldn't comment on student conduct cases under the Family Educational Rights and Privacy Act.
Student receives disciplinary actions
As a member of the unofficial student women's soccer team fan club called the "Shirtless Boys"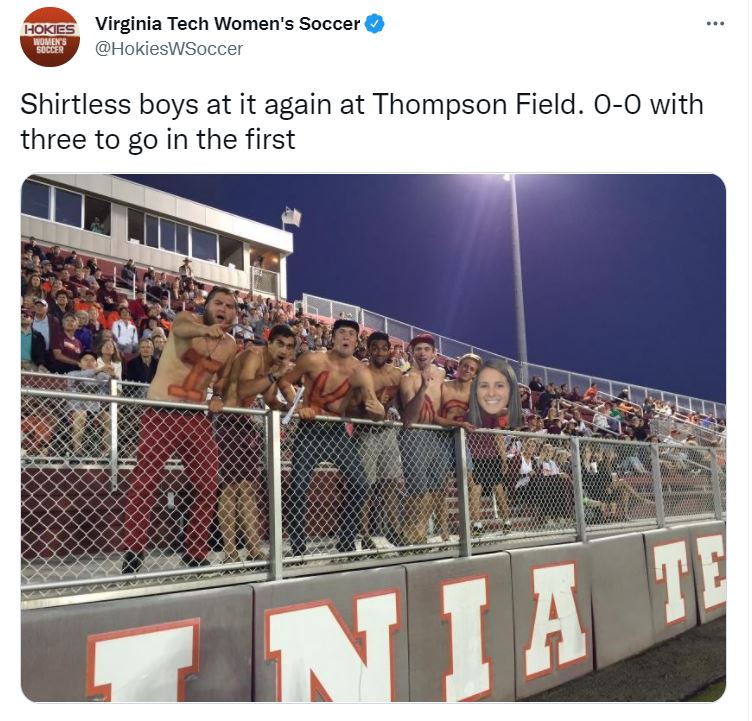 and as someone who enjoys sports, Lohr told The College Fix it's important for the fan club to transfer energy to the fans who attend the women's games.
Though fans in attendance were also booing at the game's referee too, Associate Athletic Director Gary Bennett, who was with Gilbert-Lowry, called Lohr a vulgar name and referred to the Shirtless Boys as "bad influences," Lohr said.
"As a university official or someone serving as a university employee, especially in the role he has, that was completely unprofessional and out-of-line, given the fact that we weren't doing anything wrong," Lohr said. "We weren't offending anyone, and it's just ridiculous that two people can try to speak up for the entire community that's at the sporting event."
In the past, the Hokies have publicly shown their support for the Shirtless Boys on Twitter.
Virginia Tech said Lohr's behavior 'interfered with others' ability to participate in the same event'
Lohr said he had discussions with the university athletics department, including emailing Director of Athletics Whitt Babcock, whose office referred him to another individual, about Gilbert-Lowry's behavior after September 26.
"To me, that says that [Babcock] didn't care enough to take care of the situation or even look into it," Lohr said. "So, I just feel like Mrs. Gilbert-Lowry was retaliating against me for emailing Mr. Babcock…I still feel like things aren't fair and aren't reasonable."
Lohr said the Shirtless Boys had previous run-ins and smaller incidents with Gilbert-Lowry at other women's games.
The university's student conduct office requested Lohr's presence on October 22 virtually on Zoom to discuss his behavior and what Virginia Tech student policies exist. Virginia Tech later on October 29 said Lohr's First Amendment rights ultimately did not protect his actions and "level of disruptive behavior that interfered with others' ability to participate in the same event."
Virginia Tech claimed in its official write up of the meeting that Lohr during the game said to the crowd, "Her name is Reyna Gilbert-Lowery [sic]. R-E-N-Y-A and she deserves to be fired."
Lohr also flatly denies an allegation that he physically brushed Gilbert-Lowry. The university did not find him guilty of that accusation.
According to Lohr, university police were not directly involved on September 26, an action of which Lohr was "appalled" and said he wished campus police heard Lohr's side of the story.
FIRE Senior Program Officer Zach Greenberg said Virginia Tech was punishing Lohr since his comments only offended one university administrator.
"If booing a referee is disorderly conduct, there would be no fans left to cheer on Virginia Tech's student-athletes," Greenberg said. "It's not only unsportsmanlike to trample students' rights, it's illegal."
For the future, Lohr said he would not comment on what he wishes to happen next.
MORE: 'Win for academic freedom': College will not fire professor who defended rigorous math standards
IMAGES: Main, courtesy photo; Inside, Twitter screenshot
Like The College Fix on Facebook / Follow us on Twitter