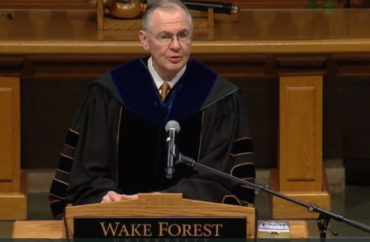 'Extremely awkward new name'
Wake Forest University will rename its Wingate Hall to "May 7, 1860 Hall" to mark the date it sold 16 slaves about 161 years ago.
"May 7, 1860, is the date Wake Forest sold at auction 16 human beings that a slave-owning benefactor bequeathed to the institution through his estate. By renaming this building, the University acknowledges participation in slavery, recognizes this aspect of its history and remembers those who labored at the institution against their will," the university said in a news release.
Wingate Hall is home to the Divinity School, which has the most radical, far-left faculty and students at Wake Forest, a former longtime professor at WFU who asked to remain anonymous told The College Fix.
Washington Manly Wingate was the fourth president of Wake Forest University who held the title from 1853 to 1862, according to the university; after the Civil War, "Wingate contributed to the success of Wake Forest while actively promoting the institution of slavery."
The former professor pointed out to The Fix that Wingate University, located about 100 miles south of Wake Forest in Wingate, North Carolina, is named after Manly Wingate, too.
"Now Wingate administrators and trustees will have to consider renaming the whole university," the professor said. "How can they not do that after big brother WFU has pronounced Wingate the man to be evil?"
But Wake Forest University stopped short of renaming its Wait Chapel, named after the university's founder, Samuel Wait.
"While we will change the name of Wingate Hall, we will keep the name of Wait Chapel to underscore the complexity of our story," WFU President Nathan Hatch (pictured above) explained to the campus community in an email he sent May 7.
"In leaving the Wait name on the chapel that shares a foundation with the newly named May 7, 1860 Hall, we acknowledge the inherent contradictions that summon our intellect and moral conviction. The complexity and contradictions create a tension that invites engagement with our story and the people whose lives are remembered and honored," Hatch stated.
The former WFU professor told The College Fix via email that the decision is "illogical and hypocritical."
"If having owned slaves disqualifies a man from having a building named after him, then the same rule should apply to every man," the scholar pointed out.
"Hatch's explanation of the decision as one that underscores 'the complexity of our story' makes no sense. The real reason for the split decision is that Wait Chapel, the largest auditorium at Wake Forest, is the most recognizable and important building on campus and so many alumni and students might object to renaming it."
Meanwhile the little-known Wingate Hall, he said, is located on the back side of the chapel.
Campus leaders will "heartily approve of the renaming while few others will even care about the extremely awkward new name," the scholar said.
MORE: Wake Forest University president apologizes for slavery
IMAGE: screenshot
Like The College Fix on Facebook / Follow us on Twitter