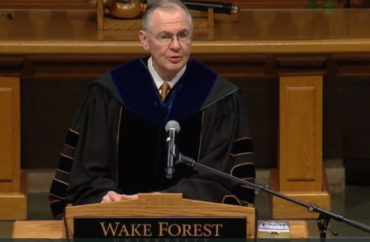 Says institution must 'confront' its past
The president of Wake Forest University has issued an apology on behalf of his institution for the university's role in promoting and engaging in the institution of slavery some 160 years ago.
President Nathan Hatch issued a statement Thursday as part of the school's "Founder's Day Convocation," saying that it was "important and overdue that, on behalf of Wake Forest University, I unequivocally apologize for participating in and benefiting from the institution of slavery," the Wake Forest Review reported.
"I apologize for the exploitation and use of enslaved people – both those known and unknown – who helped create and build this university through no choice of their own," Hatch said. "I apologize that our founders did not recognize and support the humanity and intrinsic value of those they enslaved. And I profoundly regret that subsequent generations of this university did not affirm the humanity of the enslaved individuals who made our existence possible."
The public statement was a follow up to an email Hatch sent to the university where he teased the apology, saying that it would "be another step in our efforts to confront our past."
In the email, Hatch said that several slaves were sold in 1860 to benefit the university's endowment, the names of which were read at a remembrance ceremony last May.
"As a society, we continue to wrestle with racism and white supremacy. As an educational community, we must challenge these dual plagues head on," he said in the email.
The Review reported that Hatch's apology received praise from the university community, with Associate Provost for Academic Initiatives Kami Chavis saying "President Hatch's remarks and the establishment of several groups to examine both the past and present-day implications of the university's role in the exploitation of enslaved people represent important initial steps for institutional accountability."
The apology comes as Wake Forest University has been enmeshed in racial tension and protests over the last several years.
In April, the private institution plans to cancel classes for one day to host an Inclusive Teaching Conference to discuss white privilege, racism, institutional bias and similar topics.
Read the Review's article here and watch a video of Hatch's speech here.
MORE: Wake Forest student group warns admitted students about campus racism
IMAGE: Screenshot-WFU
Like The College Fix on Facebook / Follow us on Twitter