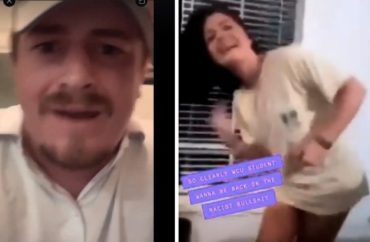 'As a result' of the investigation, they are 'no longer enrolled'
A public university refuses to confirm that it expelled five students for saying the n-word in videos that went viral, and what campus policies it charged them with violating.
The Family Educational Rights and Privacy Act prohibits Western Carolina University "from disclosing the details and outcomes of Code of Conduct cases," a spokesperson told The College Fix in an email.
Under that interpretation, WCU may have already violated FERPA. The taxpayer-funded institution said that "as a result" of its investigation, the unidentified students were "no longer enrolled."
Two videos surfaced, one on Twitter Aug. 22 and the other on Facebook Aug. 23. In the first, a female student says "nigga" in the context of a rap song (apparently "Girls in the Hood" by Megan Thee Stallion), and other female students emphasize they are using the five-letter version of the n-word. In the second, two male students refer to black women with the five-letter n-word (screenshots from both videos, above).
The Foundation of Individual Rights in Education said in a blog post that WCU had taken an "explicitly anti-free speech stance" with its actions, which violate the First Amendment.
Executive Director Robert Shibley wrote that the university's response illustrated "the new 'script' for appeasing the mob." His Aug. 28 post is the first in a blog series that will highlight how colleges punish free speech in response to pressure from offended students and other internet users.
MORE: Prof beats racism investigation for using n-word in class, still in trouble
"[A]gencies of the government like Western Carolina University are prohibited from punishing the mere utterance of racial slurs or other examples of what is frequently and carelessly called 'hate speech' — a term without legal effect in the United States," Shibley wrote.
A spokesperson for FIRE told The Fix that the civil liberties organization "has reached out to the WCU students and is looking into the case."
Shibley's series will use public information to show how the WCU situation "is similar to so many situations that have arisen lately," Daniel Burnett, assistant director of communications, wrote in an email.
The hope is "that students, faculty, administrators, and the public at large will realize the damage these [pressure] campaigns do, not just to free speech but to the rule of law and to individual students' lives," he said.
WCU's top lawyer told The Fix that "neither I nor any member of my office will make any comment on comments from" FIRE, which said the university is violating a well-known Supreme Court precedent that protects "even offensive utterance."
General Counsel Shea Browning added, however, that the university has a "green light" rating from FIRE, its highest rating for campus speech policies, so "I'm always interested in FIRE's thoughts." (FIRE's ratings only concern written policies, not a university's behavior in any given incident.)
Both videos 'actually involve comment on societal and political issues'
It took three days from when the first video surfaced for Chancellor Kelli Brown to tell the community that the students depicted in the videos wouldn't trouble them again.
The statement is written in legalese yet avoids any mention of the First Amendment implications of punishing students for offensive speech. It refers to each incident as "videos containing racial slurs [that] were being circulated on social media depicting" WCU students, but did not disclose the specific language in the videos.
The first depicted three female students and one male non-student, and the second depicted two male students.
"University officials responded consistent with the WCU Code of Student Conduct," Brown said, referring to each incident but not any particular section of the code. "As a result, the students seen in the videos in question are no longer enrolled at WCU and will not return."
Brown showed more emotion in a video statement cited by CNN. She mentioned "several videos" of WCU students "displaying behavior that is racist and bigoted. This behavior disappoints, angers, frustrated me to no end." (It's not clear if Brown is referring to more than the two videos with "several.")
In the first video, after the first female uses "nigga" while rapping, the second female states that "if they are allowed to call you a cracker, you can call them a nigga." The third female backs her up, and a male appears in the frame at the end, saying the same word.
I hope @WCU handling this cause y'all don't want the Black students to act out!! 🤮 pic.twitter.com/xyvqBfefTy

— D (@deon_bond) August 22, 2020
MORE: Students demand college end academic freedom because prof quoted n-word
In the second video, two males angrily explain that the "OK" sign was not a symbol of white power, apparently because they had been recently accused of racism for making the gesture. They use "nigga" three times in the course of the explanation. One asks if anyone knows "some nigga gals who wanna come over and fuck."
Shibley's blog post, which exhaustively analyzes the content of each video, emphasizes that both are missing context that may help viewers understand them. (Both were shared by black students at WCU. One implied that black students would "act out" if the university wasn't "handling this," while the other said she would leave the school in response if she weren't already a senior.)
The female-led video is only 24 seconds long, Shibley noted: It's not even clear "whether it was the entire original video, or why it has breaks and a repeated part in it." The video with two males, which appears to be a livestream, suggests they "may have been arguing simultaneously with" viewers through online comments.
While at least some parts of the videos would offend many people, "what has been widely ignored is that both of the videos actually involve comment on societal and political issues," he wrote.
MORE: New School exonerates white professor for quoting James Baldwin
The first involves disagreement over "when people of different skin colors can acceptably use racial slurs, and in what contexts," and second, the nature of the "OK" sign, which even figured into Supreme Court Justice Brett Kavanaugh's confirmation hearings.
WCU cannot punish students for the terms they used to discuss race or "the manner in which these students expressed themselves," he wrote, because of the Supreme Court's Cohen v. California ruling, which protected a protester's right to wear a "Fuck the Draft" jacket on public property.
Beyond legal considerations, it would be impossible as a practical matter to evenly apply "hate speech" restrictions, Shibley said: He searched Twitter for "nigga" and had to scroll down 16 pages just to get through the last 60 seconds of that word's use.
This shows why "no non-totalitarian society even makes an effort to deliver 'equal justice under law' by enforcing hate speech prohibitions evenly, because failing to enforce hate speech prohibitions equally is the only thing that makes those prohibitions possible," Shibley wrote.
'WCU's response is extremely lawyerly and purposely ambiguous'
The exact wording of the university's statement on the results of its investigation is also a subject of dispute.
The statement given to The Fix by Bill Studenc, chief communications officer for WCU, reiterates Chancellor Brown's public statement but gives the university's rationale for not saying more.
The investigation started Aug. 23. "As a result, WCU officials responded consistent with the WCU Code of Student Conduct," he wrote:
The only further information that can be provided is that the students seen in the videos in question are no longer enrolled at WCU and will not return. FERPA prohibits releasing any additional information.
Studenc did not respond to The Fix's questions about what the students were charged with under the Code of Student Conduct, if they were punished for simply offending others, if the university's response violated the First Amendment, and its response to FIRE.
MORE: University bans white professor from honors program for quoting black author
The spokesperson also did not respond to a followup email asking if the university already violated FERPA by saying the students are no longer enrolled because of the investigation.
Despite WCU's claim that it did not disclose the outcome of its investigation, FIRE's Shibley stated flatly in the blog post that "the public university has now thrown them out."
He accused Chancellor Brown of "deliberately derailing young people's lives, insulting them publicly, and maybe ending their ability to get a college education, all for saying something they had the legal right to say."
Asked how he knew the students had been thrown out, Shibley confirmed to The Fix that he hadn't talked to the students personally. "What I am getting at there is that WCU's response is extremely lawyerly and purposely ambiguous, leaving you with the strong impression that they have been expelled, but not actually coming out and saying it," he wrote in an email: "I am going to explain that in a future entry."
WCU and "universities in countless other cases" have sent a "clear and troubling message" with their response to offensive student speech, FIRE's Burnett told The Fix: "even our nations' highest law will not protect your right to pursue an education if an online mob doesn't like what you have to say."
MORE: Black Harvard prof says n-word 16 times to defend white Stanford colleague
IMAGE: Collage from Ashani Smith/Facebook, @deon_bond/Twitter
Like The College Fix on Facebook / Follow us on Twitter