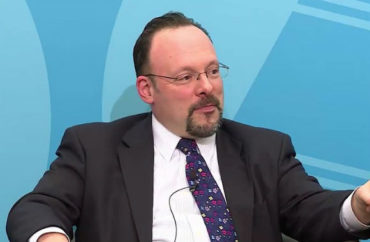 What publishers wanted 'just seemed like a ridiculous price'
When a law professor learned he could not secure a bulk discount for the expensive "casebooks" he requires students to use, he put their financial interests over that of publishers.
Jonathan Adler, director of the Center for Business Law & Regulation at Case Western Reserve University's law school, prepared his own materials for his constitutional law class – a feat that he believes will save each class $15,000 collectively.
The particular casebook he was considering for this semester was listed at $275, and an "alternative I looked at was not much cheaper," Adler told The College Fix in an email. "This just seemed like a ridiculous price, so I looked at what it might take to collect my own materials."
Noting that many students "go into debt to attend law school," Adler said it was hard for him to "justify requiring students to spend an additional $200-300/class on top of their tuition and other expenses."
MORE: Here's the catch for the math textbook this professor posted online for free
'We don't see the costs unless we search it out'
For the typical in-state student attending a public, four-year university, students can expect to pay upwards of $10,800 on textbooks and supplies, according to a study by the College Board.
Law schools can require even higher spending on required books and materials. The CWRU law school estimates that books and supplies will run $1,800 for the 2018-2019 school year, on top of $51,900 tuition.
For comparison, Stanford Law says required books, purchased new, cost about $1,530 per year, and New York University Law puts books and supplies at $1,400. Both these schools charge far higher tuitions than does CWRU Law, however.
Source: National Association of College Stores
Adler shared his new practice of letting students opt out of "exorbitant casebook prices," as well as his experience dealing with publishers who refuse to budge on price, in a series of tweets last month.
The professor of environmental, administrative and constitutional law wrote that it was "lots of work" to put together his own materials for constitutional law, and they are "more lightly edited" than a casebook would be.
But he was shocked that none of the casebook publishers he contacted were interested in discounting a book below $250 to keep his business.
Since his fixed costs in creating his own materials have already been paid, Adler said publishers have "likely lost the revenue from my 70+ student ConLaw classes … in perpetuity," more than $10,000 per year even if the books are discounted or sold.
He acknowledged that he wasn't the first to circumvent publishers for these materials, and said he would charge far less if he ever decided to license his work: "I suspect their business model is not long for this world."
MORE: College had 'no idea' it was violating federal law by hiding textbook prices
So in my case, publishers have not only given up the revenue from this year's class, they've likely lost the revenue from my 70+ student ConLaw classes (>$10K/year even if books discounted or resold) in perpetuity. /5

— Jonathan H. Adler (@jadler1969) August 23, 2018
For most law school classes, assigned readings are derived from judicial opinions, Adler told The Fix. Because these are all "government documents in the public domain," there should not be issues regarding licensing or permissions, at least for constitutional law courses.
The problem is that "publishers send copies of the casebook to law professors for free, so we don't see the costs unless we search it out," he said: "This means it's really easy to pile on the costs without really being aware of it."
There are open-access materials for just a "handful of courses," according to Adler. The biggest obstacle to ditching casebooks is that many cases are "quite long," and can therefore be time-consuming for a professor to edit and format.
Potentially worse for international students because of exchange rates
Other Twitter users, both law professors and students, told Adler about their own experiences.
A University of Texas law student said his property-law professor did the same thing: "It was great spending $20 from the print shop instead of $270, and he did an excellent job editing the cases and materials."
St. John's University School of Law Prof. Jeremy Sheff said he helped create an open-access casebook for property law, and offered to give advice to professors contemplating the move.
Another student lamented spending nearly $1,000 in casebooks in a single semester: "I WISH my professors would do this."
MORE: Publishers sue bookstore chain for selling cheap textbooks
Kimberly Krawiec (left), who teaches corporate law at Duke University, told Adler that this year was "the first time that I remember" that a "fair number of students" chose to use the free casebooks at the library rather than buying the new edition because of its price.
Krawiec created her own materials for two classes and used a casebook for one, the professor told The Fix in a phone interview. She doesn't use her own materials for "core classes."
"We were discussing why" students seem to have opted out of new editions for the first time in her memory, she said:
[Casebooks] are crazy expensive. In the past I'm sure students have bought them and complained among themselves. I have a lot of international students, so it may hit some of them hard … imagine coming from some place where your currency is not worth as much – that could really be a lot of money.
Just update the cheap, old edition
Another law professor who responded to Adler, the University of Iowa's Andrew Grewal, said he simply uses "old editions" of casebooks to save his students money.
"I really do think more professors should use old editions" and simply make edits as needed to keep the material updated, Grewal told The Fix in a phone interview: The 10th edition of a certain book is $200 but the ninth "will be $10."
His area of tax law "changes more than anything else, [so] if I can use an old edition, almost anyone else could do it as well." Even when the books are outdated, "if you are an expert, as you should be, you should find it outrageous to charge extra," Grewal said (right).
But Adler "can't see going back," he wrote on Twitter: While his materials "will no doubt have flaws, and will need to be supplemented of revised in the future," most of the work is already done.
Krawiec told The Fix that the "ethical" approach for professors is to use their own material, since "you know it better than anyone," but not charge students for it. "Some people take the royalties they get [from their casebook sales] and use it to maybe buy coffee and donuts, or pizza."
MORE: Math prof in trouble for not using pricey textbook
IMAGES: City Club of Cleveland/YouTube, Duke Law School, University of Iowa Law School
Like The College Fix on Facebook / Follow us on Twitter