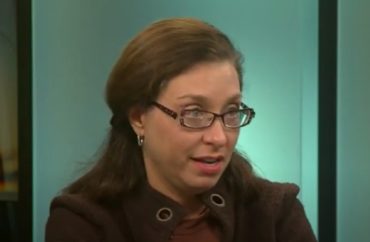 'I introduced this piece of legislation because there are many teachers and students who feel greatly that [they] do not have the right to free speech,' bill sponsor tells The College Fix
A former University of Wisconsin system lecturer turned Republican legislator introduced legislation to hold public universities accountable for violations of free speech and academic freedom.
Assembly Bill 735 remains in committee as of December 27. Republican Rachael Cabral-Guevara's (pictured) legislation would eliminate free speech zones, prohibit security fees based on the "anticipated content of speech or anticipated reaction to speech," require an annual survey of students and staff to assess the speech climate on campus and protect academic freedom.
The goals of the legislation would be enforced through a potential loss of state grant money. The attorney general, a district attorney and individuals who had their free speech rights on campus violated could bring a lawsuit against the trustees of the particular college.
Representative Cabral-Guevara's experience in the classroom informed her decision to introduce the legislation. She taught nursing at the University of Wisconsin-Oshkosh.
"I introduced this piece of legislation because there are many teachers and students who feel greatly in that do not have the right to free speech," Cabral Guevara told The College Fix via email. "As a professor of 13 years at UW-Oshkosh, a slew of students came to me after me leaving, in detail they expressed a sense of disdain in that they felt they couldn't express their point of view for out of fear that they would be silenced, or negatively graded on their assignments."
The Wisconsin Technical College System supports the free speech protections and the surveys but said it is concerned about the loss of student financial aid as a punishment for violations.
"Our greatest concern is the use of student financial aid as a means of ensuring institutional compliance with state and federal law," the technical college network said in a submitted statement for the record. "Our neediest students, those eligible for need based aid, should not suffer any delay or complication in their awards because of institutional behavior."
"I do not foresee this being an issue," Cabral-Guevara said. "College campuses who protect their Student's voice would be in compliance, thus not at risk of having action taken against that specific University."
"If there is a public university that is okay with student's constitutionally protected speech from being shut down, then I would argue there is a larger issue at hand," she said.
University faculty and staff opposed the bill
The UW-Madison faculty are also opposed to the legislation. The Public Representation Organization of the Faculty Senate said the bill is "another instance of legislative overreach."
"It is a wild overreaction to a very small number of anecdotal reports of alleged free speech violations at a Wisconsin technical college and at college campuses outside the state of Wisconsin," PROFS said in its submitted statement. The UW-Madison professors said the campus already protects free speech and diversity of thought.
The letter also compared the private right of action to Texas' ban on abortions when heartbeats can be detected. "It also creates a vigilante system of reporting alleged violations of the law – not unlike the vigilante system set up under Texas's anti-reproductive rights bill- and removes adjudication of reported free speech violations from the court," the PROFS letter said.
PROFS' lobbyist, Jack O'Meara, initially responded to a media inquiry and said he could help put The Fix in touch with someone from the organization on December 15. "Unfortunately, our president is very busy with end-of-semester duties and is not able to talk with you," O'Meara said on December 17, and reiterated that the testimony answered The College Fix's questions.
The Fix asked if the organization supported any parts of the legislation, what portions it opposed and if PROFS believed public institutions had a duty to protect free speech.
Kathleen Kilgore, the lobbyist for the Academic Staff Professionals Representation Organization, did not respond to emails on December 15 and 17 that asked similar questions. ASPRO represents staff members at the UW system. It opposes the legislation, according to the Wisconsin Ethics Commission lobbyist disclosure.
The bill's sponsor had the same trouble getting a response from the opponents of the legislation.
"I am more than happy to entertain proposed suggestions," Cabral-Guevara said when asked about her willingness to make changes. " Unfortunately no one has reached out to my office looking to compromise or work together for the betterment of Wisconsin students in higher education."
"I think if certain persons were truly interested in bettering our campuses in Wisconsin they would have reached out to my office looking to make compromises, while ensuring students are not ostracized or negatively affected in the classroom due to their ideology or speech," she said.
MORE: Governor Scott Walker says to hold schools accountable for free speech violations
IMAGE: WFRV/YouTube
Like The College Fix on Facebook / Follow us on Twitter