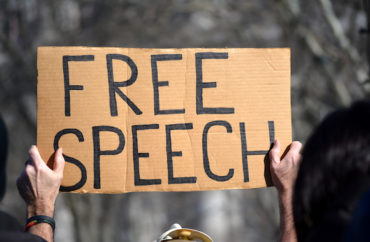 Seeks to punish students who repeatedly disrupt college speakers
Republican lawmakers in Wisconsin will soon introduce a bill that will allow the University of Wisconsin to punish students who aggressively disrupt speakers on campus in an effort to "ensure free speech on UW campuses."
The Campus Free Speech Act defines disruptions as those who engage "in violent or other disorderly conduct that materially and substantially disrupts the free expression of others," according to a copy of the legislation obtained by The College Fix.
State Sen. Chris Kapenga, a Republican, authored the bill, saying in a statement "freedom of speech leads to freedom of thought, but all too often universities are teaching students what to think instead of how to think."
"This bill affirms the ability to engage in the free exchange of ideas without the fear of intimidation or disruption."
Under the bill, a student found guilty of aggressively disrupting others' speech two times could be subject to a minimum one-semester suspension. A third violation could result in expulsion.
The proposal is largely a reintroduction of a bill from 2017, which passed the Republican-controlled Wisconsin Assembly but died in the GOP-controlled Senate.
Around the same time, the UW Board of Regents adopted a policy to, after a second violation, suspend a student for "violent or other disorderly misconduct that materially and substantially disrupted the free expression of others."
The new bill aims to codify the Regent policy in state law, preserving it after the makeup of the Board of Regents changes.
In a statement to The College Fix, Assembly Speaker Robin Vos criticized the "self-censorship by students, a lack of debate of ideas and attempts at silencing different viewpoints" seen on college campuses.
"We need to have the Wisconsin Campus Free Speech Bill to make sure everyone can be heard," Vos said. "We need more speech, not less. A university policy isn't enough to protect free speech, this bill needs to become law."
UW System President Ray Cross has in the past indicated he supports the "intent and premise" of such legislation, but that it's redundant as the system has already taken action to protect free speech on campus. Cross noted the regents had also implemented a proposal similar to the "University of Chicago" policy that guides civic discourse on campus.
Meanwhile, Democratic Rep. Katrina Shankland of Stevens Point slammed the latest proposal, saying it was "enormously disappointing to see this zeal for misleading rhetoric about so-called campus free speech."
Shankland said the regents' existing policy is "already problematic" and argued the proposed new law would "replace it with an even more chilling policy."
"Under this bill, individuals could bring action and sue for damages if they are protested or potentially interrupted," said Shankland in a statement. "Anyone could report another person for violating this new policy, and an individual could be suspended or expelled after just a few allegations, an investigation, and a hearing."
While the regents approved the so-called "three-strike, you're out" policy in 2017, the university must also enact formal departmental rules to allow them to enforce the policy. These rules are subject to legislative approval and their implementation ultimately rests with the Wisconsin governor.
Coincidentally, the state's new Democratic governor is former state education Superintendent Tony Evers, who voted against the policy as a member of the UW Board of Regents in 2017. Prior to the vote, Evers said he saw the policy as "a solution seeking a problem," arguing that there were already existing policies that dealt with this issue and issues of improper behavior.
As governor, Evers could both halt the rulemaking process and veto the Republican bill if it passes both houses of the legislature.
At a hearing last week on the UW-Madison Regents' rule, 10 university students and professors appeared to state their opposition to the policy.
According to UW-La Crosse student K.C. Cayo, not being able to protest and dissent would "disproportionately aggravate and attack marginalized communities from being able to speak up about social justice issues."
The campus free speech issue came to a head at the UW-Madison in November of 2016, when conservative speaker Ben Shapiro was shouted down by a group of protesters chanting "Safety! Safety!"
Shapiro reciprocated by turning to the chalkboard behind him and writing the word "MORONS."
Assembly Committee on Colleges and Universities chair Dave Murphy told hearing attendees that the bill would be far narrower than their concerns suggested.
"There's a myriad of things you could do but going in and actually disrupting that speaker is not one of them," he said. "Disrupting other peoples' free speech rights is not the right thing to do."
The American Association of University Professors has called similar campus free speech laws "restrictive," arguing they are not about protecting the First Amendment but actually "one piece of a much larger well-funded, right-wing effort to disempower public higher education in the United States."
Since 2017, states that have passed campus free speech laws include Alabama, Kentucky, South Dakota, Tennessee, Colorado, Iowa, Georgia, Texas and Arkansas.
MORE: Yes, there is a free speech problem on campus
IMAGE: Shutterstock.com
Like The College Fix on Facebook / Follow us on Twitter