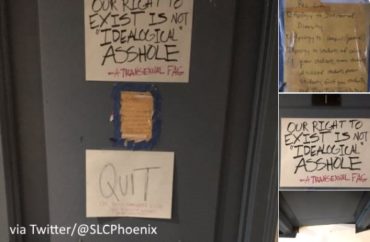 Administration should not have waited so long to condemn 
A nonprofit group blasted Sarah Lawrence College's "tepid" response to the harassment of Prof. Samuel Abrams, a self-proclaimed moderate who wrote a New York Times op-ed criticizing liberal bias among school administrators.
PEN America, a writers organization that promotes academic freedom, said the private liberal arts school's slow reaction "raises concerns about the institution's commitment to defending academic freedom."
Abrams's op-ed, titled "Think Professors Are Liberal? Try School Administrators," received backlash from some students. They vandalized his office with signs, including "OUR RIGHT TO EXIST IS NOT 'IDEOLOGICAL' ASSHOLE," and a list of demanded apologies along with a sign reading, "QUIT."
He wrote another op-ed for The Daily Caller on Oct. 29, "College Administrators–Hypocrisy and Viewpoint Diversity in Higher Ed," which was met with flyering around campus "alleging impropriety on his part with students," according to PEN America.
The writers group, which has previously downplayed the threat to free speech on campus, criticized the delay in the college's response to these incidents:
[I]t was only on November 6, three weeks after the initial incident and three days after the second, that the [school's] president communicated to the campus an explicit rebuke of the attacks against Abrams and a robust defense of his right to free expression.
Jonathan Friedman, project director for campus free speech, praised the email from President Cristle Collins Judd because it "hit all the right notes," but criticized it for taking so long:
Students, faculty, and administrators at Sarah Lawrence have every right to disagree with his arguments and counter them with robust debate and peaceful protest, but it is the duty of college leaders to offer swift, public defense of faculty members facing harassment. Equivocating on these fundamentals does no favors to open discourse, nor to the students and faculty who look to campus leaders for guidance.
Read the PEN America statement.
MORE: Press consortium sues Trump for First Amendment attacks
MORE: Free speech on campus has been weaponized, Congress told
Like The College Fix on Facebook / Follow us on Twitter