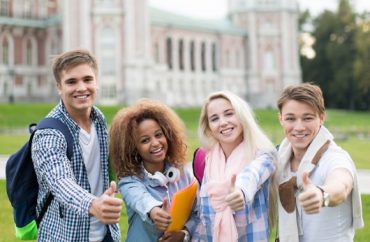 Pomona College, a private and preppy institution in Southern California, does not have the best track record when it comes to free speech.
In 2017, its officials refused to punish students who blockaded the door to a pro-police speech by the Manhattan Institute's Heather Mac Donald, effectively denying entrance to those who sought to attend.
Also that year, school officials took the draconian measure of siccing its Bias-Related Incident Response Team on students involved in a secret Facebook group that featured a variety of highly crass memes.
In 2018, a Gallup poll on Pomona College's "Perceptions of Speech and Campus Climate" found that 90 percent of students surveyed said "the campus climate prevents them from saying something others might find offensive." Nearly two-thirds of faculty reported feeling the same.
But it appears the campus community is trying to make an about-face on the issue of free speech. The college recently approved a new speech code that throws out rules which vaguely stated "abusive and insulting" speech is not allowed.
The Claremont Independent reports that Pomona's new speech code "appears to give Pomona a more legalistic and less subjective definition of protected speech." It reports the new speech code will be enforced beginning this fall semester.
The new code states that the "Pomona College student body believes that free speech is critical to Pomona's mission as an educational institution, and therefore, the norm is that speech and other forms of expression are protected." It then spells out what is considered unprotected and a violation of the student code:
a. Speech that constitutes harassment, as defined by the College's Non-Discrimination Policy.

b. Speech that constitutes fighting words. To constitute fighting words, the speech must meet all of the following three criteria. First, the speech must be addressed at a specific individual or particular group of individuals. Second, the speech must be abusive rather than a communication of ideas. Third, when considered objectively, the speech must be likely to provoke a violent reaction.

c. Speech that incites imminent lawless action. To constitute incitement of imminent lawless action, the speech must meet all of the following three criteria. First, the speech must advocate for, or attempt to cause, lawless action in the near future. Lawless action includes, but is not limited to, violence or the destruction of property. Second, when considered objectively, the speech, in context, must be likely to produce such lawless action. Third, the speaker must intend to cause such lawless action.

d. Speech that constitutes a true threat. To constitute a true threat, the speech must communicate a serious intent to harm a specific person or a particular group of persons. While the speaker does not necessarily have to intend to carry out the threat, the threat must be serious enough to cause an individual to fear for their physical safety in order to qualify as a true threat."
The new code also includes another interesting caveat that protects students' rights.
"It is not a violation of the Student Code to refuse to meet with a Dean if a Dean requests to meet in regards to potential speech code violations," the policy reads. "If, during these conversations, the Dean determines that the speech does violate all of the requirements of one or more of the subpoints as stated above, the College may choose to pursue judicial action."
Read the report in the Claremont Independent. 
MORE: Pomona College drops national anthem from commencement ceremony
IMAGE: Shutterstock
Like The College Fix on Facebook / Follow us on Twitter