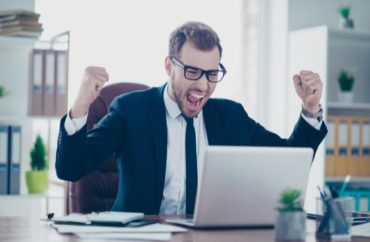 'Constantly facing investigations for speech fully protected by the Constitution'
Americans experienced nationwide online censorship when Facebook and Twitter actively prevented users from sharing a New York Post investigation of Hunter Biden.
The social media companies didn't have to reinvent the wheel. Students and faculty on college campuses have endured online censorship at the hands of administrators at least since the mid-2000s, according to a new report by the Foundation for Individual Rights in Education.
"Memory-holed: Universities and Internet Speech" shows targets of this censorship share two main characteristics: they express dissenting viewpoints and make universities look bad. It exposes unconstitutional internal policies used to justify online censorship at 35 universities.
Report author Sarah McLaughlin, director of targeted advocacy, noted in FIRE's announcement that administrators' efforts to "discourage, censor, and punish free expression" go back to long-dead MySpace.
Speech-chilling actions have continued on newer platforms, even image-focused Instagram, the least political of the major social media providers.
With most of the college learning experience taking place online in response to COVID-19, "the problem is only going to get worse," she said.
"Students and professors are constantly facing investigations and punishments for speech that's fully protected by the Constitution. All it takes is an opinion and a Twitter account, and you could be next," according to McLaughlin.
Punished abroad for speech in America
COVID-19 has created new speech-related challenges for international students, but they were already a prime target before the pandemic struck this year.
A Chinese international student from Wuhan, where the novel coronavirus emerged, was arrested in his hometown in 2019 and sentenced to six months in prison. His crime: tweeting an image critical of President Xi Jinping while studying, in person, at the University of Minnesota.
"His arrest was an unfortunate reminder that students' internet speech can have an impact far beyond the U.S. borders," the report says.
International students were the collateral damage when elite American universities refused to reopen in-person learning this spring. That led U.S. Immigration and Customs Enforcement to declare that all-virtual classes voided their student visas.
Though ICE rescinded it after Harvard and MIT sued, the policy would "harm all members of the academic community" if it remained in place, FIRE said: It would have required American faculty to self-censor so their students in repressive countries like China would not face legal scrutiny.
Fordham University, a frequent free-speech offender, appeared to do the bidding of China when it barred a Chinese immigrant student from campus for his Instagram post celebrating the Tiananmen Square protests on the massacre's anniversary.
"Don't tread on me" read the caption for the image (below), which showed Austin Tong posing with his legally owned firearm. The Catholic school found him guilty of "bias and/or hate crimes" and "threats/intimidation," leading FIRE to accuse it of acting "more like the Chinese government than an American university." (A judge recently dismissed Tong's lawsuit, saying Fordham's punishment was not "arbitrary and capricious".)
MORE: Tong is appealing court ruling in favor of Fordham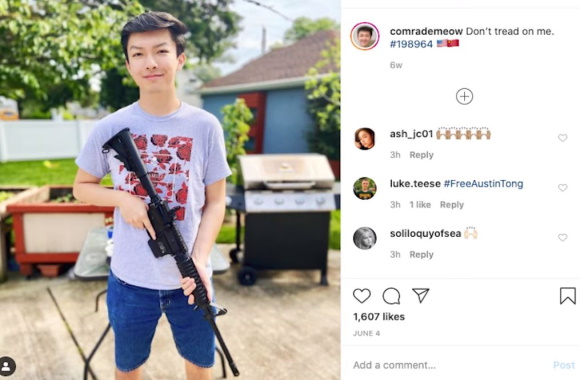 'Safe spaces' joke treated as threat to campus
While targets more often express views from the center to the right, professors on the far left can find themselves in the cross hairs as well, as when FIRE defended a Drexel University professor who tweeted "All I Want for Christmas is White Genocide." It intervened on behalf of a Rutgers University professor found guilty of harassment for tweeting "I now hate white people."
One of FIRE's earliest cases also involved progressive activism: a student protesting a proposed $30 million parking garage that student activity fees would fund.
The president of Georgia's Valdosta State University personally removed Hayden Barnes from campus, calling him a "clear and present danger" because he created an online campaign against the garage. Barnes sued with FIRE's help and secured a $900,000 settlement long after his expulsion.
On the other hand, FIRE also defended a now-fired professor at Catholic University of America who ruffled administration feathers for a few tweets criticizing Democrats including Barack Obama ("incredibly impotent and vain") and Kamala Harris ("former escort"). John Tieso is pursuing legal options.
Michele Kerr's blog criticizing Stanford University's Teacher Education Program was an early victim of college efforts to shut down websites that created bad optics for universities.
In 2009 the program tried to revoke her admission for suggesting she didn't align with the program's "progressive" value set, and asked her to take down the blog. When she hid her blog behind a password, an administrator got wind and demanded to monitor the site under the guise of ensuring "confidential information" was not being shared.
Stanford even threatened Kerr with "intimidation" allegations for emailing classmates about the way she was treated. FIRE got involved, and Kerr was able to wrap up the program successfully.
College leaders are just as easily triggered by guest speakers who mock their thin skin.
The president of Oregon's Linfield College shut down an event for the school's "Speak Freely Series" because the speaker, University of Toronto psychologist Jordan Peterson (below), tweet-joked that he was "violating some more safe spaces soon." The dean of faculty claimed he "intend[ed] to violate the safety of our community," which FIRE called "laughable" in a warning letter.
MORE: Linfield disinvites Peterson for 'safe spaces' joke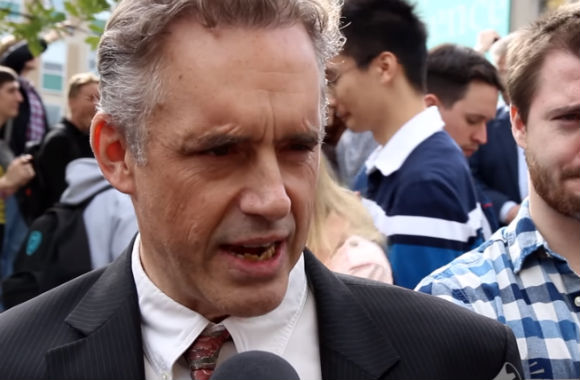 No 'cats' allowed on Facebook page
The report also analyzes how colleges preemptively sanitize their Facebook pages by blocking certain words from appearing on their feeds – a "customized blacklist" that only page administrators can activate.
The censorship ranges from attempts to shield users from controversial incidents, to bans on slogans by rival schools.
The University of Arizona "automatically removes posts that include the word 'rape' or the name of a controversial itinerant preacher known for holding signs reading 'You Deserve Rape.'"
The University of Oklahoma bans the middle-finger emoji, and Mississippi State University prevents people from writing "fail state" (a play on words of its motto "Hail State").
"Silent Sam" is one of many phrases banned from the University of North Carolina's page. It refers to the Confederate statue toppled by students in 2018, which the university planned to remove by paying $2.5 million to a Confederate veterans group to take it. (A judge invalidated the settlement, saying the group didn't have legal standing to sue UNC.)
The UNC Facebook page also does not allow any mention of 9/11 or terrorism, or even the name of a professor whose lectures on the attacks drew national media attention. It bans terms related to sexual assault, and no one can mention "Nazis," either.
Even the most progressive voices are silenced on university Facebook pages as well.
The University of Kentucky and Mississippi State University suppress speech that pertains to their contracts with the major food provider Aramark, a target of animal welfare activists. They posted "highly graphic videos of chicken slaughter," and UK responded by blocking the words "birds," "chickens" and "filthy," according to FIRE. MSU bars the word "Aramark" and "terms related to it."
People for the Ethical Treatment of Animals and related terms have no place on Texas A&M's Facebook page, since it was openly critical of the university's research on dogs. In far-left Southern California, Santa Monica College won't let people talk about "cats" – much less "dissecting," "torture" and "killing" – "following a PETA campaign about cat dissection in an anatomy course," according to FIRE.
The vast majority of surveyed public colleges and universities (173 out of 198) admit to blocking users on Facebook or Twitter.
"Together, these institutions blocked 13,197 Facebook users and 4,065 Twitter users from interacting with their posts, pages, or tweets," the report says. "Accordingly, an institution that blocks at least one user blocks an average of 76 Facebook users and 23.5 Twitter users."
MORE: UNC promises $2.5 million to keep 'Silent Sam' off campus
IMAGE: Roman Samborskyi/Shutterstock
Like The College Fix on Facebook / Follow us on Twitter