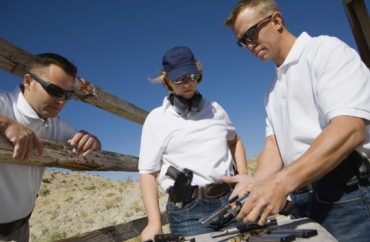 Catholic college's chair is a former state police officer
Aspiring Minnesota law enforcement officers who want to learn from instructors with real-world experience would be wise to look at community colleges and small liberal arts colleges, according to the results of a recent analysis conducted by The College Fix.
The Fix undertook a review of five colleges and universities in Minnesota to investigate if criminal justice professors had a background in law enforcement.
The Fix studied the makeup of the criminal justice faculty at University of St. Thomas, Century College, Inver Hills Community College, University of Minnesota Crookston and University of Minnesota Twin Cities. The review looked at faculty bios, personal websites, personal statements from professors outside articles and curricula vitae.
After researching seventy-five professors, The Fix found that a total of seventeen had at least some direct experience working either as a police officer or prosecuting crime.
This translates to only 23 percent of professors at the colleges reviewed that have direct experience as a patrol officer, federal officer or working as prosecutor or within the justice system. However, when the University of Minnesota flagship campus is removed, the percentage increases to 50 percent. At two community colleges reviewed, all criminal justice faculty had previously or currently worked in policing.
Although the University of Minnesota Twin Cities offers degrees in "Sociology of Law, Criminology and Deviance, "this is not a Criminal Justice Program," Professor of Sociology and Law Joachim Savelsberg told The College Fix.
MORE: Socialist student group protests event honoring law enforcement
The closest alternative for students seeking a degree in criminal justice is only staffed by a handful of professors with experience as prison monitors and consulting for courts and prison. None have any direct policing experience in a department that includes 42 professors and instructors.
That's different from schools like the Catholic University of St. Thomas, which offers programs in law enforcement leadership as well as a criminal justice degree, under its Justice and Society Studies department that also includes a sociology and peace studies degree.
Experienced professors include department chair Tanya Gladney, an Army veteran who spent ten years with the State Capitol Police in Jackson, Mississippi. She's joined by adjunct instructor Robert Plesha, who spent twenty-five years in the Ramsey County Attorney's Office and four years as the state's assistant attorney general.
Adjunct instructor Mark Dunaski spent six years in leadership with the state police, followed by five years with the Minnesota Department of Public Safety. Another adjunct, Michael Goldstein, appears to be a former police chief in Plymouth, Minnesota.
Richard Greenleaf served as a patrol sergeant in New Mexico before assuming a teaching post.
Community colleges also have experienced faculty
At Century College and Inver Hills Community College, all of the professors involved in teaching courses relating to criminal justice had at least some field experience. Both community colleges offer an associate degree in criminal justice, specifically designed as a pathway degree for a bachelor degree at a Minnesota State University or other four-year institution.
Century instructors include White Bear Lake Police Department Chief Julie Swanson, licensed officer and state police standards board member Sara Edel and Matthew Langer, a colonel in the Minnesota State Patrol. Dale Hager, another instructor, is an administrative captain with the White Bear Lake police.
Inver Hills Community College employs Scott Whiteford who has served for the past thirteen years as a police officer in the Plymouth Police Department and Dawanna Witt, a former captain of administration for the Dakota County Sheriff's Office and a current administrator of the Hennepin County Sherriff's court and detention bureau.
At the University of Minnesota Crookston, three of the four professors teaching in the criminal justice undergraduate degree program also had policing experience.
Program director Matthew Loeslie is a former police officer as well as a training manager with the Minnesota Emergency Response and Industrial Training Center. His peer instructor Mike Hedlund has been a cop since 1986 within the Grand Forks Police Department.
Students can also learn from David Seyfried, a former county sheriff's deputy, a licensed police officer and the director of public safety at Augustana College in South Dakota.
The Fix reached out to media representative Vineeta Sawkar from the University of St. Thomas and spokesperson Patrick Stumpf from the University of Minnesota Twin Cities for verification on the makeup of the departments at each respective school, but did not receive a response from either.
MORE: College students value job-skills over elite education
IMAGE: Sir Travel A Lot/Shutterstock
Like The College Fix on Facebook / Follow us on Twitter