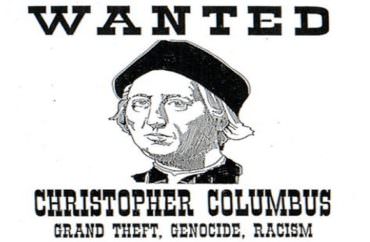 Happy Christopher Columbus Day!
Columbus is the explorer leftists love to hate. They blame him for genocide and call him a rapist.
As scholar Armando Simón documents, however, there is only one problem regarding the "crimes" Columbus is accused of perpetuating — they are all a "total fabrication."
"There is not one single historical source in existence that substantiates any of the 'crimes.' Not one," the retired professor writes today for American Spectator.
"If Columbus had, indeed, committed the countless crimes that some people with their ignorance of history have attributed to him, if he was, indeed the monster that he has been portrayed, on a par with Attila the Hun, Josef Stalin, Genghis Khan, Pol Pot, I for one would be among those condemning him. But the historical facts are clear: the atrocities that have been heaped on him are nowhere to be found, except in the minds of his detractors. They are just not there."
But the campus left does not let facts get in the way of a good canceling. Consider these five examples:
Christopher Columbus murals covered with Native American tapestries
University of Notre Dame, 2020
The University of Notre Dame administration covered the school's 12 murals depicting the life of Christopher Columbus, which had generated protests and petitions from Native American groups on campus. More than 300 students, employees and alumni had signed a letter imploring university President Father John Jenkins to remove the murals, calling them a "highly problematic vision of Western triumphalism, Catholic militarism and an overly romantic notion of American expansion." … Read more
Columbus State college removes Christopher Columbus statue
Columbus State Community College, 2020
Yes, you read that right. Columbus State Community College dismantled its Christopher Columbus statue, which had been displayed on the college's downtown Columbus, Ohio, campus since 1988.
"In taking this action, we are being mindful of societal change and forward movement," Columbus State Board of Trustees President Anthony Joseph said at the time. "We do not seek to erase history, but to make an intentional shift in what we visibly honor and celebrate as an institution. This is the first of many steps in what will be a lengthy journey as the College seeks to build on and improve our ongoing efforts toward broadened diversity and inclusion." … Read more
Ceding to demands, Pepperdine will remove Christopher Columbus statue
Pepperdine University, 2017
The university's president explained that the "stories of conquest and the art associated therewith are painful reminders of loss and human tragedy" for many. The decision was celebrated by activist students as "progress." … Read more
UW Oshkosh hosts Indigenous People's Day in place of Columbus Day
University of Wisconsin Oshkosh, 2017
"Indigenous People's Day reimagines Columbus Day and changes a celebration of colonialism into an opportunity to reveal historical truths," according to a campus official. … Read more
Students vote to rename Columbus Day to 'Indigenous People's Day'
Arizona State University, 2012
An editorial in The State Press, the campus student newspaper, praised the intent behind the name change. "When we recognize the holiday as Columbus' Day, we already remember the person who launched the trajectory that left Native Americans in the state they are today — living on reservations where they suffer from the lowest rates of education and health care in the country." … Read more
For more examples of Columbus being protested on campus, check out The College Fix's entries on the explorer in its Campus Cancel Culture Database.
MORE: Howard Zinn lied about Christopher Columbus. Here's how.
Like The College Fix on Facebook / Follow us on Twitter