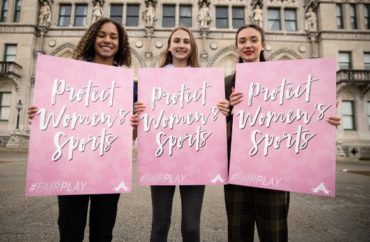 They seek judge's recusal for appearance of partiality
The federal judge overseeing a Title IX challenge to Connecticut schools' transgender athlete policy has appeared to show his hand, and it's not good for the three biologically female plaintiffs.
In an April 16 conference call transcript obtained by National Review, U.S. District Judge Robert Chatigny ordered the girls' lawyers to stop calling boys who identify as girls "males," even though biology is the fundamental dispute in the litigation.
The judge curiously said it was "more accurate" to call such males "transgender females," and insisted such nomenclature was "consistent with science, common practice and perhaps human decency."
Chatigny bizarrely construed the case as "about girls who say that transgender girls should not be allowed to run in girls' events," steamrolling their lawyers' arguments that there's no way around the biology issue. The plaintiffs are Selina Soule, Chelsea Mitchell and Alanna Smith (above).
Lead attorney Roger Brooks for the Alliance Defending Freedom corrected the judge, a Clinton appointee, saying the case was about "individuals who are physiologically, genetically male" competing in girls' sports.
"The point of this case is physiology of bodies driven by chromosomes and the documented athletic advantage that comes from a male body, male hormones, and male puberty in particular," Brooks said: Chatigny is essentially forcing the lawyer to inaccurately represent his clients' position.
While the judge allowed Brooks to simply describe boys who identify as girls as "transgender" – the lawyer's proposed compromise – he said that allowing the plaintiffs to call boys "males" would be "bullying" them. Chatigny suggested that the plaintiffs might have to go over his head to the 2nd U.S. Circuit Court of Appeals if they wanted to keep describing boys as "males."
Chatigny was actually nominated for the 2nd Circuit by President Barack Obama, receiving a party-line vote in the Senate Judiciary Committee, with opponents citing his alleged softness toward sexual offenders.
The Washington Times editorial board accused him of "a weird record of empathy for those accused of sexual crimes involving children," starting with his legal representation of director Woody Allen when he faced potential charges of "abusing a minor stepchild." The Senate never scheduled a vote on his nomination.
The girls' lawyers at the alliance filed a motion seeking his recusal Saturday, saying Chatigny has "destroyed the appearance of impartiality in this proceeding" with his ban on the biologically accurate description of boys who identify as girls. Courts must be "the singular place in society where all can be heard and present facts before an impartial tribunal."
The Connecticut Interscholastic Athletic Conference tried to get itself removed from the litigation, which also names several school districts as defendants, in March by arguing that it's exempt from Title IX. The girls' lawyers retorted that the school districts delegated "controlling authority" over high school sports to the conference, making it subject to Title IX.
MORE: Connecticut under federal investigation for anti-female policy
MORE: Girl runners get 'extra lessons in losing' thanks to Connecticut policy
IMAGE: Alliance Defending Freedom
Like The College Fix on Facebook / Follow us on Twitter