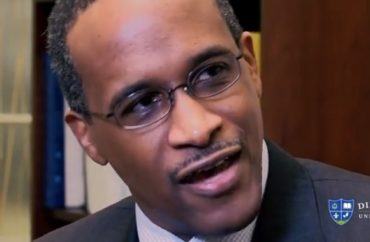 UPDATED
'At an HBCU students can just be students'
Historically black colleges and universities perform better on core curriculum requirements than other institutions of higher education, according to a survey by the American Council of Trustees and Alumni.
But the president of one HBCU told The College Fix he thinks another factor is more important in student success at HBCUs: They don't enroll "racist" students.
Dillard University's Walter Kimbrough emphasized the campus climate over the curriculum in an interview, saying that his students don't have to deal with the same issues as black students at non-HBCU institutions.
"I think now many black high school students are experiencing more overt racism, so they are looking for places where race is not a day to day issue to be navigated," he wrote in an email. "At an HBCU students can just be students and not worry about the politics of race."
When asked what other schools could do to emulate the curricular success of HBCUs, Kimbrough suggested they need to be more selective.
MORE: Most colleges mandate diversity lessons, but not history, econ
"I think many have worked to be more inclusive, but those schools still enroll students who don't have the same value of diversity and inclusion," he told The Fix. "A university may do everything right but they will still enroll racist students, faculty and staff who will make the climate uncomfortable for black students."
Kimbrough's remarks may understate how controversial he has been at Louisiana's Dillard, including for his endorsement of viewpoint diversity and freedom of expression.
In a recent Forbes column on his group's survey, ACTA President Michael Poliakoff specifically praised Kimbrough for not bowing to campus pressure to cancel a 2016 debate among Senate candidates that included David Duke, a former Ku Klux Klan leader.
"I just believe that our brand and what we do on a day-to-day basis is bigger than that," Kimbrough told Inside Higher Ed at the time. (Dillard hosted Duke four decades earlier, as well.)
"The lifeblood of the liberal arts is the free exchange of ideas," Poliakoff wrote, and HBCUs have shown "remarkable resistance" to the trend of "shout-downs, disinvitations, trigger warnings, and the like." He said Kimbrough told him that HBCUs "always had to show the most courage" to provide free speech on campus.
MORE: Universities abandon core curriculums, offer 'patchy' educations
'Students of all races can be fully accepted and appreciated'
ACTA touted HBCUs in a tweet thread last week, noting they "score far better than the rest of higher education" on the general education requirements that ACTA evaluates in its annual "What Will They Learn?" survey.
It grades schools on an A-F scale on "seven core areas of knowledge": composition, literature, intermediate foreign language, U.S. history or government, economics, mathematics, and natural science.
The "What Will They Learn?" project is intended to put pressure on colleges and universities to strengthen general education requirements. ACTA wants prospective students, parents and guidance counselors to use its searchable database of more than 1,100 schools.
Georgia's Morehouse College is one of only 22 institutions of any kind nationwide to earn an "A" – its only missing requirement is economics – while most HBCUs earn a "B" or higher. They include Tuskegee, Claflin, Fisk, Dillard, Tougaloo, Lincoln and Prairie View A&M. The average grade nationwide is "C."
Poliakoff's Forbes column highlights mandatory U.S. history courses, "often through the lens of the African-American experience," as one reason HBCUs score high on ACTA's survey. The Fix and ACTA could not find a mutually agreeable time for an interview.
But when The Fix asked Kimbrough about Poliakoff's column and why he thinks HBCUs are leading the way, he had trouble accepting the compliment from ACTA.
MORE: Survey finds college grads struggle with basic civic literacy
The majority of HBCUs earn a "B" grade or higher, which is better than the national average of a "C." How does your school rank? https://t.co/yeWvW5b0uQ

— American Council of Trustees and Alumni (ACTA) (@goACTA) October 23, 2019
"I don't know if we can say the curriculum is better," Kimbrough wrote:
I think the overall teaching environment for many black students is better. They have more diversity in their faculty, and generally faculty at HBCUs (and I would also argue at small liberal arts colleges to be fair) are more engaged with their students. I believe that has a positive effect on students.
HBCU students generally benefit from "[m]ore mentoring, more of a sense of belonging, more care about students as people," he continued, citing a Gallup poll from 2015 that found HBCU graduates "are stronger in purpose [and] financial well-being."
Dillard's success stems from being "true to the HBCU ethos," Kimbrough said:
Students of all races can be fully accepted and appreciated. Faculty and staff engage them at a level far deeper than required for their jobs. The students get to see and interact with successful people who look like them, not just faculty and staff, but guests who visit the campus – and they don't have to wait until black history month to see these folks.
MORE: Black students say 'whiteness' of UNC is 'traumatizing'
Asked to clarify his comments on other colleges letting in "racists," Kimbrough used less inflammatory language.
"My argument is that too many black students went to schools that were not a good fit and the research is the result of that," he wrote. "It also shows that majority institutions still have problems with race that can't [be] solved by just adding more black people."
The Fix could not get interviews with other HBCUs praised by ACTA. Tuskegee University said it didn't have time to comment, and Howard University responded but did not arrange an interview.
Lincoln media relations referred The Fix to a YouTube video featuring President Brenda Allen: "Fifteen years out of college, individuals who attend historically black colleges, outperform their counterparts who attended even some of the best predominantly white institutions."
MORE: Only two HBCUs protect student speech
'We were in an era when rational dialogue and debate had been abandoned'
Kimbrough has previously lauded his demonstrated interest in opening the HBCU bubble to unpopular viewpoints.
In an essay for The Chronicle of Higher Education in 2017, several months after David Duke debated on campus, Kimbrough harkened back to his leadership of another HBCU, Philander Smith College, in the 2000s.
He started a lecture series, "Bless the Mic," intended to "explore the unthinkable" with controversial speakers. One of the first was conservative firebrand Ann Coulter.
No one protested, but "she did get a few tough and pointed questions," and her appearance "sparked more conversation on our campus after she left," he wrote.
"At least once a year, I sought to invite someone who might make our campus uneasy, to make me uneasy," including libertarian social scientist Charles Murray, who would narrowly escape violence at Middlebury College several years later, he noted.
MORE: George H.W. Bush statue draws protests at HBCU
"I feel that for leaders to grow, they need to seek out opinions that they fundamentally disagree with," Kimbrough wrote.
Regarding the Duke debate in 2016, the president emphasized that the former Klan leader had simply qualified for a debate that was sponsored by a third party.
"The anguish over Duke's simply being present on the campus — not invited by the university, not speaking in front of an audience, only participating in a debate in which five others had chances to refute any idiotic notions he imparted — should have been a wake-up call," he wrote. "It signaled that we were in an era when rational dialogue and debate had been abandoned for the high of in-your-face confrontation, with social media as an accelerant."
ACTA's Poliakoff contrasted Dillard's institutional response to Duke's visit with Middlebury's "notorious" response to Murray's visit.
"While so many college presidents live in fear of student unrest over a controversial speaker or a faculty vote of no confidence over a new core curriculum, one finds at HBCUs stunning models of commitment to truly liberal education," he wrote.
CORRECTION: Due to an editor's error, a typo was introduced into a sentence from Poliakoff's Forbes column. The typo and [sic] designation have been removed. The Fix also incorrectly characterized ACTA's response to a request for an interview. The wording has been fixed.
MORE: Kimbrough says black fraternities prefer beatings to forced drinking
MORE: Black college cancels GOP commencement speech to protect 'marginalized'
IMAGE: Dillard University/YouTube
Like The College Fix on Facebook / Follow us on Twitter