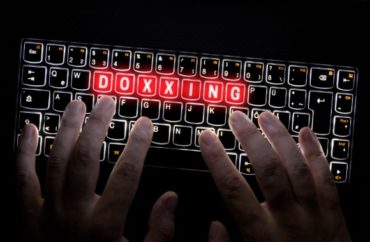 A University of British Columbia education professor recently took to Twitter to dox a "dirty dozen" students who had transferred out of her class.
According to the National Post, Amie Wolf, who's of mixed Native American and Polish descent, was upset the twelve had accused her of "unprofessional" and "hostile" conduct in the Education 440 course, viewing it as a "racist attack."
The course is mandatory for all education students.
Wolf wrote the same narrative in each student's interim report, noting their transfers were indicative of "unconscious and unacceptable biases, the reinforcement of white supremacy and/or Indigenous specific racism." Oh, and "an intolerance for 'otherness.'"
Following a complaint by one of the student's parents about Wolf's classroom antics, the university deleted all 12 of the interim reports. But Wolf kept her copies, and she said the school's (and students') actions were "corrupt" and "inspired by a legacy of 'colonial genocide.'"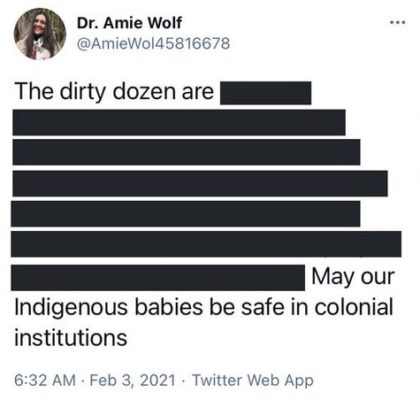 Wolf also tweeted out all of the students' names along with the message "May our Indigenous babies be safe in colonial institutions." (Her Twitter account has since been deleted.) The Post Millennial notes that in a later interview, Wolf said she made the tweet so the students would be unable to get a job in the education field as they were "unfit."
Wolf ended up "dedicat[ing] her last lecture to a host of conspiracy theories — chemtrails, COVID-19 vaccines — sometimes launching into fits of laughter, denunciations of named unsupportive colleagues (Indigenous and non-Indigenous alike), and tangents about her tragically unsuccessful personal relationships."
[Wolf] later demanded a payout for the "emotional labour" she had to go through, as well as indefinite employment and to be free from receiving evaluations from her students, a standard which is applied to every professor at UBC.

After naming the 12 students on Twitter, UBC contacted Dr. Wolf with a request to delete the tweet. UBC told Wolf that the tweet was a violation of students' privacy.

"As an employee of UBC, you are obliged to comply with FIPPA, and your deliberate disclosure of the names of your students in this tweet constitutes a serious violation of that law," the university stated in a cease and desist letter.

In response to the letter, Wolf claimed that she was "threatened" by UBC. She also further defended herself by alleging that the students were abusing their power over her by virtue of her being Indigenous.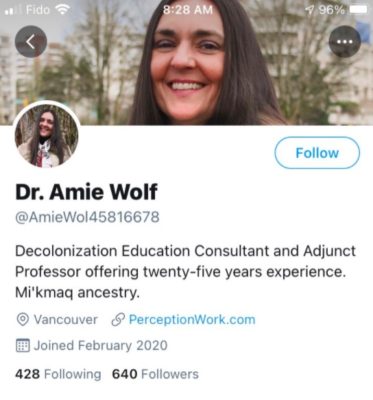 The Ubessey reports Wolf had demanded the reinstatement of the students' interim reports, an apology from the university, and that student evaluations of her teaching not be used against her — because they "don't work in classes on decolonization."
"Decolonization education requires privileged students to give up their centrality," Wolf said. "That can make people angry."
Wolf also wants a "one-time payout for [her] emotional labour" and for "defamation and humiliation," along with a guarantee of "indefinite" employment.
"I want to know that I have two sections to teach next term and indefinitely," she said.
Read the National Post and Post Millennial articles.
MORE: Indigenous artist says refusal to adopt 'land acknowledgment' is like rape
MORE: White professor under fire for teaching indigenous course: 'settler scholar'
IMAGES: SFS / Shutterstock.com; The Ubyssey, Michelle Huang /Twitter screencaps
Like The College Fix on Facebook / Follow us on Twitter