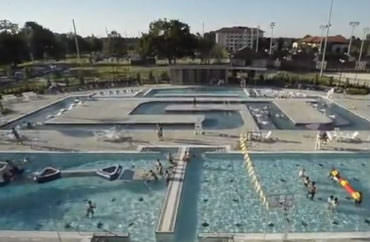 Justified as a 'health and wellness project'
The "lazy river" at Louisiana State University is often held up as an example of wasteful non-academic university spending, a frivolity intended to attract students who aren't the studying type or who simply pay higher tuition.
But it's also siphoning away money from core academic maintenance, as suggested by a CBS News report on how universities use "lavish perks" to entice students.
When "CBS This Morning" co-host Tony Dokoupil visited the taxpayer-funded university, he noted some of the library building "was literally falling apart," plus water in the basement and "rugs from another generation."
So where has the money gone from LSU's tuition and fees, which "have doubled in a decade"?
Some of it goes to teaching, of course, but most does not. At LSU, while students enjoy the new lazy river, some of the academic facilities are showing their age.

LSU senior and Student Senate Speaker Pro Tempore Catherine McKinney took Dokoupil on a tour of what she said are her school's questionable priorities. Dokoupil asked her, "The library is the focal point of the quad, but would you say it's the focal point of school funding?"

"Absolutely not," she said. "I think, if anything, it's kind of been neglected by school funding."
This isn't even a new complaint: A columnist for local news outlet NOLA.com mentioned it two years ago.
MORE: $200 a semester for the privilege of rec center with lazy river
Sure, LSU's library might fall apart, but at least it has a lazy river https://t.co/wJ5tol4bf7

— NOLA.com (@NOLAnews) October 17, 2017
All but one university queried by CBS News sent canned justifications for their spending priorities, largely blaming state funding cuts, rather than face an interview.
LSU actually claimed its lazy river, part of a new rec center that costs every student $200 a semester, is "directly related to education" because it's a "health and wellness project."
Its long list of new construction and renovations in the past 15 years – for business education, engineering, music and arts, dorms and many more – conspicuously leaves out the crumbling library. LSU also claimed that the lazy river entices students to live on campus, meaning they are more likely to have "higher GPAs and are more successful in finishing their degrees," as well as building "more of a community."
LSU is far from the only school shirking on academic-related spending while offering bread and circuses to an increasingly out-of-state student body that pays more for the privilege.
Dokoupil said he only met one student from Pennsylvania on a visit to Penn State, while the others came from "California, China, Long Island, Houston, Los Angeles and Rome." (Penn State's statement said its tuition is lower now than five years ago, adjusted for inflation.)
The only university that agreed to talk on camera with him was the University of Houston, "where tuition and fees are more than five times higher than they were just a couple of decades ago."
President and Chancellor Renu Khator, the fifth-highest paid executive of a public college last year, actually conflated "ambition" with crippling debt when Dokoupil asked her why UH doesn't rein in its spending:
"Tony, you are telling me, 'Don't be ambitious for the sake of your students'? 'Don't be ambitious about them graduating'? 'Don't be ambitious about them learning'? Why am I university president then?" Khator said. "I am dead-focused on a student's success. We look at, holistically, what students need and what more we can do for them. Because at the end of the day, we need more graduates, more college graduates."
MORE: Meet the highest-paid public college executives in America
MORE: New book argues higher ed rewards students who don't study
IMAGE: The Advocate screenshot
Like The College Fix on Facebook / Follow us on Twitter