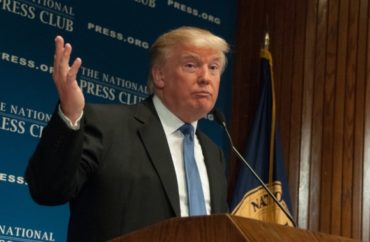 A New York Times op-ed admits that President Donald Trump was right all along when he said repeatedly during the late spring and summer that it was time to reopen the schools in the wake of the COVID-19 lockdown.
"Some things are true even though President Donald Trump says them," wrote New York Times columnist Nicholas Kristof on November 18. The column was written shortly after Mayor Bill de Blasio decided to shut down New York City's public schools, again.
"Trump has been demanding for months that schools reopen, and on that he seems to have been largely right. Schools, especially elementary schools, do not appear to have been major sources of coronavirus transmission, and remote learning is proving to be a catastrophe for many low-income children," Kristof wrote.
"Yet America is shutting schools — New York City announced Wednesday that it was closing schools in the nation's largest school district — even as it allows businesses like restaurants and bars to operate. What are our priorities?"
He went on to point out that in Europe, they've done the opposite, closed bars and restaurants but kept schools open, adding "evidence suggests that Europe has the smarter approach."
"In both Europe and the United States, schools have not been linked to substantial transmission, and teachers and family members have not been shown to be at extra risk (this is more clear of elementary schools than of high schools). Meanwhile, the evidence has mounted of the human cost of school closures," Kristof pointed out.
Indeed, he added, "Dropouts live shorter lives, so while the virus kills, so do school closures."
"One study this month estimated that closures of primary schools in the United States will cause many more years of life lost, because of increasing numbers of dropouts, than could be saved even if schools did spread the virus freely," the New York Times columnist wrote.
Similarly, Dr. Robert Redfield, the head of the Centers for Disease Control and Prevention, said in late July that youth suicides are on the rise under draconian school closures, adding "it is in the public health interest [for] K-12 students to get these schools back open for face-to-face learning."
"Mental health service, 7.1 million kids get it in school. Nutrition, we talked about. Reporting of child abuse, sexual abuse — mandatory in schools," he said at the time.
"The isolation that these adolescents are feeling that now is associated with increased … drug overdose … and now increase suicides."
Back in the spring, University College London researchers concluded that closing schools is largely ineffective for stopping the spread of the coronavirus after reviewing various studies.
In Florida it was shown in September that COVID cases kept going down even after schools reopened in person.
Kristof, writing for the New York Times, points out that under these school closures, low-income kids are hit the hardest.
"School closures magnify these inequities, as many private schools remain open and affluent parents are better able to help kids adjust to remote learning," he wrote. "At the same time, low-income children fall even further behind."
MORE: I'd still want to teach inside the classroom despite COVID
IMAGE: Albert H. Teich / Shutterstock
Like The College Fix on Facebook / Follow us on Twitter