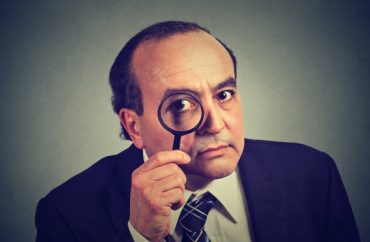 Rutgers University will take another look into the social media behavior of Professor James Livingston.
As reported by The College Fix, Livingston went on a Facebook rant after being annoyed by white kids who were running around at a Harlem restaurant. Among other nastiness, the prof wrote that the joint was "overrun with little Caucasian assholes who know their parents will approve of anything they do" and said he was "resign[ing] from [his] race" (Livingston is white).
When word of his rant went viral, Livingston claimed it was all a joke, and complained about the "uniformly right-wing publications" that had picked up the story.
Last month, Rutgers found the professor had violated the school's Discrimination and Harassment policy; Livingston appealed but was denied. The Foundation for Rights in Education (FIRE) vouched for him, stating the prof's comments were protected by academic freedom.
Citing FIRE in a statement to the Washington Post, Livingston said
I believe the intellectual mission of Rutgers, a place to which I've devoted my career, is in peril, and being overridden for the sake of public relations […] Allowing human resource administrators to tell a professor of 30 years what he can and can't say on Facebook means that the tradition of academic freedom in our public universities is essentially over. I respect that tradition too much not to protest.
According to the New Brunswick Patch, Rutgers President Robert Barchi indicated he wants a "more rigorous analysis" of Livingston's Facebook statements before any punishment is meted out.
"Like many in our community, I found that Professor Livingston's comments showed exceptionally poor judgment, were offensive, and, despite the professor's claims of satire, were not at all funny," Barchi wrote. "At the same time, few values are as important to the university as the protection of our First Amendment rights — even when the speech we are protecting is insensitive and reckless."
In his own defense, Livingston posted a tweet by MSNBC pundit Joe Scarborough calling conservative whites "snowflakes" for complaining about the prof's "silly" posts: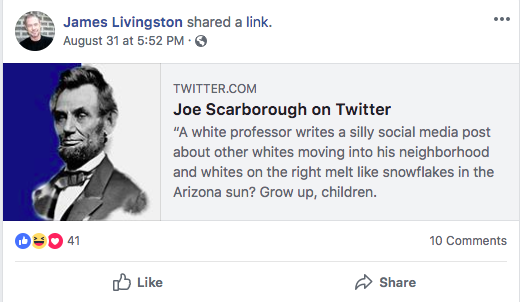 The prof praises Scarborough for "evolving" into an "old fashioned liberal" thanks to the help of his (on-air and real-life) partner, Mika Brzezinski.
Read the full WaPo and Patch articles.
MORE: Prof who trashed white people on Facebook loses appeal
MORE: Rutgers prof says he showed up to confront hater; claims hater bailed
IMAGE: Shutterstock.com, Facebook
Like The College Fix on Facebook / Follow us on Twitter