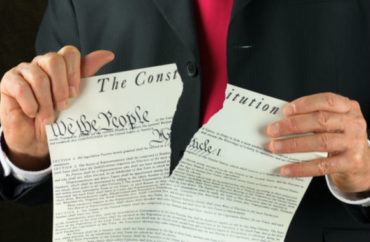 'The threat to students' free speech…has never been greater than it is today,' warns legal expert
Free speech and student activist groups warned that administrators could try to use coronavirus guidelines to restrict free speech on campus as many students return to school this month.
The College Fix solicited insight from several leaders of student activist groups and free speech and legal experts over the past month.
The Fix asked the groups and experts what free speech issues they are worried about as well as the role social distancing guidelines could play in limiting campus expression.
In general the groups' leaders agree that campus officials could use social distancing to limit the freedom of assembly. Because of this, administrators must be careful to enforce rules fairly in a content-neutral fashion, they argued.
The Southeastern Legal Foundation pointed out that campus officials could violate students' rights through coronavirus reporting systems.
Kimberly Hermann, counsel for the nonprofit, said that colleges are using coronavirus reporting in a way that could violate student privacy. The free speech nonprofit convinced the University of North Georgia to change a reporting form that asked students to report each other for suspicion of sickness.
The form had the potential to silence speech because students could use it to report people because they didn't agree with their views.
MORE: Supreme Court case could make it easier to defend campus free-speech rights
"As college students return to campuses this month, they face new and unforeseen threats to their First Amendment rights," Hermann said via email to The College Fix.
The foundation is reviewing coronavirus policies on college campuses across the country and Hermann pointed out several problems.
"In addition to mandatory mask requirements and refusing to teach in person, we are seeing many colleges prohibiting students from holding events, tabling and recruiting, and even meeting off campus," she said.
"The threat to students' free speech, freedom of association, and privacy on college campuses has never been greater than it is today."
Universities must remain content-neutral
Other groups warned that the limits on gatherings and assembly threaten free speech.
Nicole Neily, president of Speech First, said that universities have some right to control its internal affairs but campus officials must remain content-neutral.
"Universities are within their purview to set restrictions on the time/place/manner of gatherings – and public health concerns will certainly be a powerful reason to restrict the size and distance of events," Neily said via email to The College Fix.
"That being said, it's incumbent on schools to do so in a content-neutral manner."
Travis Barham, senior counsel for Alliance Defending Freedom, said he agreed that schools must treat groups fairly.
"If the rules are applied even handedly it at least shows the university cares about social distancing," Barham said in an email to The College Fix.
"When they play favorites, that's when, from a legal perspective, social distancing isn't really the university's interest and the justification is clearly invalid," Barham said.
Polly Olsen, a former student activist who successfully sued her college after it barred her from handing out "Jesus Loves You" Valentine's Day cards, said that colleges today could use coronavirus to shut down people like her.
She said she believes that if she were to hand out her valentines now, she "would be shut down in the name of Covid and public health by college administrations," Olsen said in an email to The College Fix.
Students For Life of America, a national pro-life student group, has also gone to court to battle selective enforcement of university policies.
Kristan Hawkins, the group's president, told The College Fix via email that "schools inclined to restrict student free speech will use any excuse to practice viewpoint discrimination."
Although she felt that coronavirus "may be used as justification for anti-life student governments or school officials to act on their prejudices," Hawkins said that it "will not deter us from practicing our free speech rights in ways that reflect safe engagement."
Libertarian group argues that there is 'no justification' for speech restrictions
However, at least one student activist organization argued the coronavirus does not give any justification to limit student's First Amendment rights.
J.P Kirby, the director of free speech for Young Americans for Liberty, said "there is no justification" for limiting the First Amendment.
Kirby said that students who want to remain safe from a "perceived threat" cannot force others to socially distance, but "must work within their own property to do so" and "not restrict the rights of others."
"If you will use a virus such as we have now to restrict rights, there is no circumstance you would not see as an excuse to strip people of speech and assembly," Kirby said.
MORE: Campus safety expert explains how schools can safely reopen 
IMAGE: Mike Focus/Shutterstock
Like The College Fix on Facebook / Follow us on Twitter