Over the holidays someone asked if I had seen the now-viral story of the New Jersey high school wrestler who was forced to cut his hair.
"Yeah," I said. "Really took off on social media. But did you know that, according to the referee's peers, the official actually was following the rules regarding length of hair?"
The person didn't know that.
"Did you read that the referee had previously used a racial slur?" the person then asked.
"I did," I replied. "Were you were aware that incident actually took place at a social gathering … and during an argument?"
The person did not know that, either.
Two aspects regarding the story then came to the fore: Would there have been outrage if the official had required a white wrestler to cut his hair before the match, and is the context of how the official used a racial slur two years prior relevant?
The person's responses: "I'm not sure there should be" and "no" respectively.
This perfectly illustrates the "fundamental clash of philosophies" over race and power currently being played out in the country. It doesn't matter if Caucasian wrestlers have had to cut their hair before matches — because history. It doesn't matter how the referee used a racial slur in the past — because history. And these don't even take into account progressive-enforced "power dynamics."
With regards to the latter, what adds to the confusion is progressives are among the most insistent about things like "restorative justice" and other non-punitive disciplinary measures; however, they quickly take these off the table when it comes to Caucasians uttering racial bad words. Context is totally irrelevant — just ask "Papa" John Schnatter.
Seriously, for these folks there is no difference between using an epithet out of pure hatred … and out of anger or to make a cultural point. Progressives would defend not suspending high school/college students for some of the most egregious behavior, and favor leniency for criminals accused of same, but a white person who uses the "N-word" either in a non-racist context (Schnatter) or in anger (the wrestling official) must become a pariah for the rest of his life.
Consider, too, the situation at Temple University where Professor Marc Lamont Hill caused a stir with anti-Israel comments he had made in a speech at the United Nations. Hill's peers were more peeved at a university board of trustees member who ripped Hill for his remarks … which they deemed "passionate, considered, and thoughtful." Now, contrast this to these individuals.
A culture, a society, cannot long endure with such "graduated rightness" as I like to call it. No one knows the rules because they're constantly in flux.
And that's just how the self-righteous progressive bean counters want it.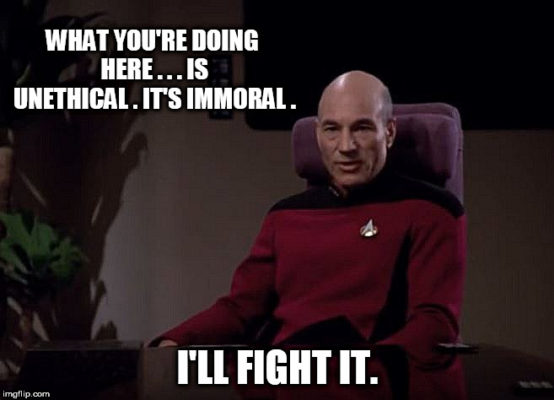 MORE: U. Georgia incident shows silliness of the politically correct 'hierarchy'
MORE: White men can't be oppressed — no matter what
IMAGES: Laurentiu Timplaru / Shutterstock.com, YouTube
Like The College Fix on Facebook / Follow us on Twitter