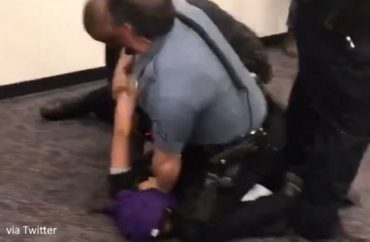 Chancellor wanted to 'cover his ass,' club leader thinks
The University of Missouri-Kansas City initially told a conservative student group it had been "deactivated" because its faculty advisor left the group.
The advisor for the Young Americans for Freedom chapter resigned the day after it hosted conservative commentator Michael Knowles for a speech titled "Men Are Not Women," the chapter's chairman told The College Fix.
The April 11 event drew disruptions from protesters, including one who threw a bleach-like substance on The Daily Wire contributor (below). The protester was arrested for assaulting Knowles with lavender oil, a symbol of "transgender solidarity" in the eyes of the LGBTQ community, according to The Kansas City Star.
It wasn't just the advisor who was offended by Knowles' view that a man can't become a woman by identifying as one. The university chancellor disparaged Knowles and praised protesters in a statement to the community.
The university quickly deactivated the chapter and "froze our account," UMKC YAF Chairman Seth Schibler said in a phone interview Sunday night.
By Monday afternoon, however, the administration claimed YAF "has not" been deactivated. It did not answer further Fix questions about why YAF got an official deactivation email.
Schibler told The Fix Monday night that Chancellor C. Mauli Agrawal himself offered to reinstate YAF to full recognition, on the condition that it keeps looking for a permanent advisor while using a temporary advisor.
He's skeptical why Agrawal himself made contact, speculating the chancellor wanted to "cover his ass" after the incident gained national attention.
Great speech Michael, I was in the front row and caught the whole thing on video. pic.twitter.com/fVeaXs0Q4p

— Collin Tuso (@collin_tuso) April 12, 2019
'Fostering divisiveness rather than creating unity'
One of Schibler's friends, a lobbyist named Eapen Thampy, tweeted what appeared to be a screenshot of YAF's administrator page at UMKC on Saturday afternoon. The page said the chapter had been "deactivated for the current academic semester."
According to Thampy, who tagged Missouri Gov. Mike Parson, the club was deactivated because its faculty advisor resigned, "citing the offensiveness of Michael Knowles's speech."
Schibler told The Fix that he was meeting with Thampy on Saturday when he got word of the deactivation. They were discussing the possibility that Thampy could represent the YAF chapter at a House Oversight Committee hearing in the Legislature. (Thampy tweeted a photo of himself and Schibler before his tweet about the deactivation.)
Prof. Mona Lyne, the advisor, "had a problem with [Knowles's] rhetoric, she didn't think some of the things he was arguing for was correct, and she basically told me that he was fostering divisiveness rather than creating unity or more constructive dialogue," Schibler told The Fix.
He disputed Lyne's alleged assumptions about who was at fault in the melee. "It's not his fault it devolved into a spectacle," Schibler said. "Where there was violence used against Michael Knowles, for her to say it's his fault, and that it's his fault for not upholding the dialogue, I don't agree with it."
Lyne's status at UMKC is unclear. The political science professor's faculty page has disappeared, and neither Google nor the Internet Archive has a cached copy of it. Current pages for the political science department list Lyne as either department chair or former department chair.
The Fix emailed and called Lyne Monday night after learning her identity from Schibler. Her UMKC phone line is active and the voicemail indicates it's still her line.
MORE: Protester throws fake bleach on conservative at UMKC
In a statement to the community after the physical attack on Knowles, Chancellor Agrawal (left) said "some others crossed a line" but otherwise praised the student protesters.
Agrawal called Knowles, whom he never named, "a speaker whose professed opinions do not align with our commitment to diversity and inclusion and our goal of providing a welcoming environment to all people, particularly to our LGBT community."
He celebrated the protesters who "responded in the best way," in his view, by "organizing and conducting a counter-event across campus" that "focused on positive messages about diversity and inclusion." He thanked those in the audience who "stood and expressed disagreement with the speaker's views."
Only when he mentioned the crossed line did Agrawal make clear that "UMKC must maintain a safe environment in which all points of view, even extreme ones, are allowed to be heard."
Knowles tweeted the chancellor's statement, saying Agrawal was "baselessly smearing me as a bigot." Schibler told The Fix it was "pretty despicable" statement, and that Agrawal had made plain that the university supports inclusion "until you disagree with us." The chancellor has handled various scandals poorly, and if he doesn't retract the statement or apologize, he should resign, Schibler said.
Former state representative Kevin Corlew, who sponsored a press freedom bill for student journalists, also criticized the chancellor in a tweet thread.
"While feigning a respect for Free Speech, [Agrawal] denigrates the views of the conservative group's speaker," Corlew wrote in a longer statement. "This is a backhanded form of viewpoint discrimination."
Based on my observation, @UMKCChancellor glosses over the unruly conduct of those who disagreed w/ speaker @michaeljknowles, shouted obscenities to silence protected #FirstAmendment speech w/ a #HecklersVeto, & then assaulted him by propelling a bleach-like substance at him. 1/3 https://t.co/KO6ahXzEAN

— Kevin Corlew (@KevinCorlew) April 13, 2019
No process listed for when an advisor leaves unexpectedly
YAF learned of its deactivation Friday morning from a staff member in the Office of Student Involvement, according to Schibler. It received a message from the office later that day, notifying the chapter that its account had been frozen. (It's not clear whether its allocated funding was also frozen.)
Schibler told The Fix Sunday night he would be examining UMKC's policy on freezing student organizations. "If there's any reason that would lead us to believe that [the administration] did it unfairly or unlawfully, and went against their bylaws," YAF would be sure to appeal it.
He specifically wanted to know if university policy allowed "something along the lines of: If a faculty adviser resigned, you would still get official status until the end of the semester," and yet the university froze YAF's account anyway.
If UMKC did handle the situation correctly, the chapter would just look for a new advisor, Schibler said. As of Sunday night it had been "exploring alternative options."
The chapter's constitution and bylaws, citing university policy, make clear that a "qualified UMKC faculty or staff member must be selected by the membership as an advisor." But The Fix has been unable to find a UMKC policy that provides an interim process for groups that lose their advisor for any reason. Schibler said he hadn't found one either.
On Monday, the administration responded to Fix queries about what policy that led it to deactivate YAF, if the deactivation had any connection to the Knowles event, and if YAF would be able to return to the campus this semester or at all.
It didn't answer any questions in relation to the Knowles event, however. A spokesperson simply provided a statement that said the YAF chapter "has not been deactivated as a student group":
University regulations require all registered student groups to have a faculty advisor. YAF's former advisor has resigned the position. UMKC is maintaining the group's registered status until the YAF obtains a new advisor.
Schibler is concerned for the future of the chapter, pointing to a pattern of opposition from both protesters and administrators.
Last spring an Antifa-affiliated group crashed a YAF meeting and subjected members to profanity-laced tirades, promising to not let them continue meeting. According to the student newspaper University News, the administration brushed off YAF's complaints that students were harassing members when they tabled last month with a sign reading "hate speech is free speech, change my mind."
Despite all the "public controversy" and "national media attention," the YAF chapter "took a step in the right direction with the conservative cause and movement at UMKC and across the country," Schibler said.
He made a distinction between the "radical left" and the "many reasonable and rational people" on the political left. "I think there can be progress made and common ground found, even though we're having to face this 0.3 percent of the population that are trying to exercise authoritarianism on college campuses."
MORE: Antifa subjects UMKC YAF to profanity-laced tirades at meeting
IMAGE: University of Missouri-Kansas City
Like The College Fix on Facebook / Follow us on Twitter