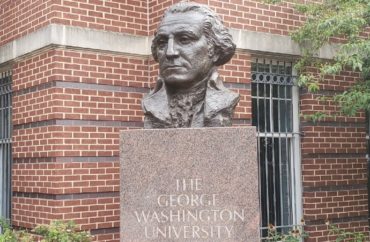 WASHINGTON, D.C – George Washington's bust is back on a monument at his namesake D.C. university.
The College Fix confirmed on July 27 that a bust of the nation's first president is back on "Townhouse Row" at 23rd and F Street NW.
Someone first removed the head of Washington at the end of May or on June 1, 2020. Police found the head sitting next to its base early in the morning of June 1. Law enforcement closed the investigation.
The College Fix emailed the media relations team for the university and left a voicemail on July 27 but did not receive a response.
The Fix asked if the bust is the original, if there were any costs to replace and if any further information has been uncovered about the culprits. The Fix also asked if any security measures would be put in place to prevent the removal in the future.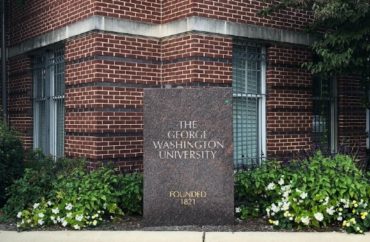 The College Fix also asked in October 2020 for comment but did not receive a response.
The incident attracted little attention until campus newspaper The GW Hatchet included it in a June 18, 2020 article about crime on campus.
At that time, there were protests across the country sparked by the killing of George Floyd at the hands of Minneapolis police officers.
MORE: Activists, alumni clash over Lincoln statue at UW-Madison
Activists often included demands to cancel monuments to Founding Fathers and other historical figures.
Princeton University, for example, renamed buildings named after Woodrow Wilson, a president of both the Ivy League school and the country.
Well-known GWU law professors John Banzhaf and Jonathan Turley both criticized the university's response in 2020, both to the bust removal and general crime.
"Once tens of thousands of students return to the campus in the fall, it might prove nearly impossible for our small campus police force to detect and to then stop vandalism of the many structures on campus which bear Washington's name or likeness," he wrote in a statement on June 20, 2020.
"I would have hoped that our university would have denounced this criminal act as a senseless and unacceptable act," Professor Turley wrote on June 23, 2020.
"Universities have been conspicuously silent or passive in the face of such destruction," he wrote further. "There seems a fear that any criticism of such attacks will cause a backlash and additional protests. However, such acts create an environment of violence and intolerance on campuses."
The university has given into political pressure over its nickname, too.
GWU officials announced in June 2022 that it would officially dump the "Colonials" moniker after years of complaints from activists.
Activists argued the name has "too deep a connection to colonization and glorifies the act of systemic oppression."
"The term 'Colonials' is an obvious and direct reference to those who fought in the Revolutionary War," Turley wrote in response. "They are people worthy of admiration from George Washington to James Madison to George Mason and others."
MORE: Hofstra U. relocates Thomas Jefferson statue
IMAGE: The College Fix
Like The College Fix on Facebook / Follow us on Twitter