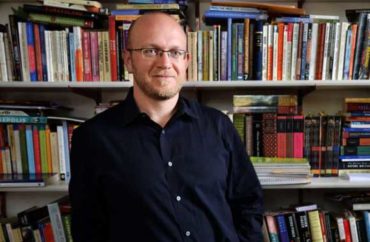 A former professor argues that administrators and 'the brand' have hijacked real learning
Joshua Doležal, a former tenured professor at Central College in Iowa, decamped to Prague to write about how students and faculty can reclaim universities from the administrators, diversicrats and consultants who have overtaken their institutions.
Reflecting on Vaclav Havel, the first president of the post-Communist Czech Republic, and his core idea that social and economic systems should serve human needs, Doležal argued that the university has its priorities backward.
The modern American university sacrifices the potential of its students and teachers to learn, teach and thrive to maintain its reputation or grow its administrative bureaucracy.
"In this system, faculty expertise is valuable only insofar as it burnishes the brand with a patina of prestige," wrote Doležal (pictured).
So hiring committees prioritized professors steeped in trendy postmodern theories and "diverse" specialties over those who could teach edifying lessons about classic works of art.
Universities aim to protect their brand, not serve their students
Avoiding controversy by giving into mob demands protects the brand more than fostering open debate, so universities frequently canceled controversial professors and speakers with little justification.
Elite college reputations would suffer if women went to the police with assault claims, so administrators hid accusations behind Title IX investigations that routinely violate the due process rights of the accused.
Colleges cut ties with police to appease leftist popular opinion, then offered little to students and parents asking for protection when crime spiked.
The administrators' tight control of the budget signifies that administration and the brand is more important than faculty and students, Doležal wrote: "The gradual removal of faculty oversight over budgets resembles a communistic or totalitarian state more than it does a corporation."
Students and their parents, of course, pay inflated tuition without guarantee that those funds will serve their needs or even enhance their experience of college.
Doležal quotes Havel in claiming that change is impossible "through a simple organizational shift." More restructuring, renaming, and reorganization will not renew education.
Colleges should think less about the reputation and their bureaucracy and more about their truth-seeking purpose and the people they were built to employ and serve.
The modest early successes of mission-driven schools like The College of St. Joseph in Ohio and University of Austin demonstrate that if you can build such a university, the students will come.
MORE: Higher education DEI takeover will not end until this problem is fixed
IMAGE: Twitter/Central College
Like The College Fix on Facebook / Follow us on Twitter