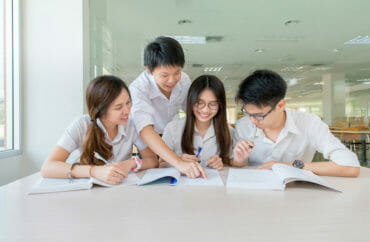 Appeals court flooded by friend-of-the-court briefs in 'race conscious' case
As a federal appeals court considers whether Harvard University's admissions system discriminates against Asian Americans, hundreds of academics contend that the Asian-American students suing Harvard are the ones promoting racial stereotypes.
The 1st U.S. Circuit Court of Appeals has been flooded with friend-of-the-court briefs as it analyzes a trial court ruling in favor of Harvard's "race conscious" admissions system. Students for Fair Admissions, which is representing Asian-American students who claim discrimination, appealed the ruling.
One of the most notable pro-Harvard briefs was submitted in late May by 678 "social scientists and scholars on college access, Asian American studies, and race." They argue that SFFA is promoting racial stereotypes by claiming Asian Americans tend to have "better grades, better test scores, [and] better scores on AP exams."
Harvard's reply brief, meanwhile, continues to insist that SFFA "is not a true membership organization" and thus can't bring suit, a claim rejected by U.S. District Judge Allison Burroughs even as she sided with the Ivy League university. Its "holistic review" process is fully compliant with Supreme Court precedent, the brief says.
Briefs supporting SFFA came from the Justice Department, which is still investigating Harvard for anti-Asian practices, as well as the Pacific Legal Foundation, Asian American Legal Foundation, 10 economists including Brown's Glenn Loury, and the Mountain States Legal Foundation. (Pro-Harvard briefs largely arrived after Harvard's May 14 reply brief. Pro-SFFA briefs reviewed by The College Fix were all dated Feb. 25.)
SFFA's lawsuit accused Harvard of intentional racial discrimination against Asian Americans, "racial balancing," using race as the defining feature of an application, and using discrimination in lieu of more race-neutral policies to create a diverse student body.
The group particularly targeted Harvard's "personal ratings" system, which it claims is largely responsible for the discriminatory rejection of Asian-American applicants. Five of the 10 economists who submitted the appeals brief previously endorsed SFFA's statistical model, which found the personal ratings were biased.
Asian Americans have 'symbolic capital,' and the academic ratings 'may reflect implicit biases'
The brief by 678 academics asserts that the reason for high Asian-American educational achievement lies in highly selective federal immigration policy. The typical Chinese immigrant is "much more likely to have a college degree than both the average U.S. resident and the average resident in China," while the average immigrant from Mexico is "less likely than the typical Mexican resident to hold a college degree."
This confers onto Asian Americans the "symbolic capital" of being viewed by teachers, guidance counselors and administrators as more industrious achievers than they might actually be, according to the academics. As a result they get better grades, more academic help and more "encouragement" when they apply to college, what the brief calls "stereotype promise."
Rather than the personal ratings, Harvard's academic ratings "may reflect implicit biases" and should not be considered an "objective" score as SFFA claims, the brief claims.
Another pro-Harvard brief by current and prospective students and alumni describes the life experiences and racial background of four Harvard students. They conclude the admission process is in no way unconsciously biased against Asian Americans.
If Harvard did not consider race as part of their "whole-person" admissions process, the brief concludes, the university "would miss out on extraordinary students" such as the aforementioned four Harvard attendees whose "ethno-racial identities were central to their applications." Without that factor, they, and others like them, "might otherwise have been undervalued or overlooked."
While the brief admits that eliminating race from admissions "could produce a slight (i.e., less than 1%) increase" in admission for "some" Asian Americans, it would hurt the odds of more disadvantaged Asian Americans.
MORE: Harvard mad at Trump administration for calling it 'evil,' racist
Fifteen states and the District of Columbia filed a pro-Harvard brief citing their "compelling interest" in ensuring that students receive an education with a diverse student body.
The benefits of "cross-racial understanding" and preparation for "an increasingly diverse workforce and society" warrant a university's efforts to bring "diverse experiences, perspectives, and ideas to the classroom and daily life of the school," says the brief, signed by Massachusetts, California, Colorado, Delaware, D.C., Hawaii, Illinois, Maine, Maryland, Minnesota, Nevada, New Mexico, New York, Pennsylvania, Rhode Island and Virginia.
The Justice Department argues that Harvard is violating Title VI of the Civil Rights Act by failing to use race-conscious admissions policies in a "limited" manner on par with the Supreme Court's Grutter ruling.
The racial composition of Harvard's admitted class is "strikingly stable from year to year," the feds argue: "That result is no accident" because Harvard considers race "at virtually every step" in the application process.
The agency cited Judge Burroughs' finding that race is the "determinative" factor for "approximately 45% of all admitted African American and Hispanic applicants." Harvard itself has admitted that race-blind admission would "increase Asian-American admissions while decreasing those of Harvard's favored racial groups," the brief says. (Harvard's reply brief also claims it would be "difficult, if not impossible" to "accurately evaluate" the academic potential of applicants without knowing their "race or heritage.")
The personal-rating system is a "nebulous and entirely subjective" standard, the agency claims, producing "consistently poorer scores for Asian Americans." Contrary to the brief mentioning the four Harvard students, the Justice brief contends that Harvard doesn't actually "identify" any "objectively measurable goals that its race-based admissions process advances."
The Justice Department has consistently sided with SFFA going back to 2018, when it submitted its first brief in the case. Its civil rights investigation of Harvard, nearly three years old, is still going as well.
Trial judge ignored 'statistically significant' bias of personal ratings
The brief by 10 "leading economists and econometrics scholars" accuses Judge Burroughs of disregarding the "statistically significant and negative relationship between Asian American identity and the personal rating."
The trial court's failure to omit the personal-rating variable, given its potential to be "affected by race," is a violation of "accepted principles of statistical analysis and is clearly erroneous," they argue. Under her own ruling, Burroughs should have come to the same conclusion, as she admitted that "the disparity between white and Asian-American applicant's personal ratings has not been fully and satisfactorily explained."
Instead, the judge "resorted to '[s]peculat[ion] on how unobserved variables may be influencing the model'" and thus acted in error, according to the economists: Brown's Loury, Michael Keane of the University of New South Wales, Hanming Fang of the University of Pennsylvania, Christopher Flinn of New York University, Stefan Hoderlein of Boston College, Yingyao Hu of Johns Hopkins University, Joseph Kaboski of the University of Notre Dame, Thomas Mroz of Georgia State University, John Rust of Georgetown University and Matthew Shum of Caltech.
The Pacific Legal Foundation brief, joined by the Reason Foundation, Center for Equal Opportunity, Individual Rights Foundation and the Chinese American Citizens Alliance, also argued the personal ratings "exacerbate rather than reduce racial prejudice."
The groups say that Harvard classifies Asian-American applicants as "lacking in leadership, grit, and other factors," which leads to a low personal rating score. The university does not "treat people as individuals," instead using race as a homogeneous category to perpetuate "harmful stereotypes."
Harvard has failed to demonstrate any "compelling interest in discriminating on the basis of race," the groups argue, calling on the 1st Circuit to instigate a "strict scrutiny" standard of review over the "highly suspect tool" used in Harvard admissions.
The Asian American Legal Foundation and Asian American Coalition for Education also centered on the personal-rating system in their brief. They state that Harvard is maintaining "racial quotas" by conferring low personal ratings onto supposedly less "desirable" races, as reflected by the "roughly constant level" of Asian-American admission to Harvard.
The Mountain States Legal Foundation brief made the most direct assertions of racism against Harvard, calling its practices "deliberately racially discriminatory"and not applied in a "narrowly tailored" fashion. "Harvard should not be permitted to drag this antiquated and unconstitutional discrimination into the future," the brief says.
MORE: Economists approve statistical model that finds Harvard discriminates against Asians
IMAGE: Prasit Rodphan / Shutterstock.com
Like The College Fix on Facebook / Follow us on Twitter