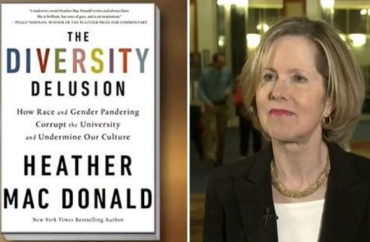 UPDATED
Several groups hosted a "safe space" in response to a speech conservative author Heather Mac Donald gave at Emory University on Tuesday, with one student explaining minorities don't feel comfortable in "an all-white space or a white-majority environment."
Meanwhile, an attempt by some students to get the Emory College Republicans investigated on discrimination charges for hosting the event fell flat.
At issue was Mac Donald's speech "Diversity in Higher Education," based on her latest book "The Diversity Delusion: How Race and Gender Pandering Corrupt the University and Undermine Our Culture."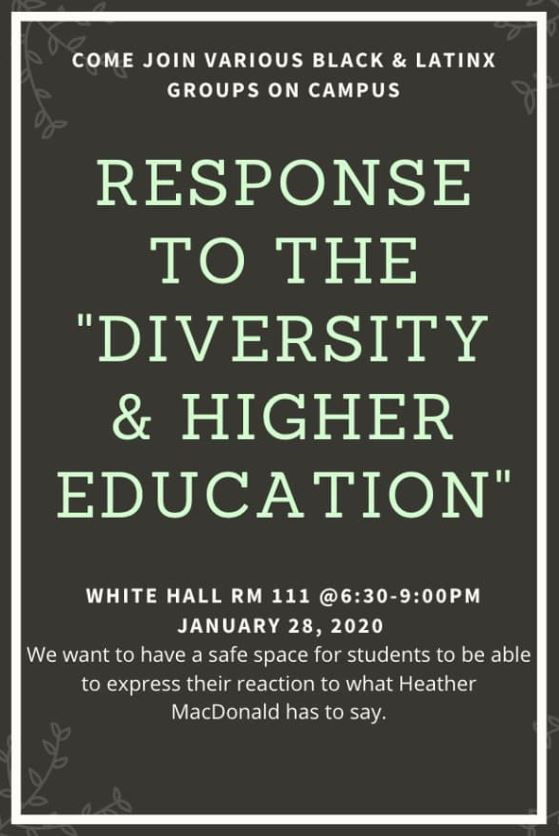 According to a post by the Emory NAACP, a "safe space" was hosted in response to the event, which noted "Black and Latinx groups on campus" wanted to create "a safe space for students to be able to express their reaction to what Heather Mac Donald has to say."
An article in the Emory Wheel student newspaper detailed the controversy surrounding the talk, noting that a crowd of 120 students filled the hall in which Mac Donald spoke while more than 80 students watched a livestream of it in the safe space.
The Wheel reports that Caucus of Emory Black Alumni President Natalie Gullat said she helped co-organize the safe space to help students process Mac Donald's remarks as well as reduce attendance at her actual lecture.
Student Jocelyn Stanfield, who watched the talk in the safe space, "was among the first to speak out against Mac Donald's visit and contacted the University to cancel the event, who cited their free expression policy in defense. She believes that the administration should have done more to assist minority communities," reports the Wheel.
"A lot of minorities already don't feel comfortable in an all-white space or a white-majority environment," Stanfield told the Wheel. "We just want them to know that they have a voice here, and the majority of the students on campus disagree with what Heather Mac Donald is proclaiming."
The Wheel reports there were audible gasps in the room when Mac Donald said the "vast majority of what is called campus rape [are] voluntary hookups. Are girls so uninformed that they are deliberately walking into rape culture, or is this exaggerated? I believe that females have agency [and] that females have the power to determine the outcome of most interactions."
A recording of her talk has been posted to the Emory College Republicans' Facebook page. It has already been viewed thousands of times and generated a lively discussion in the comments section.
Meanwhile, a student government official had attempted to get the College Republicans investigated for discrimination, alleging Mac Donald's speech violates the student government's Constitution that pledges "freedom from discrimination by any student organization."
But the effort was rejected by a student government subcommittee, which noted in a statement posted on Instagram that Mac Donald's talk was not funded by student activity fees.
In an emailed statement Wednesday to The College Fix, Mac Donald responded to the controversy over her talk at Emory: "The beleaguered reaction of some Emory students to my presence on campus is a testament to the diversity bureaucracy's success in cultivating victim identity. Emory's Office of Equity and Inclusion, one of many such campus outfits, boasts a vice provost and 18 staff members; it is officially dedicated to providing a 'safe environment' and to moving Emory 'towards equity and justice.' But Emory is already a paragon of equity and justice. Its resources are open to all on a color- and gender-blind basis. Emory's leaders should help students grasp such basic facts; the consequences of not doing so are now transforming society at large."
As for Mac Donald's stances on pressing campus issues, her books argues "American college students are among the most privileged human beings in the world." She disputes "snowflakes" are psychologically unsound, noting "campus intolerance is at root not a psychological phenomenon but an ideological one. At its center is a worldview that sees Western culture as endemically racist and sexist."
She also debunks the "implicit bias" test, warns against racial pandering, highlights the Sexual Revolution's failure and sounds the alarm on social justice ruining science.
Her visits to college campuses over the last several years have prompted major protests, including the following chronicled by The College Fix:
Blacklisting, vandalism, picket line: Outrage erupts at Bucknell ahead of Heather Mac Donald talk
VIDEO: Shouting protestors restrict access to Heather Mac Donald speech at Holy Cross
Protesters offer 'safe space' from 'Diversity Delusion' author Heather Mac Donald at Penn
'War on Cops' author Heather Mac Donald shouted down at UCLA by hysterical Black Lives Matter protest
Angry mob shuts down Blue Lives Matter speech at Claremont McKenna College
Editor's note: Updated with a statement from Mac Donald. 
Like The College Fix on Facebook / Follow us on Twitter