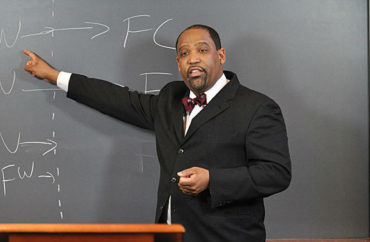 'Racist undertones'
Black student organizations have been on notice at least since The Hunting Ground was released that black men are disproportionately accused of campus sexual assault, judging by anecdotally reported demographics (and occasionally, hard data).
They have been conspicuously silent about the likely implicit bias against these accused students, particularly when it's white women accusing them and white administrators judging them, and the stacked proceedings against them.
It's strange that it took a dubious attack on a black law professor, however, to stir their anger against the predominantly white institution that rushes to judge accused men of color.
The Harvard Black Law Students Association is denouncing the administration for launching an unprecedented "climate review" of Winthrop House in response to its faculty dean, Ronald Sullivan, representing the disgraced Hollywood producer Harvey Weinstein in his criminal trial.
Sullivan's cause has been widely taken up by lawyers and law professors around the country, including dozens of his Harvard Law School colleagues, who argued that Sullivan has served on both sides of sexual-assault disputes while serving as Winthrop faculty dean. Sullivan has also removed himself from decisions on sexual-assault reports in Winthrop House since the controversy started.
MORE: Harvard investigates Sullivan for representing Weinstein
The Black Law Students Association said Sullivan has been their faculty advisor "for many years" and that Harvard's "disproportionate response" to student complaints about Sullivan has "racist undertones," the The Harvard Crimson reports.
The group accused Harvard of passing the buck on its own failure to serve alleged sexual-assault victims properly:
Because of this, HBLSA finds it important that we speak to the controversy and make the ask of Harvard University to both unequivocally support survivors of sexual violence and to do so in a way that does not scapegoat Professor Sullivan for the University's failings to address sexual violence on campus. …

It is not lost on us that Professor Sullivan was the first African American appointed to the position of Faculty Dean in Harvard's history. Taking his statements as true, he is also the first Faculty Dean to receive such outsized treatment in the case of a controversy.
— Harvard BLSA (@HarvardBLSA) March 31, 2019
MORE: Harvard law professors sign letter supporting Sullivan
BLSA denounced those who insinuate that defense lawyers shouldn't represent people accused of sexual violence. "It would be unconscionable to argue that those accused of sexual assault should not have access to counsel in the adversarial system against the legal power of the state and US government."
The student group, which numbers about 130 members, also noted the vandalism of Winthrop House with "white spray paint" to denounce Sullivan:
As much as we recognize the anger and/or hurt felt by some students, it is unacceptable that in the face of such controversy the first Black Faculty Dean has to return to a vandalized home, evoking images of Jim Crow era tactics to control Black communities and the use of such vandalism to this day by white supremacists.
Unlike other faculty who have been accused of failing to support "survivors," Sullivan has not responded with endless apologies.
He went on the offensive against the Crimson for its "one-sided" coverage of the controversy. The newspaper failed to represent basic aspects of his professional and academic background and "overwhelmingly" published articles and opinion pieces that portrayed his situation "in a one-sided way," while refusing to publish supportive opinion pieces, Sullivan said.
He's received support across the political spectrum. Writing in the Wall Street Journal last month, "Diversity Delusion" author Heather Mac Donald said Harvard's response to student complaints against Sullivan shows that it "puts its commitment to identity politics above the core tenets of due process."
MORE: Critics of Sullivan for representing Weinstein accused of racism
IMAGE: Harvard Gazette
Like The College Fix on Facebook / Follow us on Twitter