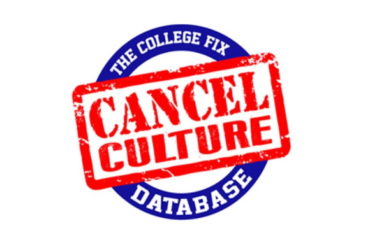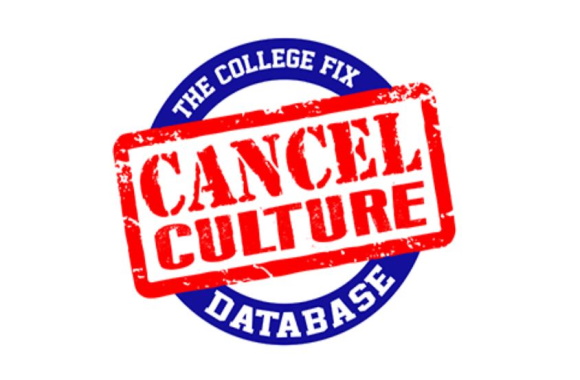 There have been 112 speakers, signs, statues and other targets completely canceled on campus during the last academic year, and another 74 attempted cancelations, according to The College Fix's Campus Cancel Culture Database, which tracks such incidents.
That amounts to a total of 186 campus cancel culture incidents from June 1, 2021 to May 31, 2022. Put another way, there have been almost four campus cancel incidents per week over the past school year.
"For people who claim that cancel culture is a made up right-wing phenomenon, I invite them to scroll through page after page after page of our Campus Cancel Culture Database," said Jennifer Kabbany, editor in chief of The College Fix.
"You can't go a week without something on campus being memory holed, erased, fired, renamed or what have you," she said. "Thank God for the database, or America could easily lose track of how many things have been censored and purposely forgotten by this country's colleges and universities."
Over the past 12 months, professors' comments or their research were most likely to lead to some sort of cancelation, whether the scholar was fired, suspended, disinvited or shouted down. There were a total of 41 such incidents during the 2021-22 school year, with 20 professors outright canceled and another 21 who faced protests.
In May, for example, Princeton University fired longtime classics Professor Joshua Katz, who had criticized his black peers' racial justice demands.
At Concordia College in March, administrators suspended a professor after he criticized "woke dysphoria."
Amid pressure from students, a George Washington University professor in February stepped down from teaching a class after saying the "n-word" aloud when reading it off of a famous Norman Rockwell painting.
The second most common type of cancelation during the last school year was related to building names or other name controversies. There were a total of 32 incidents during the 2021-22 school year, with 22 names outright canceled and another 10 that faced protests.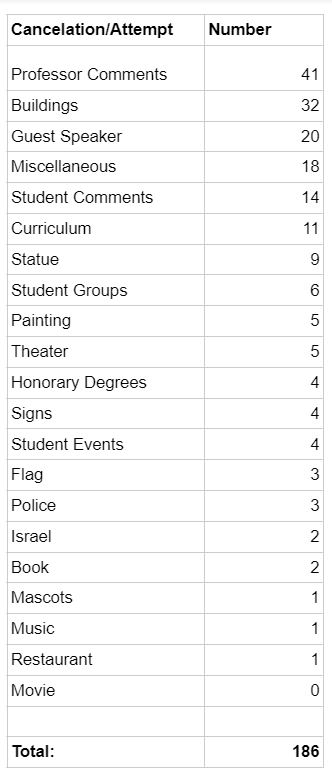 In May, Emory University removed the name of former Supreme Court Justice Lucius Quintus Cincinnatus Lamar from a prestigious law professorship because he owned slaves in the 1800s.
In October, Rutgers University removed the name of alumnus and former Supreme Court Justice Joseph P. Bradley from a campus building, citing Bradley's participation in perpetuating "systemic racism."
The College Fix debuted the Campus Cancel Culture Database in September 2021 to document the extent to which free speech and expression are under siege at American universities.
When it was first published, the database had about 1,400 entries dating from around 2013 to 2021. Now it's up to 1,555 entries.
"We launched this project because we wanted to quantify the immense campus cancel culture problem," Kabbany said. "This not only attaches real numbers to the trend, but it tracks and remembers what has been censored and canceled."
The average protest is not an example of cancel culture and The Fix does not include typical campus protests in the database. The examples of "protests" included in the database will involve some sort of demand for censorship, cancelation, terminations or firings, malicious vandalization or destruction of property, or other various restrictions or punitive actions.
During the 2021-22 school year, 18 entries defied categorization and were labeled miscellaneous.
Examples include Columbia University scrubbing its association with alumnus Dr. Mehmet Oz, a television celebrity who is now running as a Republican for U.S. Senate in Pennsylvania.
At the University of Washington, a top female scientist was forced out of a leadership position after the school found out she had dressed as Michael Jackson at a Halloween party 13 years ago.
In August, the University of Wisconsin-Madison removed a large boulder some students considered "racist."
The Fix found five or fewer examples of cancelations or attempted cancelations regarding genres such as paintings, theater productions, honorary degrees, campus signs, student events, flags, campus police, books, mascots, music, restaurants and movies.
The theater category included a unique "retroactive cancelation" entry: In September 2021, the president of Muhlenberg College publicly apologized for its 2010 production of the operetta "The Mikado" and deleted all photos of the performance from its website.
After years of mascots being canceled, the trend appeared to slow a bit over the 2021-22 school year. There are 36 mascot entries total in the database; of those, 22 mascots were canceled and the rest protested.
During this last school year, none were canceled, but Western Washington University may scrap its Viking mascot and is currently conducting an investigation to help make a final decision on the issue.
Three honorary degrees were revoked this school year: two different schools revoked them from Rudy Giuliani, and one from Michael Flynn was rescinded.
The College Fix will continue to add examples of campus cancelations to its database as they occur.
MORE: Check out the database!
Like The College Fix on Facebook / Follow us on Twitter