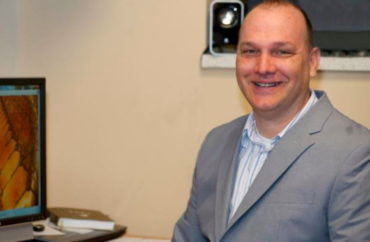 A former tenured physics professor at West Virginia University has been sentenced to three months incarceration by a federal court for defrauding the school while he worked for the Chinese "Thousand Talents" program.
Between 2006 and 2019, Professor James Patrick Lewis worked in the WVU physics department, where he specialized in molecular reactions used in coal conversion technologies.
In July 2017, Lewis entered into a contract with the Chinese government to take part in their Thousand Talents program, which, according to the U.S. Department of Justice, required him to "maintain an active research program that yielded publications in high quality, peer-reviewed journals, and to provide research training and experience for Chinese Academy of Sciences students."
But it seems Lewis' West Virginia work schedule and the time he needed to work for China were incompatible. In March 2018, he filed for an alternate/parental work assignment with the school so he could take care of a child he and his wife were expecting in June 2018. Instead, Lewis planned on using the time to travel to China to fulfill his research responsibilities there.
Lewis spent all but three weeks of the fall of 2018 in China while his newborn child remained in the United States. According to the Justice Department, Lewis collected his full salary from West Virginia University during this time, some $20,189, while the school thought he was on parental leave.
"Lewis defrauded a public university into giving him leave, so that he could satisfy his competing obligations to a Chinese institution, which he hid from the school," said Assistant Attorney General for National Security John Demers in a statement following Lewis' guilty plea in March.
"I applaud the increased focus of the academic community to detect conflicts of interest and conflicts of commitment," Demers said. "Only with more transparency will we stem the tide of covert ties to Chinese institutions and programs, ties meant by the Chinese government to result in the transfer of intellectual property from the United States."
According to his contract with China, Lewis was set to receive $802,000 in research subsidies, living expenses, and salary if he taught in China for at least nine months per year for three consecutive years.
"Participation in a talent plan like the one Dr. Lewis was part of is not illegal," said FBI Pittsburgh Special Agent in Charge Robert Jones.
"But FBI investigations have revealed participants are often incentivized to transfer proprietary information or research conducted in the U.S. to China," Jones added. "This remains a significant threat and a high priority threat for the FBI. We are dedicated to making sure foreign governments know U.S. trade secrets cannot and will not be bought."
The Thousand Talents Program has been targeted by the FBI as a means by which the Chinese government steals intellectual property and secrets from American researchers.
In May, Ohio State rheumatology professor and researcher Song Guo Zheng was caught attempting to flee the country after participating in a Chinese talent program.
Also in May, researcher Xiao-Jiang Li, 63, of Emory University, was sentenced to one year of probation on a felony charge and ordered to pay $35,089 in restitution for filing false tax returns in which he failed to report at least $500,000 in income from work at Chinese universities.
In June, the former Chair of Harvard University's Chemistry and Chemical Biology Department, Charles Lieber, was indicted for making false statements about his involvement with the Thousand Talents program.
In late July, Professor Simon Ang, head of the University of Arkansas High Density Electronics Center, was indicted for failing to reveal his connections to China when he applied for grants from NASA.
As for Lewis, he was sentenced by U.S. District Judge Thomas Kleeh. He will also be forced to pay $9,300 for the cost of his own incarceration and nearly $21,000 in restitution to West Virginia University, the Justice Department states.
Lewis resigned from WVU in August 2019.
MORE: Harvard professor indicted for lying about ties to China
IMAGE: West Virginia University
Like The College Fix on Facebook / Follow us on Twitter