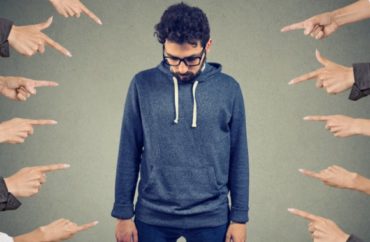 Title IX coordinator said it's misogynistic to see 'grey areas'
Can colleges openly discriminate against male students accused of sexual misconduct, "so long as they masked their bias in any particular proceeding"?
That's the question at stake in a Title IX lawsuit against Oberlin College, now before the 6th U.S. Circuit Court of Appeals, according to the accused student, "John Doe."
The liberal arts college found John responsible for sexual assault based only on his sex partner allegedly saying "I am not sober," then expelled him.
Unlike the much higher profile defamation lawsuit filed against Oberlin by a local bakery, which received a multimillion-dollar jury award, the college won John's Title IX lawsuit at the trial court last month.
The judge found that John failed to show that the allegedly incorrect finding against him was the result of gender bias.
John's brief to the 6th Circuit argues that this is not a credible reading of his evidence, particularly the comments of then-Title IX Coordinator Meredith Raimondo, who is now the dean of students.
MORE: To Oberlin, sex is rape if woman says 'I am not sober'
In a YouTube video that John found after he initially filed suit, Raimondo shares her view that it's anti-woman to say there can be "grey areas" in sexual disputes such as John's. (Raimondo's comments and actions also played a pivotal role in the Gibson's Bakery ruling against Oberlin.)
The judge was also wrong to dismiss the "state law claims where Mr. Doe separately pled diversity jurisdiction," the brief argues. That means the federal court has jurisdiction to hear those claims because John no longer lives in Ohio, where Oberlin is based.
John is counting on the 6th Circuit to supplement its rulings on due process in Title IX proceedings with a new ruling that makes it easier to demonstrate gender bias in those proceedings.
The Cincinnati-based appeals court has not only ruled that students have the right to cross-examine their accusers in some form, but that they can assign an "agent" such as a lawyer to conduct the cross-examination.
This challenges a common practice in adjudications: administrators or other adjudicators posing the questions from each party to the other, but excluding some as irrelevant or harassing.
More relevant to John, the 6th Circuit also reinstated a lawsuit against another Ohio college on the basis that its Title IX official "should have known that she was partial" to the accuser and recused herself.
100 percent conviction rate
The only point of dispute in John's sexual encounter with "Jane Roe" was whether the oral sex was consensual.
The July 3 appellate brief notes that "Roe herself testified that she exhibited no outward signs of intoxication" when she was in John's room. During the Title IX hearing, Jane claimed John forced her to perform oral sex – the first time she made the claim and the "sole contradiction" made by either party during the investigation, John said.
However, Oberlin didn't credit Jane's last-minute claim that the oral sex was nonconsensual in its findings. Instead, it said that John should have known Jane could not properly consent by her statement that "I am not very sober right now."
John's brief squarely blames Raimondo, who "oversaw and influenced every part of Oberlin's Title IX regime," for creating a de facto culture of bias against men. She even helped draft the Title IX policy and train administrators, according to the brief.
It cites her 2015 comment that she "come[s] to this work as a feminist committed to survivor-centered processes." In a panel discussion the next month, Raimondo said she doesn't like the term "grey areas" as a description for sexual-assault allegations that don't involve "predators" or "sex with someone who is fundamentally unconscious." This terminology can "discredit particularly women's experiences of violence," she said.
MORE: Bakery sues Oberlin's Raimondo for leading protest calling it 'racist'
John said this was "direct evidence from which to plausibly infer gender bias, especially in those 'grey area' cases" such as his.
It's not just Raimondo's public statements that show the bias in Oberlin's preceding, according to the brief. It said "100% of the respondents that Ms. Raimondo had sent through its formal resolution process" were convicted at Oberlin.
There were "external and internal pressure" on Oberlin as well that could have led to gender-bias in the school's decision, according to the suit.
In this section, the brief refers back to the 6th Circuit's rulings in Doe v. Miami and Doe v. Baum,  which imposed due-process and gender-parity obligations on colleges in campus sexual misconduct proceedings.
Oberlin was under general pressure from the Department of Education's Office for Civil Rights, which was "enforcing a gendered view of Title IX and threatening schools with loss of federal funding." It was under specific pressure from OCR because of  "a systematic investigation into Oberlin's Title IX regime" that was opened only four months before Doe's incident.
Finally, the campus culture and student body were demanding that "claims of sexual assault not be challenged," according to the brief.
Appeals court can't overrule a wrong decision?
In Oberlin's July 26 brief, the college warns the 6th Circuit that its own precedent does not allow it "to retry the [College's] disciplinary proceeding," even if John is correct that he was wrongly found responsible.
"[T]he sole question" in this case is whether John can prove "Oberlin discriminated against him on the basis of his sex" during their decision to expel him.
John's claims against Raimondo are "baseless and misdirected," the brief claims. She wasn't even Title IX coordinator anymore when the college decided to hold a hearing, following an investigation by an outside expert.
Raimondo was one of many who helped draft the policy faulted by John, according to the brief.
MORE: 6th Circuit says biased Title IX official should have recused herself
Her public statements were gender-neutral and actually showed the opposite of what John says, the college argues. It cites the same panel discussion as John, paraphrasing her remarks as:
Oberlin is committed to using that process to determine what occurred in the context of a given misconduct complaint so that the interests of both the reporting and responding students can be protected.
Raimondo's cited remarks, however, also ask accused students if they are "willing to be accountable for" and "responsible for the harm you've done to others, if in fact that was the result of your conduct."
None of the "pressure" against the college cited by John could have affected the result of the decision because it did not target "how Oberlin treats males accused of sexual misconduct," according to the brief.
The OCR investigation against Oberlin involved how all sexual misconduct complaints are handled "regardless of gender." John does not have any evidence that Oberlin received publicity "around the time of his hearing or related in any way to his case," either, the college said.
Not limited to 'overt evidence of bias in plaintiff's particular proceeding'
"If Oberlin had its way, schools would literally be able to discriminate openly, with impunity," John said in his Aug. 16 reply brief. Oberlin's brief essentially argues that it can escape liability "so long as they masked their bias in any particular proceeding or refrained from discriminating in every single case."
The college would have the 6th Circuit believe that only "overt evidence of bias in plaintiff's particular proceeding" counts as discriminatory, "no matter how directly its bias outside the proceeding can be traced to the outcome."
The connection between John's proceedings and the external gender bias is "straightforward," he argues: "Raimondo has gendered views on how to analyze consent, and she trained everyone at Oberlin on how to analyze incapacitation and consent."
Oberlin also tried to "downplay" the impact OCR's nationwide pressure had on this case in its brief, according to John. "Even before it came under OCR investigation, Oberlin was under the same nationwide pressure that helped to support an inference of gender bias in [the 6th Circuit ruling against] Miami University."
This same pressure was present whenever the policy was being drafted and whenever John's case was proceeding, according to the brief. During this period of pressure, Oberlin "convicted 100% of the respondents it sent through its formal hearing process, the vast majority of whom are alleged to be male."
According to the legal blog Legal Insurrection, which also covered the Gibson's Bakery trial, a decision on whether the appeal will be argued will likely come in early 2020.
MORE: Oberlin's motion for dismissal is bizarre
IMAGE: pathdoc/Shutterstock
Like The College Fix on Facebook / Follow us on Twitter