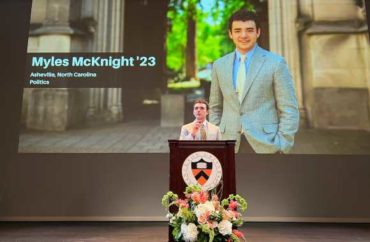 University president stressed that education requires free speech as well as inclusivity
Princeton University incorporated mandatory free speech programming into its freshman orientation following a year of advocacy from the undergraduate free speech organization Princeton Open Campus Coalition.
Approximately 1,000 students attended "Free Expression at Princeton" in September as a required orientation component. "All incoming students [were expected] to actively participate and be present for Orientation for the duration of the program," according to Princeton's orientation website.
The College Fix reported from the event, which featured speeches from university President Christopher Eisgruber and senior undergraduates Myles McKnight and Hannah Kapoor.
Eisgruber quoted the University of Chicago Free Speech Principles, which Princeton University formally adopted in 2015 by faculty vote. The principles offer robust legal protection to free expression guaranteed by the university's laws.
"The motion that passed was not some mere sense of the faculty resolution; the faculty has voted to incorporate these principles into the 'Rights, Rules, and Responsibilities' of the university," said Robert George, Princeton professor of jurisprudence, in a 2015 article published by Foundation for Individual Rights in Education. "This means that these principles have been incorporated into the university's internal law… Everybody at the university is bound by it."
"Free speech is necessary to what a university does," Eisgruber told attendees at the event. "The remedy for bad speech should be more speech."
Free speech and "inclusivity" are not "contending values," he said.  "Democracy requires both; so does education."
In September 2021, forty-six undergraduates sent a private four-page letter, reviewed by The Fix, to Eisgruber explaining that the university's freshman orientation programming was replete with ideological bias and sought to "promote an orthodoxy prevalent on campuses across the country," citing programming on sexuality as an example.
As a result of the letter, student officers of the Princeton Open Campus Coalition met with various university administrators. They developed the free speech orientation program to inform incoming students about their rights on campus.
McKnight (pictured), a senior undergraduate politics major and the president of the Princeton Open Campus Coalition, told the group that the free speech event was "the most important session of your freshman orientation" because "the values and commitments we're discussing this evening are absolutely essential to the fulfillment of our university's truth-seeking mission."
"Free speech is neither a conservative nor a progressive value," McKnight said.
McKnight focused on the social dynamics of free expression. "Formal protections for free speech are important, but the informal culture bearing on the expression of diverse points of view can be even more critical when the truth-seeking ideal is what's at stake," McKnight said.
Kapoor, a senior in the School of Public and International Affairs and vice president of the undergraduate student government, said that her "interest in journalism" is what "drives [her] commitment to free speech."
Both universities and journalistic enterprises are "truth-seeking institutions," she said.
Undergraduates expressed mixed reactions
"It was heartening to see Princeton affirm its commitment to academic freedom during Orientation," freshman Khoa Sands wrote in an email to The College Fix. "The rights and responsibilities of academic freedom are essential for all incoming freshmen to understand. Despite some mixed reactions to the delivery of the speeches, most other freshmen I've talked with agreed with the importance of this event."
Freshman Jack Geld told Princeton University's student newspaper, The Daily Princetonian, that he felt "definitely in support of an open dialogue on campus, about all different sorts of ideas," after the event.
Other students disapproved, including senior Dylan Shapiro, who tweeted a contrarian view.
"Nobody gains intellectually just because you want the freedom to misgender people in class or whatever bullshit you, POCC, and Witherspoon are currently on about," he wrote.
Nobody gains intellectually just because you want the freedom to misgender people in class or whatever bullshit you, POCC, and Witherspoon are currently on about https://t.co/fllN0f1am2

— Dylan Shapiro (@dmshapiro44) September 6, 2022
Disclaimer: The author, Abigail Anthony, is vice president of the Princeton Open Campus Coalition. 
MORE: Indoctrination starts at freshman orientation
IMAGE: Public Discourse
Like The College Fix on Facebook / Follow us on Twitter