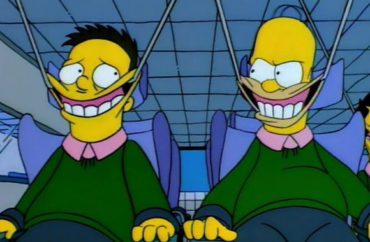 Administration works to 'destigmatize' anonymous snitching on peers
It's often said "The Simpsons" has correctly predicted the future several times, but one of its overlooked premonitions is from a Halloween episode where Homer accidentally visits multiple alternate timelines.
In one of them, Ned Flanders is "unquestioned lord and master of the world." When Homer gets crabby seeing his annoyingly cheery neighbor on a kitchen telescreen, Flanders forces them to undergo "re-Neducation."
The Simpsons' house gets airlifted to the happiest internment camp on earth, "Where the Elite Meet to Have Their Spirits Broken," and Flanders leads a motivational session where everyone is physically forced to smile (above).
MORE: Harvard gags three students punished for hanging out with three friends
Other than the frontal lobotomies, Rice University has basically implemented its own re-Neducation camp for students who supposedly violate its COVID-19 restrictions.
Like The New York Times fawning over Stalin, local media have been quite impressed by the student-run system the private university set up to police "less serious" violations, as the Houston Chronicle calls them, such as visiting friends in a different dorm. 
The newspaper declares the COVID-19 Community Court an "innovative way to stem the spread of the virus across campus," and credits the soft despotism with keeping Rice's positive rate for the novel coronavirus (a meaningless figure by itself) well below Houston's as a whole. (Too bad the body isn't a "Panel" so the acronym would be the more fitting CCP.)
Like any credible news outlet, the Chronicle interviews one of the judges – not bothering to find a student hauled before the court without an opportunity to face their accuser – who says serving on the court has been "ultimately a positive experience."
Senior Mel Xiao claims the anonymous snitching system encouraged by administrators is making "[a] lot of students feel safer. We're not here to be complete watchdogs."
At least Texas Monthly tells a more comprehensive story, noting Rice created its own version of Chinese Communist Party minders: 165 students dubbed "public health ambassadors" (the Newspeak continues) whose job is reminding students they've constantly being watched and ordering them to socially distance and put on their masks.
Some students believe this new surveillance state has changed the "idyllic, oak-shaded campus into one swept by paranoia and punishment." (Reporter Peter Holley was kicked off campus after he was – of course – secretly reported for doing journalism.)
Junior and off-campus resident Julian Braxton "feels uneasy each time he sets foot on Rice grounds":
Social interactions are almost entirely gone, he said, replaced by isolation and the fear of making a mistake. He's seen students break up groups of students. He worries about his mask momentarily slipping beneath his mouth when he's on his way to class and about running into hyper-vigilant students who are "hunting" for infractions. When someone walks by and looks at him, he can't help but wonder if they're "part of a patrol" of some sort, he said, admitting that it sounded absurd. [Typical university gaslighting: Nobody's watching you!]
MORE: 'This is prison'
Junior Abigail King told Holley about "public shaming within group texts at certain dorms" (i.e. struggle sessions). Her off-campus friends live across the street from a CCC judge and have accordingly reverted to a monkish life of quietude, since playing their music loud may invite judicial scrutiny.
"The cost is reduced trust in the student body and turning students against each other," King said:
The CCC has overseen dozens of cases in recent months, the vast majority, including that of the socializing scofflaws, set in motion by fellow classmates who have been encouraged by the university to report coronavirus-related misconduct that makes them feel unsafe. Friends have turned in friends, usually without advance warning, for failing to wear masks and maintain social distancing. Most tips are submitted anonymously online, and they often include photographic evidence or screenshots from Instagram stories. …

As French philosopher Michel Foucault famously argued, plagues create the ideal conditions for excessive surveillance. To keep tensions from flaring, the university has embarked on a campaign to destigmatize the reporting of violations and has promised that initial offenses won't be recorded in anyone's permanent records.
MORE: Penn State say it's punished nearly 1,300 students for COVID-19 violations
In other words, one free violation of mask rules and the next "safety" slip-up will follow you for life, probably with no detail as to the violation. Holley didn't mince words in an interview with public radio show Texas Standard: "It's mostly kind of reeducation."
Punishments largely reflect the university's imperative to spread propaganda: Students found guilty have to write "letters of apology" (for having social contact or breathing unobstructed), perform community service (like a drunk driver would), meet with advisors (because fascism is more tolerable with mentorship) and write "educational research papers about public health" (unlikely to include research on the pointlessness of masks, harmfulness of lockdown, staggeringly high false positives for PCR tests, exceedingly low risk for college students or "scant, if any" evidence for more than nominal asymptomatic spread of viruses).
Xiao, the student judge, says the CCC has never imposed its harshest penalty, a $75 fine, "because of concerns about its potential disproportionate impact on low-income versus high-income students," according to the Monthly. But Holley correctly identifies the purpose of the Star Chamber: to impose "shame."
The CCC is really just an extension of the subjective-harm dogma behind bias response teams and speech codes, as reflected in an interview with student judge Jackson Jeffcoat:
Whenever we hear that a student is feeling like another student's behavior is endangering them or their college environment, we want to address that and make sure people feel safe on campus.
I wonder if students who participated in this peer-led campaign of public shame, intimidation and indoctrination – as judges like Xiao and Jeffcoat, or run-of-the-mill rat finks – will look back on this Orwellian time and grapple with how this system also degraded them. Their consciences should be troubled for the rest of their lives.
MORE: College exempts 500-person BLM protest from 10-person COVID limit
IMAGE: Frinkiac.com
Like The College Fix on Facebook / Follow us on Twitter